What is Online Arbitrage?
Online arbitrage, or OA for short, is the act of buying something online (from online retailers like Walmart) and selling it on an online marketplace (like Amazon) for a profit. It seems all you need is a computer, yes and no. This type isn't a "get rich quick" scheme. If you don't want to end up out of pocket and holding plenty of inventory that you can't sell, you need tools, data, and a systematic approach to identifying profitable deals.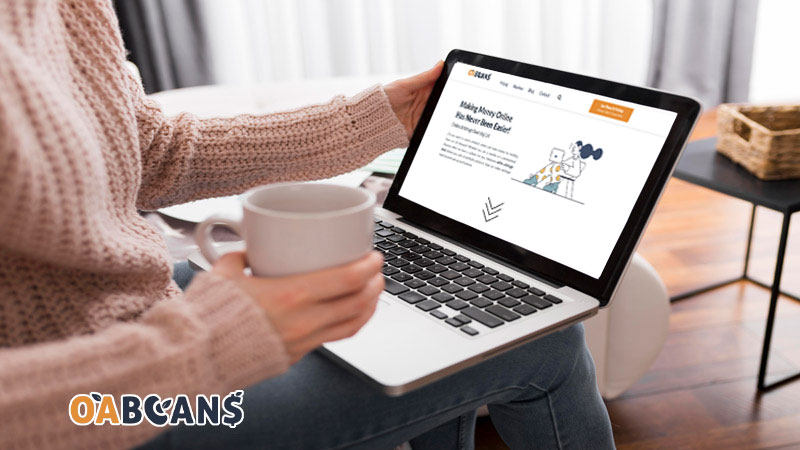 In this post, we break down the important tools for doing online arbitrage and all you need to get started. Then we will answer some of your most frequently asked questions, and finally, we are going to give you a few expert tips to have a more successful business.
Online arbitrage, or online retail arbitrage, is like retail arbitrage. You buy different items at a lower price to sell them for a profit. But the whole process in online arbitrage is based on the internet, so it's not limited to your geographical location. You can do it everywhere and spend how much time you want. That's why every year, more and more arbitrageurs are attracted to this method..
Amazon is the biggest online marketplace in the world. Thereby many online arbitrageurs sell their items on Amazon. This is called Amazon online arbitrage.
Is online arbitrage legal?
One of the frequently questions that arbitragers ask is: Is online arbitrage legal? It is generally legal, but there are some problems that you should stay away from them.
If you are not allowed to sell a product (and you need to be an authorized seller), don't try to bypass it. It might lead to being suspended by Amazon. Also, avoid sourcing any counterfeit. Amazon takes such infringements seriously.
Generally, if you are doing something that you are not sure about it, don't risk it. Search about it and ask from other sellers.
Different Types of Online Arbitrage
When we talk about online arbitrage, the first way that comes to mind is Amazon online arbitrage. It is not the only but the most famous marketplace to do eCommerce business. Here, we want to introduce several marketplaces briefly.
1. Amazon Online Arbitrage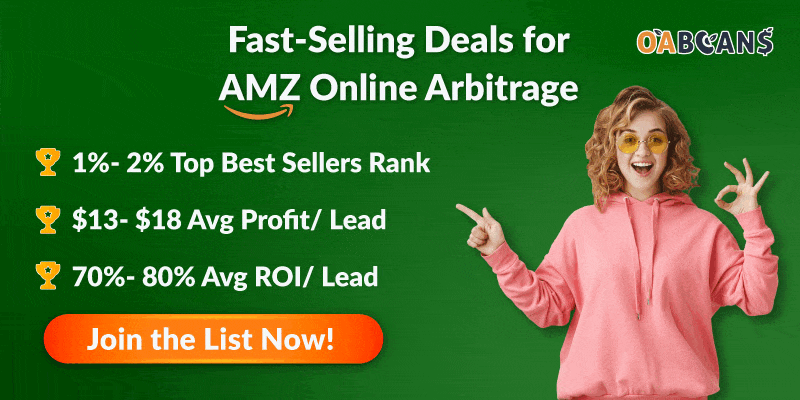 The most famous platform to do online retail arbitrage that includes more than 2 million sellers and attracts hundreds of millions of buyers across the world every month.
2. eBay-to-Amazon Arbitrage
It doesn't have a huge difference from other sourcing methods. You find a product on eBay with a lower price and list it on Amazon for a profit. But the point you should notice here is that many of the products on eBay are used. If you are working on a "new product" condition on Amazon, you can't use second-hand items. You need to check eBay products more carefully for possible damages and errors.
3. Amazon to eBay Arbitrage
In Amazon to eBay arbitrage, you don't buy goods from online retailers. You can sell the items without possessing them. First, you find an item on Amazon, then list this item on eBay for a higher price. Whenever it is sold, you order it from Amazon and send it to the eBay buyer.
But this can make both eBay buyers and Amazon sellers unhappy.
If the eBay buyer receives the product inside the Amazon box, he/she will understand that he/she could buy the product at a lower price on Amazon.
Amazon seller also won't be happy if understands that his/her products are resold without permission.
eBay has banned direct shipping products from Amazon to eBay buyers in some countries like the Us and UK. Although repacking the items by the eBay seller and sending them to the eBay buyer doesn't have a problem. It is explicitly written:
"Dropshipping, where you fulfill orders directly from a wholesale supplier, is allowed. However, listing an item on eBay and then purchasing the item from another retailer or marketplace that ships directly to your customer are not permitted."
If you wanna know more about this topic, follow the Amazon to eBay Arbitrage article.
4. Google Shopping
You can upload your product data on Google Merchant Center (GMC) and use the power of google for presenting your goods to the customers.
5. Walmart
Walmart is another huge marketplace with lots of opportunities to buy and sell. One of the most common sources to buy products at a reasonable price is Walmart. However, you can also use Walmart as a selling platform too.
6. Bonanza
Bonanza is recommended highly by the customers and gives unique features to know the potential buyers.
7. Facebook marketplace
Facebook is known for the connection that has made between people. But recently it is offering a buying & selling service. Facebook Marketplace is designed to sell & buy used items in the same community. A seller can post the items for sale. Anyone looking in his area can find the item and message the seller if they want to buy it.
Pros and Cons
Here is a list of pros and cons of online arbitrage against retail arbitrage:
Pros
You don't need to look for profitable deals from one store to another one. Your computer is enough to purchase the product and reselling it to the shoppers.
You can run your business from anywhere. You access many online stores all over the world. In addition, you can attract customers from everywhere. So the chance of selling is high.
Whether it's off today or late at night, you can check the products and find the best prices. You can run your business in your free time as a part-time job.
You don't need to invest so much money at the beginning. Small investments work too. After making a profit, you can reinvest it in your business to scale it up.
Cons
You might miss local store promotions, garage sales, and other physical promotions.
In online arbitrage, you need more analyzing software and searching tools. It can lead to more costs.
Restriction and copyright
Reselling copyrighted products is a challenge, and you have to receive permission from the copyright owner.
How to Make Money from Online Arbitrage?
Online arbitrage is a great way to make money on Amazon if you execute it properly. However, it is not so simple as just buying any product, reselling it, and expecting a good profit. Before beginning, you should perform proper research and choose an appropriate strategy. So, using data, a systematic approach, leverage tools are beneficial to find the right product.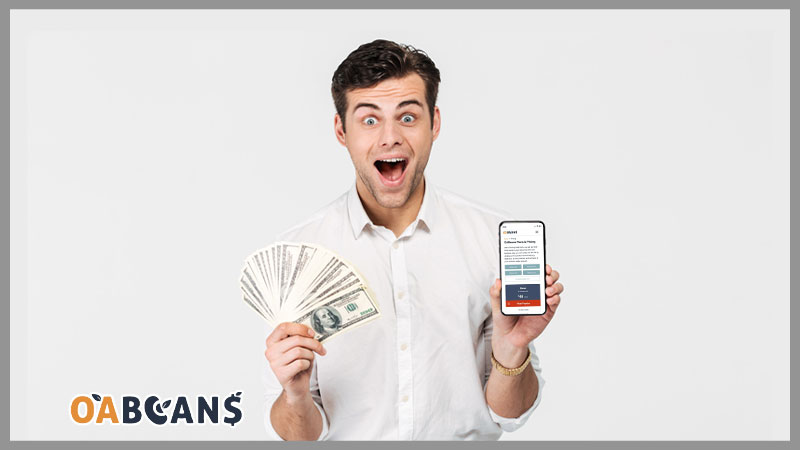 Below are the five steps to follow to start a successful online arbitrage on Amazon:
Generate products ideas
Source product
Validate your products
Choose fulfillment method
Win the Buy Box
How to Get Started with Online Arbitrage?
The first thing you require to get started with online arbitrage on Amazon is an Amazon seller account. Amazon has two plans: individual and professional. If you are a newbie in this business, it would be great to choose individual sellers account, which is free. After a while, you could sell more than 40 items per month, it's better to upgrade your account to a professional seller account to save on sales fees, and more selling tools will be accessible to you.
Understanding Amazon's selling fees are the most important aspect of making money with online arbitrage. In the beginning, the costs you need to consider are:
Products' cost
Selling fee of Amazon
Shipping cost
For calculating Amazon FBA costs and profit, you can use our Amazon FBA costs calculator. Find more information here: https://oabeans.com/amazon-fba-profit-calculator/
How to Do Amazon Online Arbitrage?
If you are still a little bit confused about how Amazon FBA business works, continue reading. I want to break down the process into a few simple steps:
Before buying, identify the products you want to purchase. You need to analyze the data to find the best ones. You also need to set a criterion for yourself to make your decisions on that basis.
The next step is sourcing your items. You can head to a retailer website like Target or Walmart, buy sourcing lists and even hire a team to do it for you.
Place your order. You can send your items to preparation centers. They can check the items for possible damages and pack them again to ship off to the Amazon warehouse.
List the items on Amazon.
Wait for selling your inventory.
Don't forget to respond to the customers' issues to avoid negative feedback!
Now, after getting familiar with the general process of Amazon's online arbitrage business, it's time to talk about getting started.
Beginner Method
As a beginner, there is no shortage of options to source for your online arbitrage inventory because there is a vast selection of online retailers available. To get started, follow the below steps involved in this method:
Look for good products with less price than Amazon on other platforms to resell. Using of online arbitrage sourcing list, such as OABeans Leads, to find profitable OA deals could be very helpful for newbie sellers. you can use Fayot list, which provides 5-7 daily leads with 100% ungated products and 75% average ROI.
As you can find your product online, buy it and use the FBA service to ship it to Amazon's warehouse or ship it to your facility.
When the product comes to your inventory, add it to your listing for sale. Choose a competitive price that can win the Buy Box and give you a healthy profit margin.
OA for Advanced Sellers
As an advance seller, you know all tricks of online arbitrage on Amazon. Now, it is time to improve your product research with advanced softwares and tools like Tactical Arbitrage. It has a free trial but upgrading the service and paying the cost is well worth it if you are serious about increasing your Amazon sales. A tool like Tactical Arbitrage has the benefit of doing all the searching for you. It will exactly find what you are looking for when you give your criteria to this software. Besides, it will
Ensure a lower sales rank of the product.
Cross-reference the Amazon database to ensure the profitability of the product.
Help you understand your competitors who sell the same products.
If you are looking for online arbitrage deals with high profits, don't miss OABeans' Pinto or Navy OA list. The most important features of these lists, are:
7-10 daily leads
75% average ROI
1% top best sellers rank products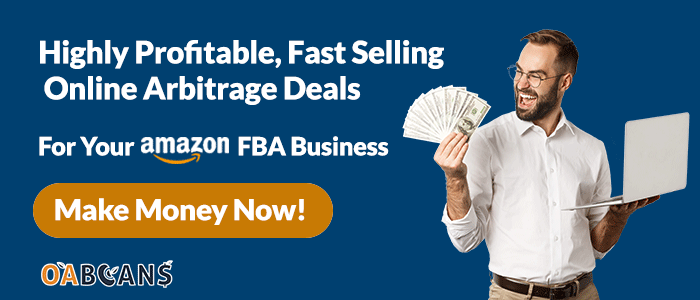 Online Arbitrage Sourcing
Sourcing the items is one of the essential parts of the OA business. Identifying profitable deals is an important step to increase the benefits. Here we want to introduce 4 different methods for sourcing products in online arbitrage briefly.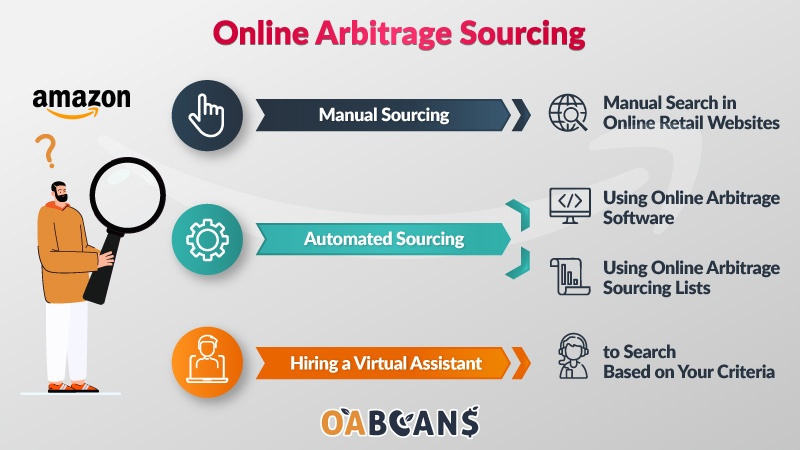 Manual Sourcing With OA Websites
There are hundreds of online retailer websites, from very famous ones like Walmart.com to fewer famous websites. This method fits newbies who don't have high demands. Websites like Rakuten can show you the companies that offer deals and coupons.
Looking for a profitable product manually between millions of products on many different websites doesn't make sense, especially if you consider this business serious because it can not meet your demand. So, it's good to warm up yourself for few days, but if you want to improve your inventory, choose from other methods.
Using Online Arbitrage Software
Checking websites one by one to find a reasonable deal is time-consuming. You can use scraper software to check the websites and list the items based on your criteria. You can identify the best deals, the actual demand for the product, and product price history in online arbitrage.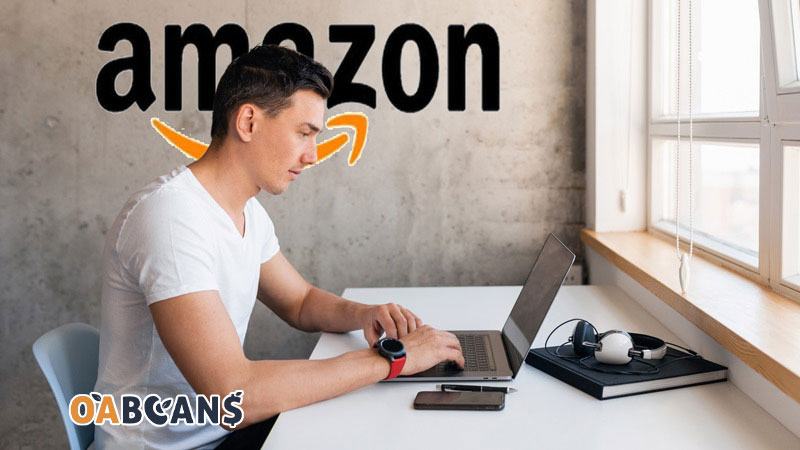 Still, there are possible errors, and you have to check them and also pay a membership to use the software. If your business is scaling, we suggest you buy sourcing lists instead of making them on your own and focus on your business, not finding the products.
Online Arbitrage Sourcing List Service
If you want to do online arbitrage without software headache and consume time for checking every single website, you can buy a list of products from valid companies. From Mon to Fri, you are given a list of products. These lists include 5-10 items, usually with necessary data like net profit and ROI.
OA Without Software
When you buy sourcing lists, you don't need to struggle with different software, paying for them, and spend time learning how to work with that software. Sometimes, the software you have chosen doesn't have good customer service, and you have to deal with a new hassle too! If you wanna know more about this article, follow best free online arbitrage software article.
Why Use Online Arbitrage Sourcing List?
It is the most headache-free way of sourcing! In any other type – from manual sourcing to hiring an assistant for it – you have to be a part of this procedure. But when you buy sourcing lists, you receive various profitable lists on your email and check the items as you drink your morning coffee.
Also, if you buy the lists from the companies that offer a money-back guarantee, you can assure that the items have satisfying quality.
So, if you don't want to spend your time finding profitable deals, paying for a different software, and struggling with them, buying a high-quality online arbitrage sourcing list is my suggestion.
Online Arbitrage Virtual Assistant
When you scaled your business, maybe buying sourcing lists and using the software doesn't work for you. You need more items every day. Sometimes your brand has grown up very fast, so you even need to hire someone to respond to the customers and follow up on their issues. If you want to do everything in a scaled business on your own, you can't focus on the more important stuff and keep a steady flow of growth of your business.
So, it is time to hire a virtual assistant and teach him/her. If you have a professional team, you can make your sourcing lists based on your criteria and find as many products as you need. By having your team, you have complete control over the items.
Online Arbitrage Apps and Extensions
Tools and apps are used to give you enough data to make the process as profitable as possible.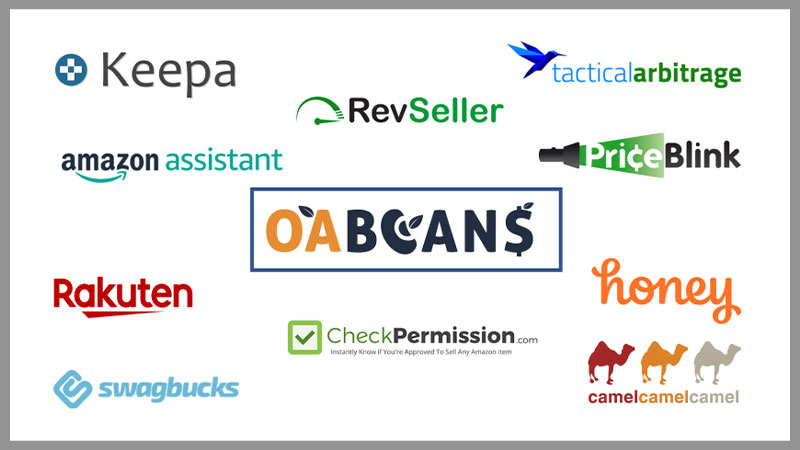 Some of them are Chrome extensions like Revseller. This type of extension can show you the crucial data you need about an item like net profit, ROI, sale rank, etc. For example, such extensions calculate the buying price, shipping expenses, and many more features to give you the real net profit.
Another group of apps is used for checking if the categories, brands, and products are open or not. They can protect you from costly mistakes and let you know if you are not allowed to sell a product. Also, there are several mobile apps for an online arbitrage business.
---
Read More: Useful Chrome Extensions for Online Arbitrage
---
Online Arbitrage Tools: Free vs Paid
We discussed the disadvantages of not using tools in online arbitrage. Tools can mine data from hundreds of stores, store and filter it, collect the data about the product price history to estimate its future efficiency, and help us to be realistic and make the right decisions.
These OA tools are divided into two groups: Free & Paid tools. This is important because there are dozens of tools and extensions that you can pay for in the online arbitrage business. If you don't choose them wisely, you may end up spending lots of subscriptions every month.
Free Tools
The extensions are beneficial and can put critical info at your fingertips on any web page. Usually, they are free but very useful. There are dozens of such tools, but here we introduce the following extensions:
1- Keepa – Amazon Price & Sales Rank Tracker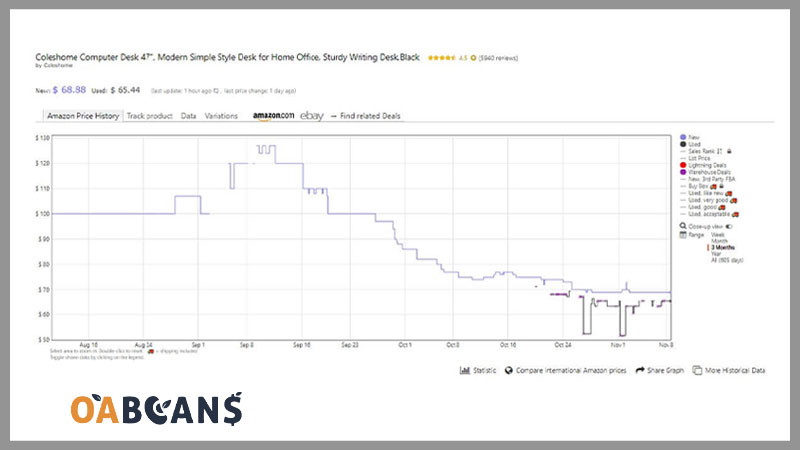 For limited data, it's free, but the premium version is highly recommended if you are a pro. You can see sale rank history, price history, and much more at a glance (the extra futures are open in paid version)
2- Amazon assistant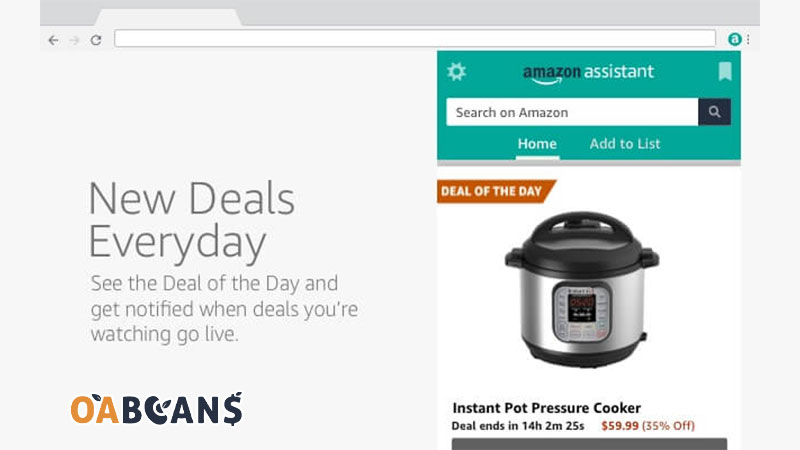 When you check a product on an online retailer (usually Target.com), it brings up the potential matches on Amazon. Notice that the matches aren't always correct!
3- PriceBlink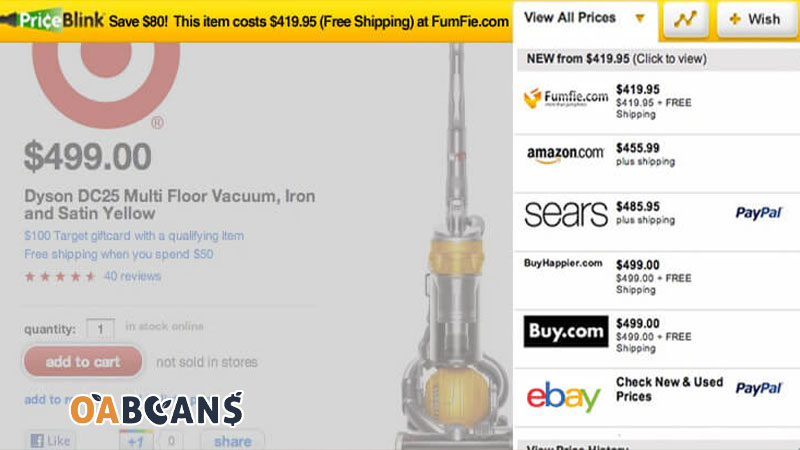 As you look at a product on a website (no matter it's Amazon or retailer), it tries to find a lower-priced product for you. Remember that check two items carefully to avoid a mismatch deal.
4- Rakuten – Get cashback for shopping
With Rakuten, All you need to do is shop like normal, and it will let you know if you can get cashback on your purchase. Also, it can find the coupons.
Paid Tools
If you are serious about this business, don't be afraid of paying for using a premium service. There are many extensions and software that are not free, but they have a free trial. You can pay for them after assuring that they are useful.
RevSeller
You can plug in your buy data to see the estimated profit and ROI.
IP Alert
If you want to protect your business against Amazon IP complaints, this extension is what you must have. It can inform you if you're on an Amazon page for a brand that has been reported to file IP Complaints against third-party sellers.
HowMany
HowMany shows you the number of units your competitors have in stock of an inventory item. So you can decide if you want to compete with them how deep you want to go yourself on an inventory purchase.
What Is The Difference Between Online and Retail Arbitrage?
In both methods, online arbitrage or retail arbitrage, our goal is to make a profit. So, there is no basic difference between these methods but sourcing the products.
Sourcing products to sell on Amazon has different methods. Third-party sellers usually choose Retail Arbitrage and Online Arbitrage, also known as RA and OA.
Retail Arbitrage is more traditional. In Essence, the act of purchasing discounted products from retail brick and mortar stores and reselling them to another marketplace such as Amazon at a higher price to make profits. Looking through liquidations, clearance stock, or reduced supply is very beneficial for finding the products physically.
On the other hand, is Online Arbitrage, which is the process of buying your products online at a low price from one marketplace and selling with a mark-up in another marketplace to have good revenue. The sourcing form of goods in OA on Amazon is usually a Facebook shop or a website that you don't need to travel around anymore. You can buy your products even in significant quantities days and nights conveniently and minimize your logistic costs.
It would help to consider that some sellers believe that even in Retail Arbitrage, you can source your items from online stores and resell them in another Online shop. Besides, there are companies like OABeans that can help you to search for lucrative online arbitrage leads.
Winning Buy Box: How to Win Buy Box
Usually, many sellers sell the same product on Amazon. How can a seller grab more customers and attract their attention? If a seller wins the Buy Box, he/she has a higher chance to sell the items. The Buy Box is where the "Add to Cart" and "Buy Now" buttons are located on a product page.
Using FBA increases the chance of winning BuyBox.
In the same condition, the chance of an FBA seller is always more than other sellers seller to win the Buy Box. If the Buy Box of your product is very competitive so maybe FBA is a better option.
Extra Tips for Advanced Sellers
There are some extra tips to help you out before getting started your online arbitrage business:
Some tools make selling on Amazon easier. These are helpful to find the best keywords. Plus, they monitor your competitors. You can also use them to optimize your ads. You can try the tools at first, as most of them are available for a free trial. Then choose each of them that is the best for you.
For Example, Jungle Scout, RevSeller, Helium 10 are some of the popular Chrome Extensions that are helpful for Amazon sellers.
Jungle Scout
This tool is available in both web-app and extension formats. Users can conduct real-time sales data, Amazon keyword research, product rank, revenue, and many more details with their Chrome extension.
RevSeller
This user-friendly interface makes it possible to break down all costs and provide you with the profit margin and ROI for your FBA business. Besides, sales rank, product dimensions, UPCs, and ASIN are shown in this extension.
Helium 10
This tool is the answer to all of your needs, including searching for the best keywords for your products on Amazon, finding suppliers for ASINs, analyzing demand, calculating profitability.
One of the best marketing strategies is using paid ads on Amazon. This helps you to boost your sales. They are very affordable as well as super easy to set up. You should just pick your desired product for promoting, choose your keywords, determine your budget, and it's time to start.
FBA method of fulfillment offers several advantages. It is a comfort that you don't need to store the inventory and fulfill orders. Plus, FBA helps you to win the buy box. If an extra fee is not a big deal for you, it is highly recommended to use this program.
Final Thought
In the internet era, many companies tend to be digital, and that's why online arbitrage has been so famous. Amazon as a lead marketplace is one of the biggest platforms that people do OA on it.
Although this method seems easy and has some straightforward steps. But if you don't want to fail, you should improve your knowledge about this business.
FAQ