What is the Amazon Buy Box (Featured Offer)?
You will find Amazon Buy Box or Featured Offer on the right side of the Amazon product detail page. Here, customers can choose the "Buy Now" button to purchase the product at that moment or add it to their cards to buy later. Basically, not all sellers are eligible to win the Buy Box. As many sellers sell the same items, there is always competition between sellers to win the Buy Box.
The Buy Box contains about 83% of Amazon sales, and generally, buyers don't consider who offers the product, Amazon itself or third-party sellers. Therefore, winning the buy box highly affects the sales of sellers.
How Does Amazon Buy Box Work?
Amazon has an algorithm that analyzes each product offered by every seller. Each seller will be evaluated based on many variables such as price, fulfillment method, etc. The output of this evaluation is rewarding the Buy Box to the seller who has the best buying options for buyers.
Although not all sellers are eligible for winning Buy Box and must meet performance-based requirements, Amazon doesn't award Buy Box only to one seller. Instead, multiple sellers have the chance of winning Buy Box.
How to Win Amazon Buy Box (Featured Offer)
Sellers need to improve their metrics to increase the chance of winning Buy Box. Finding a perfect balance between price, customer support, and several other factors is hard work because it shouldn't affect performance in other areas. We can suggest you follow the below strategies to win Amazon Buy Box:
Don't make a mistake by putting the lowest price. It would be wise to use repricing software instead of manually repricing to save time and have a competitive price.
Know Your Account Metrics
Try to check your metrics frequently to identify and address issues as soon as possible. In Amazon Seller Central, all the metrics are listed, which helps you determine the sections that need to be modified.
Improve Seller Performance
Constantly improve your performance. Amazon Seller Central helps you identify the key performance areas you need to improve.
Focus on the Essential Metrics
In general, some metrics impact Buy Box (Featured Offer) the most. Sellers use Amazon Seller Central software such as Feedback Express to improve their feedback score, which is a crucial metric.
Be Careful With New Metrics
Amazon recently introduced two new metrics about customer experience. Although these metrics don't influence the Amazon Buy Box algorithm right now, you should keep these customer-focused measurements in shape, as they may affect rankings in the future.
---
Insightful Article: How to Become a Successful Retailer?
---
Key Factors to Win the Buy Box on Amazon
Amazon uses an algorithm for the Buy Box to determine the best value to customers. This algorithm includes multiple factors and shifts based on product and category. That's why different sellers win for various products and categories.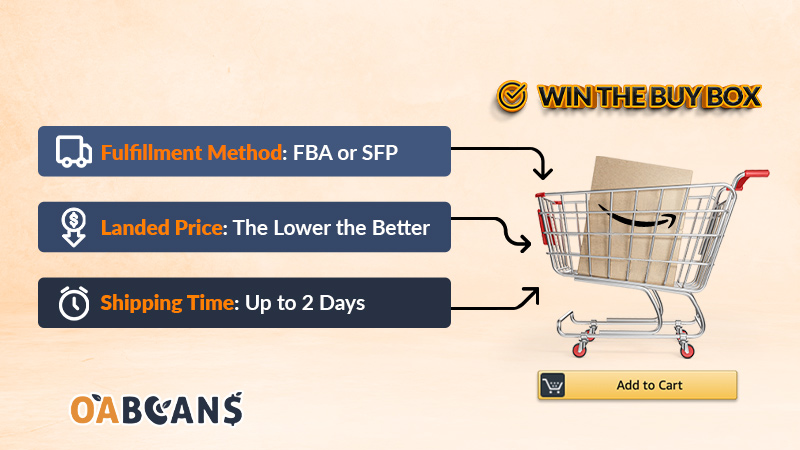 Here, the performance metrics affecting winning the Buy Box are listed, although Amazon doesn't reveal any official criteria. These critical factors are:
Sellers can choose 3 types of fulfillment methods on Amazon: FBA (Fulfillment by Amazon), FBM (Fulfillment by Merchant), or SFP (Seller Fulfilled Prime). Amazon gives FBA a perfect score for multiple variables, including shipping method, on-time delivery, and inventory depth. However, since sellers who can enroll in SFP program have great performance metrics, these sellers have a greater chance of winning the Buy Box than FBA sellers.
When pricing the products, sellers must consider the landed price (item's price + shipping cost). If a seller's performance is better than his competitor's, he may be able to increase the price and still get his share of the Featured Offer.
The amount of time a seller takes to ship the item is called shipping time. If the shipping time is less than 2 days, the seller has the highest chance of winning the buy box.
Amazon's algorithm favors the items that are immediately fulfillable. So sellers must kept good stock levels and avoid back-ordered items.
ODR consists of 3 metrics: Negative Feedback Rate +A to Z Guarantee Claim Rate + Service Charge Back Rate. The ODR should be below 1%, and sellers with higher ODR will be penalized by Amazon.
This metric calculates the percentage of total package shipping with valid tracking in the last 7 and 30 days. If a seller wants to be buy box eligible, this metric should be 95% or higher.
The percentage of orders that are shipped later than the expected ship date must be below 4%. Otherwise, the chance of winning the buy box will be decreased.
97% or more of seller orders who want to get the Amazon Featured Offer should be delivered on time.
A feedback rating is the highest of all a seller's feedback scores over the last 30, 90, and 365 days. The most recent feedback has the most impact on this metric.
Amazon checks and compares the competitors' response times. Sellers who reply to their customers in less than 12 hours are more likely to win the buy box.
The more customers that have given a seller feedback, the better.
---
Click here to know the Best Amazon Repricer Tools in 2022!
---
The below factors are less important than the above ones, but still, you have to consider them:
Inventory Depth / Sales Volume
Sellers with a large inventory, good stock history, and consistent sales can be granted a higher Buy Box share. The sellers who frequently run out of stock have a slim chance of winning the buy box.
Cancellation and Refund Rate
How often the seller cancels orders before shipping and how often the orders are refunded after shipping make up the cancellation and refund rate. This rate should be less than 2.5%.
Buy Box/Featured Offer Changes in 2022
Featured Offer is the new name for Buy Box in Amazon Seller Central.
Although everything still works as before, the terms used are different. Announcing the two new metrics is another change for Amazon Buy Box in 2022.
Customer Service Dissatisfaction Rate
The percentage of buyers who aren't satisfied with a seller's responses in Messaging is measured with this metric.
Return Dissatisfaction Rate
This metric measures customers' satisfaction with the vendor's product return process.
We don't know when these metrics will consider evaluating the sellers for winning Buy Box. Anyway, it is important to learn about these ratings and target low rates.
How to Check Buy Box Eligibility?
You should go to the Seller Central account and see if you are eligible for Buy Box. So:
Go to " Manage Inventory."
Under the "Preference" tab, you can see the Featured Offer eligibility section.
From the drop-down menu, select "Show when Available."
When you are eligible for Featured Offer for each SKU, "Yes" is shown, otherwise, you will see "No."
Terms of presence in the buy box
Having product availability and managing inventory levels on a platform like Amazon is crucial. You should never become out of stock or run too low on your inventory because customers can't buy your product if it is not present. Consequently, you can't win the Buy Box, and your search rank decreases rapidly. That affects future Buy Box presence, too.
Sellers, especially those who do online arbitrage on amazon, should note that even after the product is back in stock, it generally takes some time to regain its previous ranking position. So try to don't risk by having a low inventory level.
Is There Any Alternative for Amazon Buy Box?
Buy Box is not the only way of selling on Amazon, although it is the most profitable one. There are many other ways to sell on Amazon, which gives you a degree of credibility and visibility. These ways are:
All the product information is presented on this page accurately, and every customer can use them to make a buying decision.
A maximum of three select listings are shown under the Featured Offer (Called before Buy Box), which must also comply with the Amazon requirements. Although this way is not visible as the Buy Box, these listings have a greater chance of conversation with buyers compared with
those prices and brands are not listed at all.
All sellers for a particular product are listed on this page. It doesn't matter if they meet the Featured Offer requirements or not. Besides, all offers are displayed in order of landed price (price + shipping) and other variables such as feedback and rebate policies.
Final Thought
Nowadays, winning Buy Box or Featured Offer is more important than before. Because more and more people shop online on mobile devices. But as you know, the Amazon app doesn't show multiple seller options on mobile devices. So, it is vital to qualify for Buy Box, which needs to consider many variables.
The customer shopping experience offered on an item has some criteria such as price, the speed of delivery, options for shipments, and 24/7 customer service, fulfillment methods (like seller's participation in Fulfilment by Amazon) which affect the winning Buy Box of sellers who do Online Arbitrage.
FAQs about Amazon Buy Box