It may be possible to use a web browser other than Chrome to do efficient OA purchasing, but I'm not aware of it. When I first started doing online Arbitrage, I hadn't even downloaded Chrome on my MacBook yet. I was a Safari girl all the way. But now, I use Chrome on a daily basis for my OA purchases, and I get annoyed if I find myself trying to shop efficiently from Safari. It's just not as easy to do without my favorite Chrome extensions.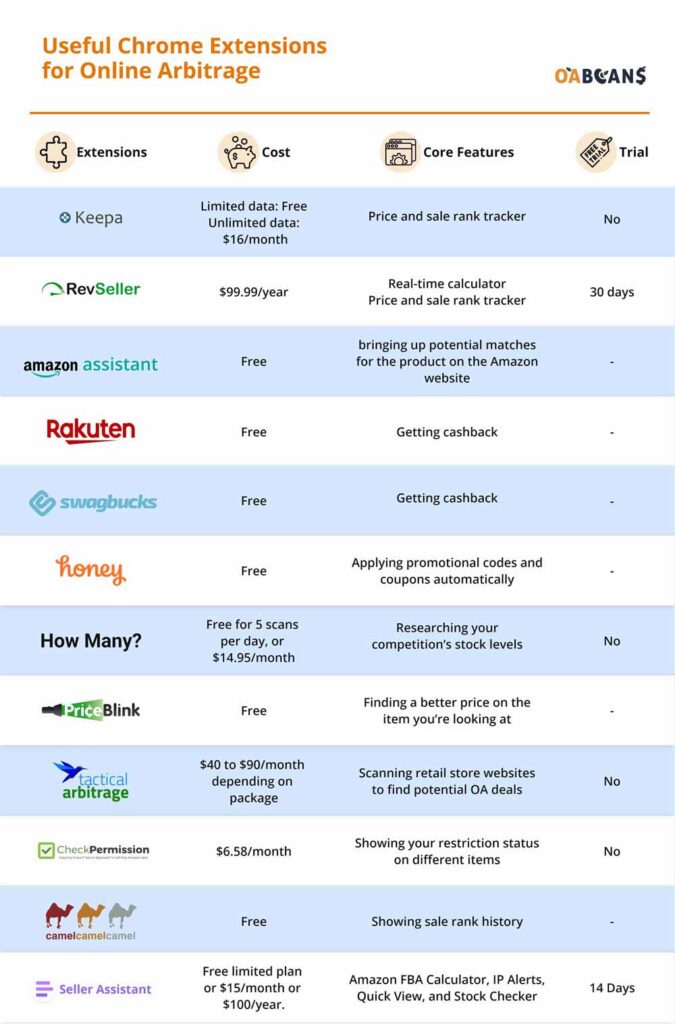 1-Keepa – Amazon Price & Sales Rank Tracker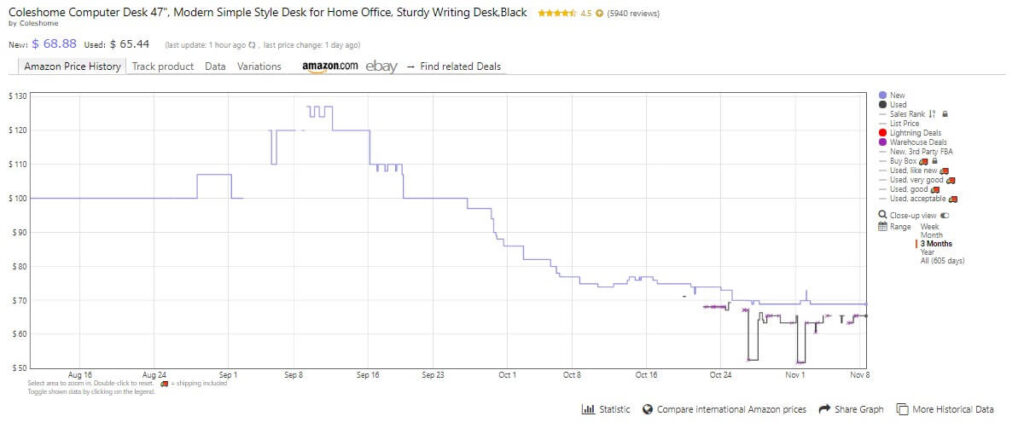 Cost: Free for limited data, or around $16/mo for unlimited data
Hands down, Keepa is my most used Chrome extension. I look at the data from my Keepa extension first thing every time I pull up a potential OA buy. The extension puts the Keepa graphs right on the Amazon product page, below the product title and picture, and lets me see at a glance whether Amazon is in or out of stock on an item, as well as sales rank history and price history for both Amazon as a seller and third-party sellers. I seriously get annoyed now when I pull up a product page on another browser and don't immediately see my Keepa data. I'm completely spoiled by this extension.
Note: Some Keepa data is available for free, but I highly recommend using the paid subscription version of Keepa to get their full range of data and make the best buying decisions. Get it here.
2-RevSeller
Cost: 30-day free trial. $99.99/year after free trial (see below for coupon code)
RevSeller allows you to see crucial information directly on the Amazon product page. Once you install the RevSeller extension, you will see a box below the Amazon product title. The extension shows you the following information:
Real-time calculator (similar to what is covered on the FBA Calculator web page)
Sales rank and percentage (more conveniently located at the top of the product page)
90-day averages for price and sales rank
Number of offers from other sellers
Variation viewer
One-click restriction checker
And more
---
Read More: What is RevSeller?
---
3-Amazon Assistant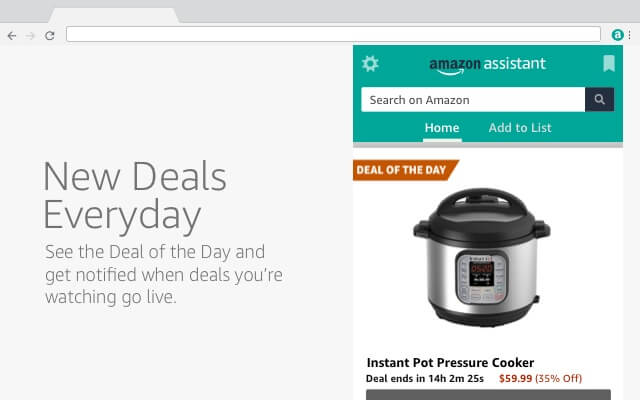 Cost: Free
Another way to save steps opening tabs is by using the Amazon Assistant. When you're looking at a product on a retail store's website, click on the Amazon Assistant extension to bring up potential matches for the product on the Amazon website. Easy peasy. (Notice I said potential matches. As always, do your due diligence to make sure items are a true match.) Get it here.
4-Rakuten Cash Back
Cost: Free
Cashback for online shopping is one of the huge perks of doing OA. The Rakuten (formerly Ebates) extension makes it super easy to remember to get cashback on your OA purchases. When I first got started doing OA, I tried to be rebellious and just do it without all the extensions. Why, why, why? I always forgot to go through my cashback websites first, and I left money on the table by not getting a percentage back. With the Rakuten extension, when I first start my shopping session on a retail store website, I click the button at the top of the browser to activate my Rakuten account and get cashback without having to navigate to a different website first. So helpful for forgetful old me. Get it here.
5-SwagButton
Cost: Free
This one works the same way as the Rakuten extension, but for cashback in the form of Swagbucks. Some retail stores (Walmart and Disney Store, for instance) tend to give a higher percentage back if you go through Swagbucks than if you go through Rakuten for your purchase. The percentages can change from day to day, so check the information that pops up at the top of your browser window before choosing which one to activate for your purchase. Get it here.
6-Honey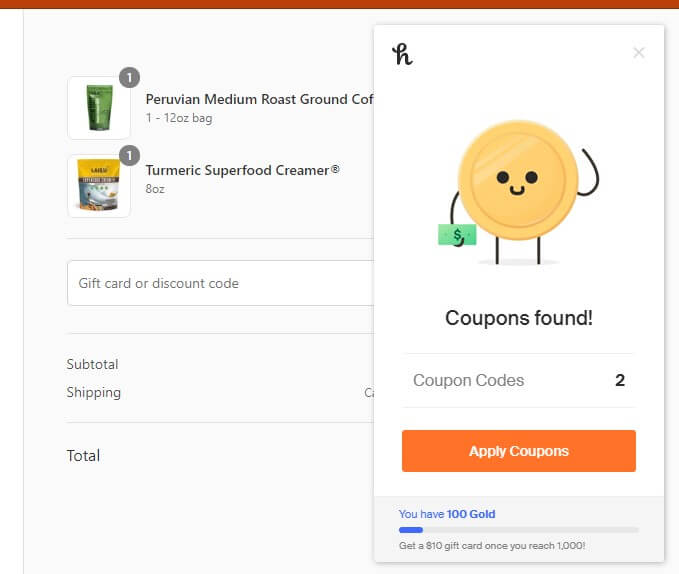 Cost: Free
The Honey extension works by automating the process of applying promotional codes and coupons to your online purchases. You could Google to find those codes and manually input them to see if they'll apply to your purchase…or you could click the Honey extension before you check out and let Honey do the work for you. I've saved tons of money and tons of time by letting Honey search and try codes for me. Honey also provides cashback possibilities, so look into Honey when picking your best cashback option. Get it here.
7-HowMany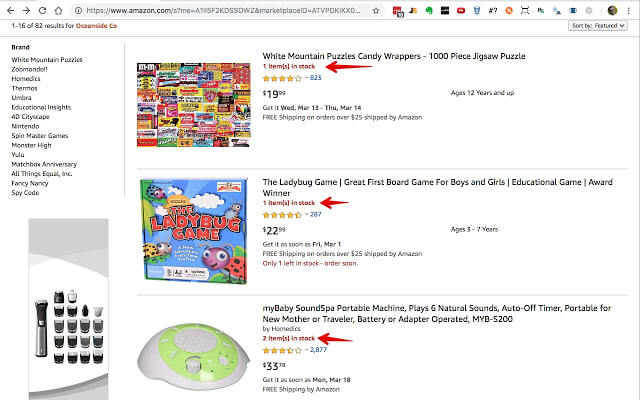 Cost: Free for 5 scans per day, or $14.95/month
When it comes to researching your competition's stock levels, the HowMany extension does just what it says — shows you how many units each seller has in stock of an inventory item. When you can see that your potential competition has only a few items in stock versus knowing that they have hundreds in stock, you know if you want to compete with them and how deep you want to go yourself on an inventory purchase. HowMany also works on Amazon stock levels and tells you actual stock levels even if the seller has purchase quantity limits. Get it here.
8-PriceBlink
Cost: Free
Whether you're on an Amazon product page or a retail store website, PriceBlink will attempt to find a better price on the item you're looking at. It's a good practice to always glance at PriceBlink and see if you could be making your OA purchase for less money at another website. Again, check to make sure the items that PriceBlink finds on another site are an exact match to what is selling on Amazon. Get it here.
9-Tactical Arbitrage
Cost: $40 to $90/mo depending on package
Tactical Arbitrage is a paid Chrome extension that allows you to scan a retail store website and find potential OA deals to resell on Amazon. If you're just getting started, by all means, learn the ropes of OA with the free extensions and build up enough sales to justify paying for a monthly subscription to an extension like Tactical Arbitrage. But once you're ready to start spending more of your sourcing budget per month on OA, you might find that a scanning extension like Tactical Arbitrage is indispensable. I know it has saved us hours of my valuable time clicking and comparing products on Amazon and retail websites. Get it here.
10-Checkpermission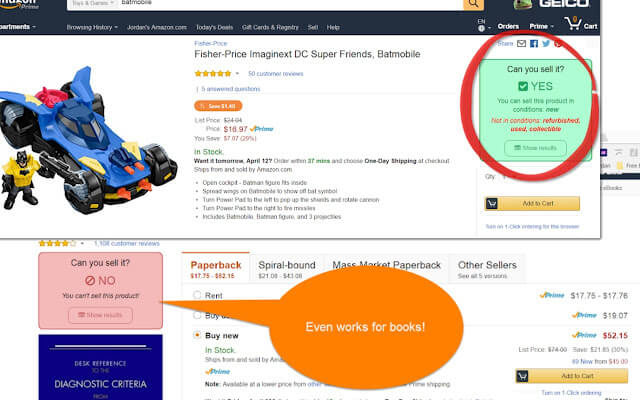 Cost: $6.58/month
CheckPermission is a simple extension that can save you tons of time and prevent costly mistakes.
When you're doing Retail Arbitrage and need to check restrictions, it's easy enough to just check on the Amazon Seller App. You're probably already checking your profit and fees there anyway, right?
But with Online Arbitrage, I find that I'm more likely to forget to check for brand and category restrictions while sourcing. And the last thing you want to do with online sourcing is ordering a ton of inventory….that you can't even sell on Amazon!
CheckPermission is a Chrome extension that loads on Amazon product detail pages. It links to your Amazon Seller account and shows your restriction status with a simple Red or Green Box. This really streamlines your workflow and saves the step of copying/pasting the ASIN into "Add a Product" in Seller Central.
CheckPermission even lets you know if something is Hazmat restricted. Get it here.
We tend to talk about Keepa and CamelCamelCamel together, so it makes sense that we'd mention both extensions.
11-The Camelizer
Cost: free
The Camelizer is free to use, but it does not show rank history.
When looking at a product on the Amazon listing page, you'd click on The Camelizer extension and get a quick overview of price history for Amazon and third-party sellers. Get it here.
You can click through to the full CamelCamelCamel site to view more information.
12- Seller Assistant App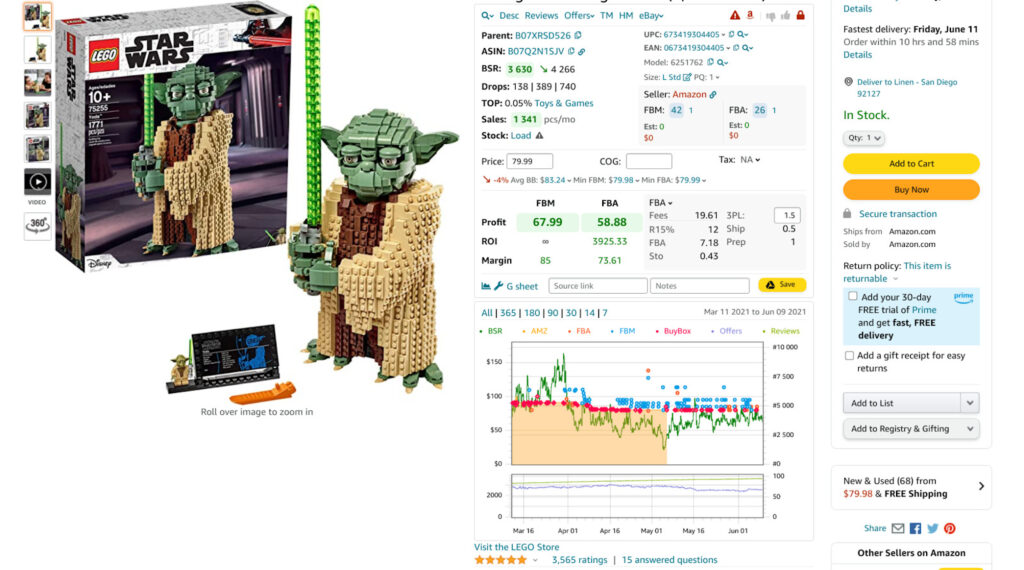 Seller Assistant App is a popular Chrome Extension used by Amazon sellers for product analytics. This advanced online arbitrage tool combines Amazon FBA Calculator, IP Alerts, Quick View, and Stock Checker. Such a combo equips sellers with powerful data-driven product insights and gives merchants the advantage to discover truly profitable goods to resell.
Free limited plan available. The paid plan is $15/month or $100/year.
Free Trial Length: 14 days
Below you can see some useful features of Seller Assistant App.
On-page FBA & FBM calculator
Sales and Profit Estimation
Keepa Graph and Historical Data
Data Export to Google Sheets
Stock Checker
Product restrictions
IP Alert
Click here to get more information about features of Seller Assistant App.
13- Cleer Pro
Cleer pro is a free extension for Chrome that gives you the essential data quicker. To vest on an item, you need to know the product's price history, sale performance, etc. it works for Amazon and eBay.
14- Invisible Hand
It is another valuable and free Chrome extension that can find better deals. When you want to buy an item, if another website sells the same thing cheaper, Invisible Hand informs you with a notification. It works with google too.
15- Revroi
Revroi increases your ROI and productivity by finding cashback, discount gift cards, and credit card points. Download this Chrome extension to save your money.
16- Retail Me Not
This company offers coupon codes and cashback. It has a website as well as a Chrome extension. When you check an item to buy it, the Retail Me Not extension finds the promo codes to help you in your time and money.
Final thoughts
With all of these online arbitrage tools, where do you even begin? Concentrate on adding just one tool at a time while you grow your business. Practice using it well before adding another. If you can only choose one online arbitrage chrome extension now, I would recommend RevSeller. This extension will help you calculate the profit, check the sales rank, and see the price history chart to make a lower risk purchase.
Also, if you're one of OABeans' subscribers, you should know that alongside our own developed software, we use some of these extensions (such as Keepa for checking the price history chart) to choose our daily leads. So you don't need to work with most of them and can rely on us.