What is Tactical Arbitrage?
Tactical Arbitrage is a specialized tool for online arbitrage sellers on Amazon. It enables users to scan an extensive array of online retailers, over 1,000 in total, to pinpoint products available at lower prices that can be resold at a profit on Amazon.
This scanning process includes a comprehensive price comparison, considering both the purchase price from the retailer and the selling price on Amazon, factoring in fees and other expenses. The tool incorporates advanced filters that allow users to refine their searches based on specific criteria, such as sales rank and ROI. Additionally, Tactical Arbitrage provides historical data on product pricing and sales ranks, as well as insights into stock levels, and offers automated scanning options. 
Tactical Arbitrage is a great tool for OA sellers; however, it is not the only one. There are also some useful Chrome extensions for online arbitrage that you can use. 
How Does Tactical Arbitrage Work?
According to Tactical Arbitrage reviews, this tool leverages a streamlined and effective process that allows you to find top-performing products with just a few clicks.
To get started, you have to input your specific criteria and filters into the Tactical Arbitrage interface, considering factors like minimum profit margins, sales rank, category preferences, and more. These parameters serve as directives for the tool to scout for products tailored to your unique requirements.
Once your criteria are configured, Tactical Arbitrage launches a simultaneous scan across multiple online retail platforms. By tapping into a multitude of platforms, the tool uncovers price differentials and potential opportunities spanning diverse marketplaces.
During its web scan, Tactical Arbitrage adeptly gathers and dissects copious data. The tool conducts real-time, in-depth analyses and price comparisons, enabling it to pinpoint lucrative prospects.
After the scanning and analysis phases, Tactical Arbitrage generates a catalog of prospective products that align with your criteria. This catalog provides details about each product, including the originating platform, associated fees, sales volume, estimated profit, and other data. This information allows you to assess the feasibility and profitability of each product before making your sourcing decisions.
Tactical Arbitrage Features
Tactical Arbitrage offers a suite of powerful features that can help online arbitrage sellers. Here's an overview of its key functionalities according to Tactical Arbitrage reviews:
Dashboard
The main Dashboard is your central hub within Tactical Arbitrage, where you access all its features. It displays your membership status, scheduled searches, and completed searches, offering an overview of your operations.
Reverse Search
This tool allows you to input a product's unique identifier, like its UPC or ASIN, and discover other online stores selling the same or similar products. It expands your product sourcing options and reveals alternative avenues for potential profit.
Real-Time Data Analysis
Tactical Arbitrage employs advanced algorithms to collect, analyze, and process real-time data from various retail sites. This data is presented in an intuitive dashboard, enabling price comparisons, sales rank assessments, and other factors for identifying profitable products.
Historical Price Trends
In addition to real-time data, the tool provides access to historical prices and Buy Box trends. This data helps you evaluate a product's past performance, price fluctuations, and sales patterns, offering insights into market dynamics and future demand.
Search Manager
The Search Manager provides insights into ongoing, scheduled, and completed searches, streamlining the automation of your business. It allows you to schedule regular site searches, receive recommendations on profitable products, and adapt future searches based on market changes.
Product Search (Online Arbitrage Tool)
It tracks hundreds of sellers, monitors multiple Amazon marketplaces, and identifies lower prices, enabling you to purchase products for resale at a profit. Tactical Arbitrage provides access to nearly 1,000 websites, offering insights into every market and niche.
Flip Feature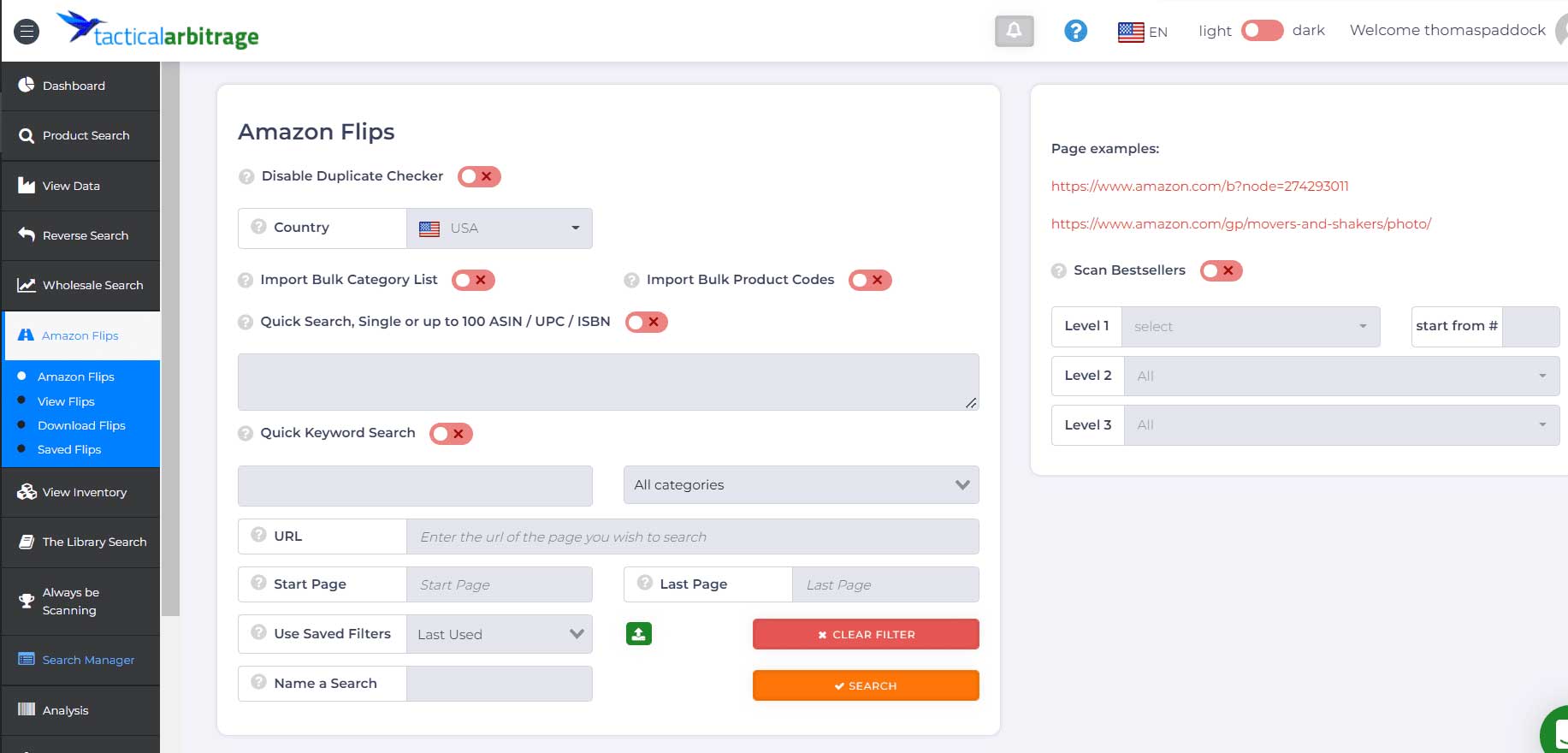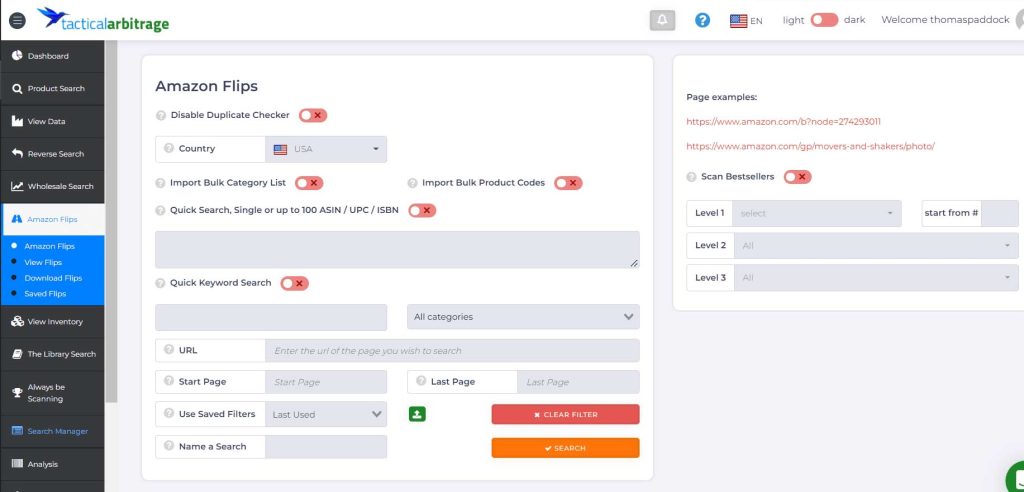 This tool enables you to analyze multiple Amazon marketplaces to resell products from one marketplace to another. By exploiting price disparities, you can offer competitive prices and attract customers.
Scanning Best-Selling Products
This strategy simplifies product sourcing by starting with profitable products, reducing guesswork, and helping you find products with low competition and strong profit margins.
Wholesale Search
This feature helps you connect with the best wholesalers, allowing you to buy in bulk and save money in the long run. It also enables tracking competitor inventory levels.
Library Search
For Amazon sellers flipping books, this tool utilizes various search algorithms to find promising books. It offers a wealth of opportunities and helps you organize them efficiently.
Data Filtering
Tactical Arbitrage offers robust data filtering options, allowing you to focus on specific price ranges, Return on Investment (ROI) parameters, and more, streamlining your product search.
View Data
This section provides information on the products you discover through scans, from retail sources to names on Amazon, quantities, and more. You can also save and download this data.
View Inventory

This feature is crucial for managing your inventory as an Amazon FBA seller. It helps you keep track of profits, sales, shipments, and other inventory-related information in one central hub, offering added security with password protection.
How to Use Tactical Arbitrage?
Tactical Arbitrage aims to simplify and automate the product sourcing process for OA sellers. To make the most of it, here's a step-by-step guide:
Setting Up Your Account: Begin by connecting your Amazon Seller account to Tactical Arbitrage to factor in your fees and relevant data for profit calculations.
Choosing a Scan Type: The tool offers various scan types, such as Product Search, Reverse Search, Amazon Flips, Library Search, and Wholesale, catering to different OA strategies.
Configuring the Search: Before running a scan, select a source (online store), and set filters for profit margins, ROI, sales rank, and discounts, if applicable.
Running the Scan: Initiate the scan, and Tactical Arbitrage will compare prices from the selected online store(s) with Amazon listings.
Reviewing Results: After the scan, analyze the data, ensure product matching accuracy, and explore historical data for price and sales rank trends.
Making the Purchase: If satisfied with an opportunity, buy the product from the online retailer and list it on Amazon for resale.
Continuous Learning: As you gain experience, fine-tune your searches and filters to optimize results for your specific OA business model.
Pros & Cons of Tactical Arbitrage
Tactical Arbitrage is a versatile tool with its own set of advantages and limitations. By reading Tactical Arbitrage reviews, we find out it has the following pros and cons:
Pros:
Comprehensive Coverage: It scans over 1,000 online retailers, providing numerous sourcing opportunities.
Time-saving: The tool automates the time-consuming task of comparing prices across multiple websites, streamlining the product sourcing process.
Advanced Filtering: Sellers can fine-tune search criteria, ensuring that results align with their business model.
Historical Data: Tactical Arbitrage provides historical price and sales rank data, offering insights into product performance over time.
Multiple Search Modes: With various search modes, it caters to different sourcing strategies, from product searches to Amazon flips.
Integration Features: Integration with cashback and discounted gift card sites enhances profit projections.
Cloud-Based: As an online platform, it's accessible from anywhere without the need for software installations.
Regular Updates: The tool is regularly updated to remain relevant and up-to-date.
Cons:
Learning Curve: Its extensive features can be overwhelming for new users, requiring time and experimentation to master.
Subscription Cost: While valuable, the monthly subscription can be costly, especially for beginners.
Occasional Mismatches: Despite image recognition technology, occasional product mismatches can occur.
Dependence on External Factors: Efficiency may be impacted by changes in retailer websites or Amazon's API.
Requires Active Management: Users still need to review results, validate product matches, and make informed buying decisions.
Tactical Arbitrage Pricing (Oct 2023 Update)
To know whether this tool is worth it, you must know its pricing plans and compare them to the value it offers. It's recommended to read the Tactical Arbitrage reviews to get a better image of this tool and its functionalities. Here are the available plans as of October 2023:
Flip Pack ($59/month): Perfect for book-flipping enthusiasts, offering book-focused features.
Wholesale Pack ($69/month): Tailored for wholesale operations, simplifying your processes.
Online Arbitrage Pack ($89/month): Boost your online arbitrage efforts with a suite of product-centric tools.
Online Arbitrage + Wholesale ($109/month): Get the best of both worlds with the Online Arbitrage Pack and integrated Wholesale features.
Full Suite ($129/month): Access all available features for a comprehensive e-commerce toolkit.
There is also a 7-day free trial available for all plans to test them out yourself and see if they work for you.
Best Alternatives to Tactical Arbitrage
There are alternatives to Tactical Arbitrage for assisting online arbitrage sellers. One of these alternatives is sourcing lists, but the difference between OA sourcing list vs software is a different story which we have discussed thoroughly in another article.
As for alternative software to TA, here are notable options according to Tactical Arbitrage reviews:
OAXray
OAXray is a user-friendly browser extension that simplifies online arbitrage. It scans numerous online retail websites, offering features like profitability calculation, YTD sales estimates, Keepa chart integration, and access to over 400 sourcing sites. It's known for its speed and ease of use, making it suitable for newcomers.
SourceMogul
SourceMogul, a cloud-based platform, offers a wide range of tools for Amazon online arbitrage. Users can analyze products from hundreds of online stores, benefiting from automatic profit calculations, bulk upload searches, sales rank history, and Keepa integration. The intuitive dashboard helps users track searches and customize ROI filters.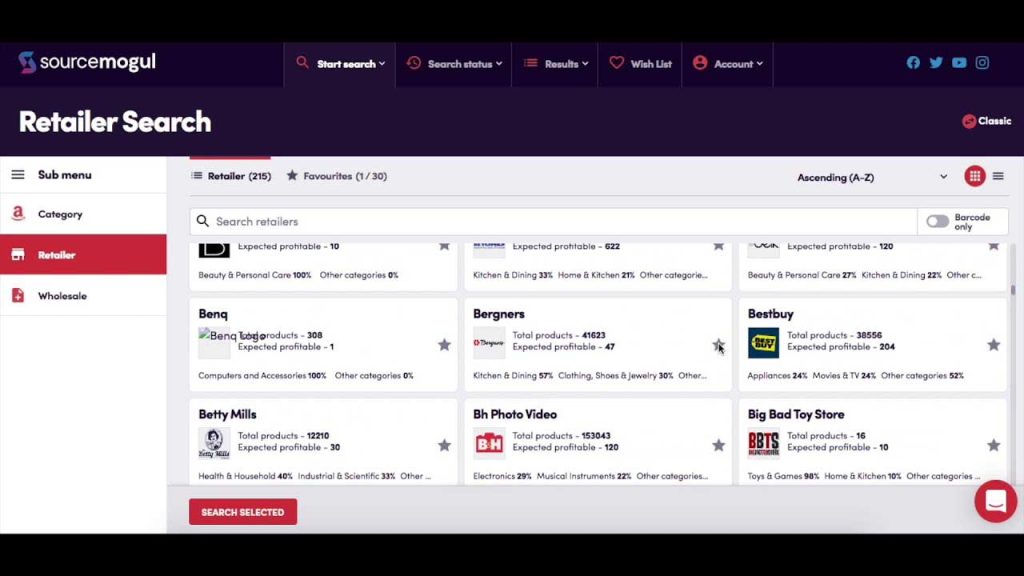 AMZScout
AMZScout is a versatile Amazon research tool that aids sellers in making informed buying decisions. It offers features for product analysis, profitability estimation, and competitor research. It's a valuable resource for online arbitrage because it supports various Amazon marketplaces.
BuyBotPro
BuyBotPro is an analytics tool that aids Amazon FBA sellers in making informed purchasing decisions. It automatically analyzes potential products, factoring in fees, taxes, and other costs to estimate profitability. It's versatile, serving not only online arbitrage but also wholesale and retail arbitrage sellers. Features include real-time ROI calculations, automated VAT calculations for European markets, and integrated risk analysis.
Use OABeans Instead of Tactical Arbitrage & Other Tools
Working with Tactical Arbitrage and other similar tools can be challenging, especially for beginner OA sellers. However, there are other ways to reduce the time and effort needed for product sourcing without a steep learning curve. Purchasing sourcing lists from providers such as OABeans is one of these methods.
OA sourcing lists are curated and handpicked lists of online arbitrage leads – potentially profitable products that can be bought at a lower price and resold for a profit on Amazon. The best thing about these lists is that they are reviewed and picked by experts, which removes the need for manual product research and facilitates the sourcing process.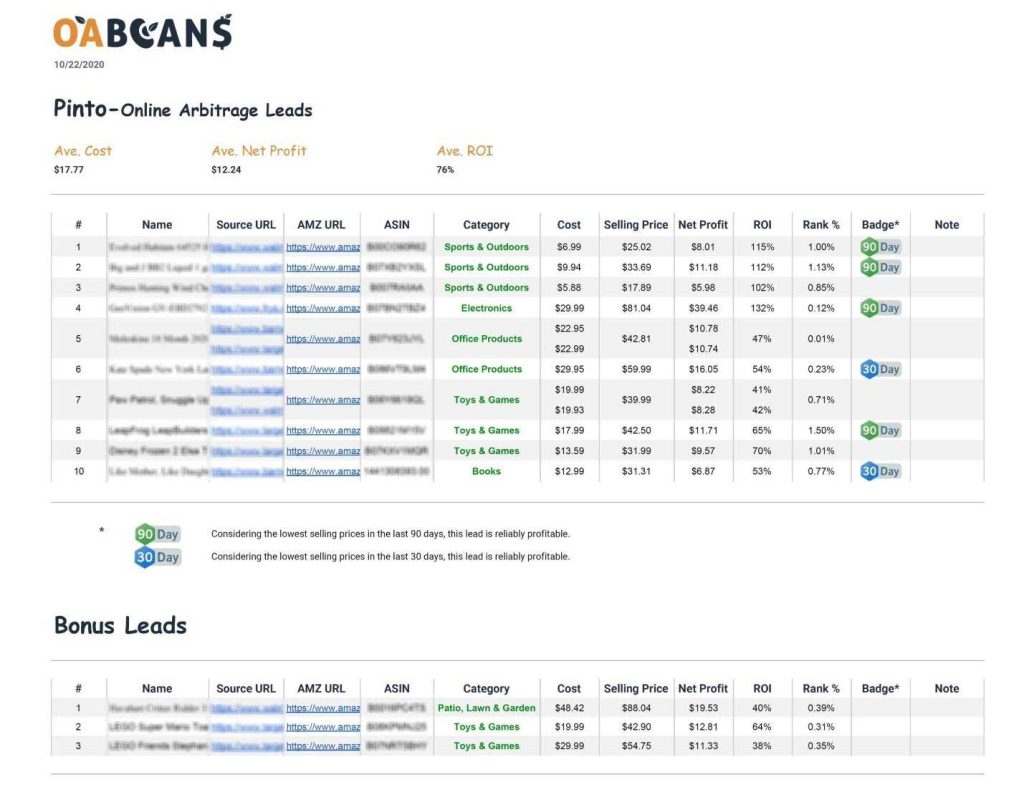 Final Thoughts
By reading Tactical Arbitrage reviews, we find out it is a robust solution that simplifies product sourcing and analysis, offering numerous features. However, its suitability for your specific business model is key.
While it has strengths and areas for improvement, the ultimate judgment depends on how well it complements your strategies. Additionally, there are other worthy competitors in the market. As a beginner OA seller on the platform, you can start with sourcing lists and move on to or combine them with sourcing software as you gain more experience and knowledge.
Frequently Asked Questions