What are Restricted Products?
Having the best buying experience is the ultimate purpose of Amazon for its customers. Amazon has started restricting many brands and categories in 2016. Amazon doesn't have a unique definition of what constitutes a restricted product, and restrictions generally vary from product to product.
Restricted products are, also known as gated products, are sellable, but at the same time, they have some rules or some risks. It is mainly necessary to get a certification or approval from Amazon to sell gated products.
So, you need to pass the approval process, and after that, you are allowed to put the products on the Amazon list and sell them with any method, especially when you try to sell online arbitrage deals.
Which Products Are Restricted on Amazon?
Amazon will implement some restricts actions on sellers who supply a product in Restricted Products pages or violation of law ar any of Amazon's policies such as
terminating selling privileges
terminating the business relationship
permanent withholding of payments
suspending selling privileges
destroying inventory in our fulfillment centers without reimbursement
returning inventory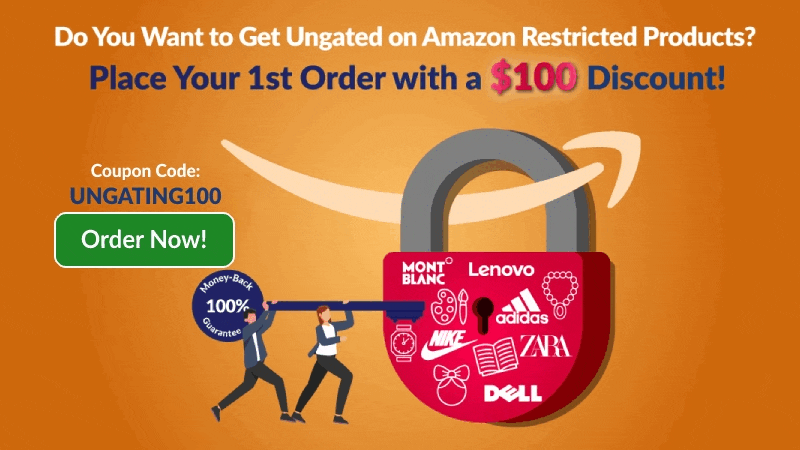 Besides, selling unsafe products or illegal items on Amazon can lead to legal action containing criminal and civil penalties. It is strictly prohibited to sell dangerous, illegal, or other restricted products mentioned below in Amazon, including products available only by prescription. Companies that provide online arbitrage sourcing list are aware of these restrictions. There is a long list of the restricted items on Amazon, which are recorded in the following:
Alcohol
Animals & Animal-Related Products
Art – Fine Art
Art – Home Decor
Automotive and Powersports
Composite Wood Products
Cosmetics & Skin/Hair Care
CPAP Cleaning and Disinfecting Devices
Currency, Coins, Cash Equivalents, and Gift Cards
Dietary Supplements
Drugs & drug paraphernalia
Electronics
Explosives, weapons, and related items
Export Controls
Food & Beverage
Gambling & Lottery
Hazardous and prohibited items
Human Parts & Burial Artifacts
Jewelry & Precious Gems
Laser products
Lighting
Lock Picking & Theft Devices
Medical devices and accessories
Offensive and Controversial Materials
Other restricted products
Pesticides and pesticide devices
Plant and Seed Products
Postage meters and stamps
Recalled products
Recycling electronics
Refrigerants: Ozone-Depleting Substances and Substitutes
Strike anywhere matches
Subscriptions and Periodicals
Surveillance Equipment
Tobacco & Tobacco-Related Products
Warranties, Service Plans, Contracts, and Guarantees
Upholstered Furniture, Bedding, & Other Quilted Products
---
Know More About Amazon Restricted Categories and Brands
---
Why Does Amazon Restrict Some Products?
Overall, customers find Amazon trustworthy for buying products, and it is very valuable for Amazon. As products sellers could easily misrepresent and misuse products, Amazon has additional security measures in place. Amazon has regulations and laws that products offered for sale on Amazon must comply with. Besides, sellers have to follow Amazon's policies. So, the main significant concerns to restrict some products on Amazon are safety concerns, risk of fraud, the reputation of Amazon. In the following, it is discussed in more detail.
1) Amazon is famous for its consumer service, and the company is very aggressive about it. Amazon tries to maintain a good buying experience by gating some products. You need to meet some requirements to ungate these products.
2) Some products and categories are more likely to be counterfeited. Luxury cosmetic products, bags, and clothes can be more heavily counterfeited than others. In many countries, this is a crime, and distribution and selling counterfeit products also have criminal penalties.
The brand owners have this right to protect their reputation and not allow third-party sellers to put their brand at risk.
3) Some companies have policies to keep the perceived value of the brand high. They protect the distribution method and do not sell their products to third-party sellers. In this way, they sell their products exclusively.
4) Some products and brands exclusively belong to network marketing companies, and their distributors are not allowed to sell these products on Amazon.
5) Some products are more sensitive, like medicine or baby products. They have more safety concerns and product recall due to the defects that compromise the safety of the consumer.
6) Some products like perfume samples are utterly restricted.
---
Read More: Ultimate Guide About Amazon Product Categories
---
How to Find Out If a Product Is Restricted?
The easiest and most straightforward way to find out if a product is gated is to check the product on your Amazon seller account.
As you go forward in your Amazon business and sell more items, you will get ungated in more products. So every seller account has its own gated and ungated list. Thus, if you want to be sure that you can sell a product, try to add the ASIN or product identifier in your seller account (Catalog-Add Product). Now, click on "Show limitations." Then do the scanning for additional requirements. If nothing is shown, the product is already approved, and you can keep going. If you see the button "Apply to sell," it means this product is gated for your Amazon FBA business. So, before adding this product to your inventory, you need to follow the ungating process as below.
How to Get Ungated on Amazon Restricted Products?
Amazon adds authentication processes and safety guidelines for the products restricted intentionally by Amazon. Sellers should go through the approval process to get ungated for selling this long list of various products. To ensure all products are authenticated and handled correctly by Amazon, sellers should follow the below steps:
Checks
Having invoices
Providing documents
Other qualification forms
Some factors help sellers to pass the approval process faster. Amazon also checks the excellent performance metrics like:
Low defect rates —> less than 2%
Low cancel rates —> less than 3%
Low late shipment rates —> less than 5%
Having solid proof of the product's authenticity and good metrics and safety guidelines are allowed sellers to sell restricted products and get ungated. The lack of each mentioned item can make the seller's approval process longer, but it is still possible.
Besides, it is essential to consider the following points:
If you have a product in a gated category and are not ungated in that category, don't list the product in the "Everything Else" category or another category to circumvent restrictions.
Sometimes you can sell a used product of a brand, but you cannot sell it in a new condition. Don't use the condition description to state the item is new. Because if Amazon realizes, your account can be suspended to attempt to way around the listing restrictions.
Don't make any fake documentation to represent yourself as an authorized seller. It's a crime and can suspend your account as well as criminal penalties.
One of the approaches to get ungated on Amazon is following this guideline:
Create a Wholesaler Account, which includes your valid address. In the case of having an LLC name that is different, use both names.
Purchase a few products in different categories to start the ungating process.
Scan the Invoices. But don't check if your recorded information is correct. At the top of the invoice should be your selling name.
Send in the selling applications that you can find in the categories you want to sell.
You can have another approach to get ungated as below:
1) Sign up for a Professional Selling Plan which you should pay $39.99 monthly.
2) After logging in to your account, click on "Add Product" and look for the product you want to sell.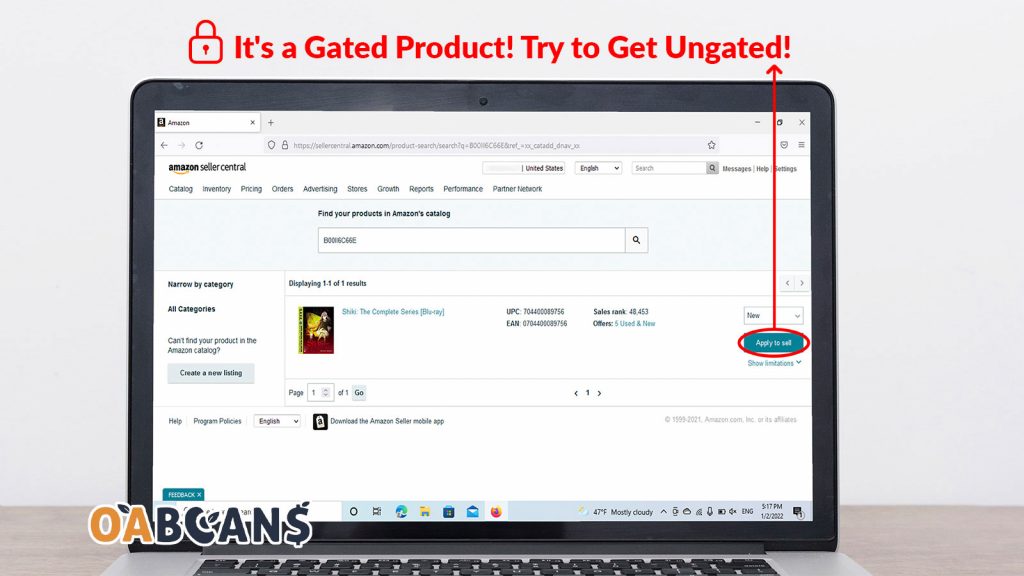 3) As you found the product, there is a link next to it "Listing Limitations May Apply" Click on it. The next step is to click on "Request Approval."
4) Now, fill out the application form, and provide whatever Amazon asks you.
Instead of the mentioned approaches, you can also use ungating services like "Funnel Guru." This is making Amazon restricted product approval easy for sellers. Within 24 hours, your Amazon seller account will get ungated on your chosen fields.
---
Learn more: How to Get Ungated on Amazon?
---
Final Thought
Although Amazon restrictions on products seem frustrating for the sellers, it's understandable. Such restrictions will become more common in the future because Amazon wants to protect its reputation and protect its customers and, eventually, Amazon's business.
So, if you've not already started the ungating process, you need to begin it as soon as possible if you want to take your sales to the next level. Some companies like OABeans provide 100% ungated online arbitrage leads, including products that don't require Amazon approval.