What Is Amazon IP Complaint?
If you violate any intellectual right, the brand owner can contact Amazon and file a complaint against you for ignoring their intellectual property.
Intellectual property is broken down into 3 types:
Trademarks: it is used to protect the name, symbol, or design of a brand that is used to identify goods or services.


Copyrights: it is the legal protection of authorship


Patents: it is used to protect inventions.
It is more likely you have violated the first two rights if you received an Amazon FBA Business intellectual property complaint as an arbitrager.
For brand owners, it is very easy to file an IP complaint on an ASIN that is usually abused. These claims are not always valid. Sometimes brand owners or other competitors use this dirty trick to shut down your account and decrease the competition and keep the prices high.
Regardless of the problems of the system, we have to handle this issue and protect our business against such claims.
Valid vs. Invalid IP Claim
You can find valid Amazon intellectual property complaints in two places:
In an email from Amazon. The subject of this email may include this sentence: "Notice: Policy Warning."
In your Performance Notifications in Seller Central.
You don't need to answer any claim sent by the buyers or any other email addresses but Amazon. You can report such messages to Amazon as well.
---
😮 Read More: Why Do People Fail at Amazon FBA?
---
Does IP Claim Have a Bad Effect On My Account Health?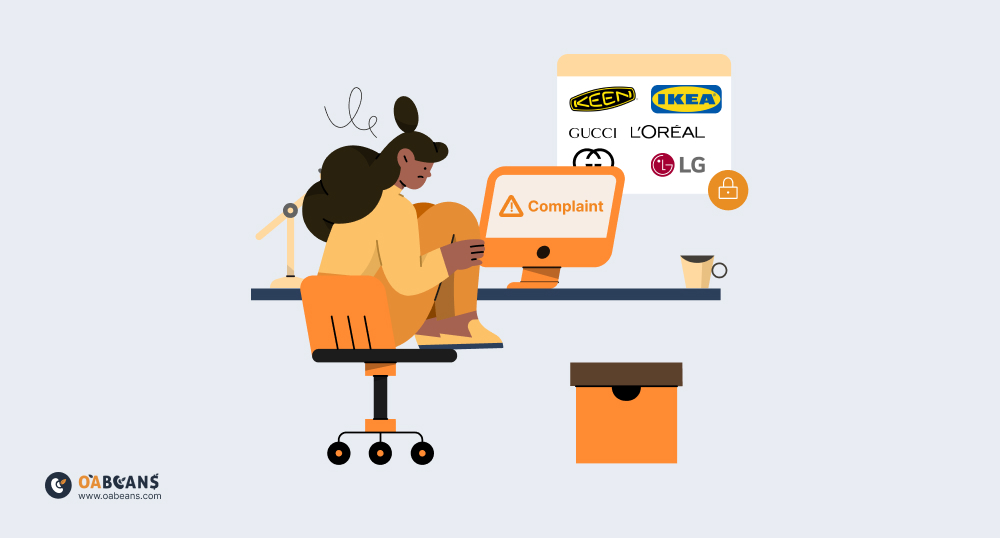 The most stressful point about receiving IP complaints is getting suspended. If it is the first time you have received such a claim, Amazon won't suspend your account entirely. But it might suspend you from selling that specific ASIN. If receiving IP complaints is repeated several times, the risk of suspension will be high. So, make sure that you respond to the legitimate claims properly.
How serious are IP complaints?
Since most extensions and software work on community feedback, their alerts are real. But there is a downside to this: complaints can be old and outdated. imagine you are searching for a pair of sneakers to sell on Amazon and receive an alert from a complaint that was done in 2019. it's better to rely on a few other sources and search for yourself to make sure that the deal is useless.
How to Respond to Intellectual Property Claims Properly? [Action Plan]
Amazon needs to see you take the claims seriously. So, in the first-place contact with the right owners. Their contact details should be in the IP claim. Try to understand the basis of their complaint. Sometimes the complaint is mistaken or not accurate.
Once you understand how you violated their intellectual property, you can assure them you are not going to violate their rights, or even you will remove your listings of the affected ASINs. We hope that they accept it and issue a retraction with Amazon.
First, send an email to the brand cited in the complaint to apologize and explain the mistake. Attach your receipts for the product purchase, and request that they retract the complaint. Sometimes it works. Next, reply to Amazon. Tell them you reached out to the brand, and attach your proof of purchase receipts. You will want to continue communicating with Amazon back and forth until the IP complaint is resolved, i.e., Amazon tells you that the complaint will come off your account in 180 days.
If the right owner doesn't issue a retraction, you can contact Amazon directly and explain the current condition. It's better to try to remove an IP claim from your account.
Don't forget to attach your invoices to your email. Also, you can remove those ASINs and let Amazon know. It helps them remove the claim from your account faster.
---
Know More: Amazon FBA Fees & Costs for Sellers
---
How to Avoid IP Claims?
The first and the best way of prevention is not to sell brands that are known to issue IP Claims even if you are approved to sell them.
If I want to be clear, I should say there is no official list of the brands that file an IP claim against you if you sell their products. It would be better if these brands were registered as restricted brands and didn't put the seller's business at risk by false IP claims. But it is what it is today!
If you want to know about these brands, you can ask other sellers in Facebook groups. I'm sure you can find generous sellers who share their knowledge.
Some extensions can help you and send an alert about these troublesome brands.
Products & Brands That Cause IP Complaints
There is no official list of brands with IP claims, but here is a list of brands with IP claims on Amazon based on sellers' experience:
What is the Difference Between IP Complaint and Brand Restriction?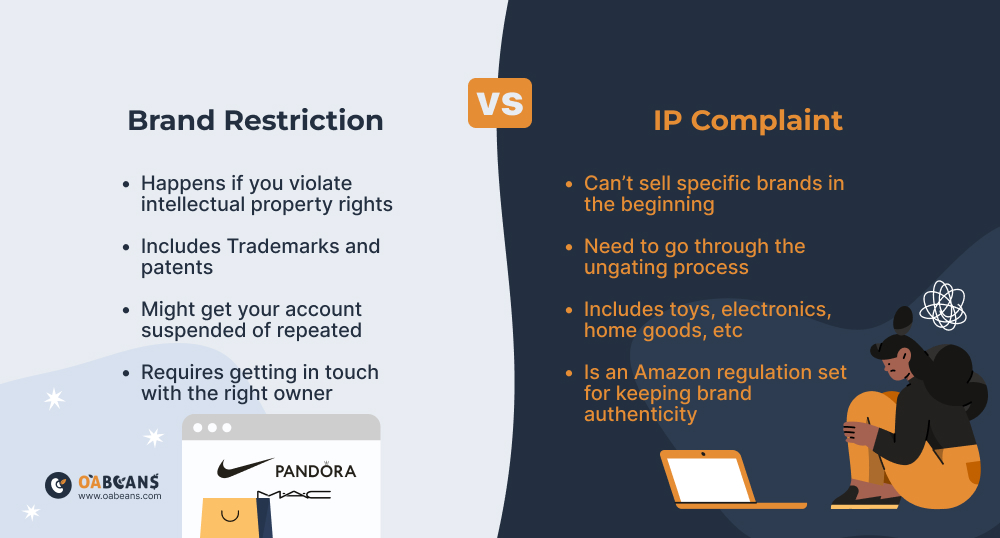 It is overwhelming for Amazon sellers to understand the difference between Intellectual Property Claims (IP Claims) and brand restrictions. When you decide to sell on Amazon, some products, categories, or brands are gated, and you cannot sell. You need to go through the ungating process. However, you may still receive an IP claim for an ASIN after becoming eligible to sell that product.
But, an Amazon IP complaint is an intellectual property complaint from a brand. Some brands request a complaint not to use their trademark or sell their product. They issue IP claims to prevent counterfeit products from being sold on Amazon.
Generally, Amazon trawls listings and detects a potential trademark name violation. A bot helps Amazon with this tracing, and Amazon flags up 'Suspected IP Claims.' This is shown in the Account Health section on Seller Central under 'Policy Compliance.'
How to Use IP Alert Chrome Extension?
A google chrome extension can be helpful for IP Alert. The Chrome extension alerts you when you are on the branded product page filled with intellectual property complaints against resellers. So IP Alerts will instantly notify you about any of your inventory that could be high risk; therefore, you will not get in trouble.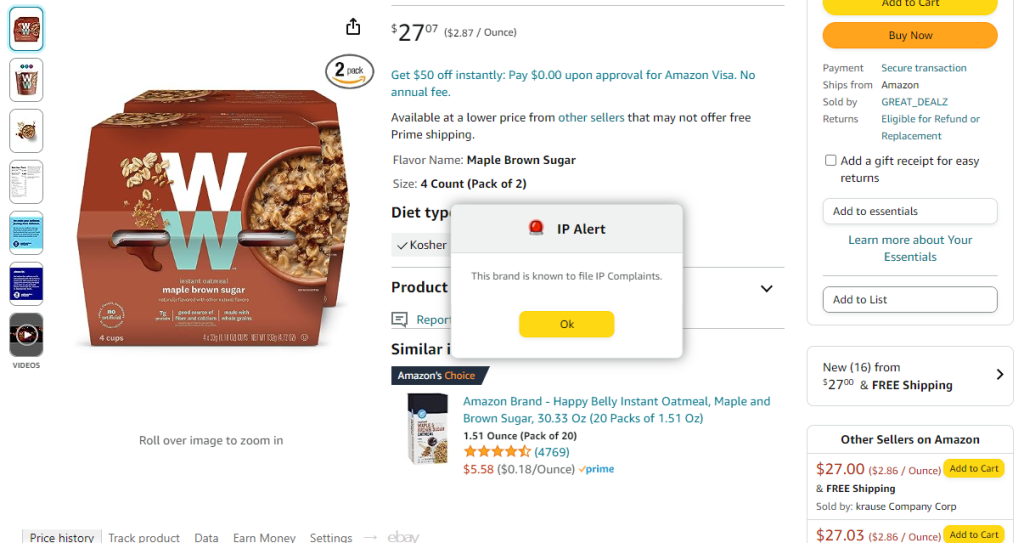 After installing, when you visit an Amazon product page, the IP Alert extension will trigger a pop-up and a flashing red siren near the brand name if the product has an IP claim. This extension is community-based and works on group feedback, and has one of the biggest communities in the market.
It's important to know that an IP alert does not completely eliminate the risk of IP complaints (no app does it completely). So try to make informed decisions and don't rely solely on extensions.
OABeans Ensures You Are in Safe Hands
OABeans lists contain products and links that are updated and checked several times. We ensure you have the lowest risk of IP complaints with any of the items. The leads are final; you can purchase each product by clicking on the link.
We also check Keepa history to ensure the seller rotation is reasonable. If it is so, but it was reported by a seller a few years ago, we conclude that the brand owner is not eager to report the sellers anymore.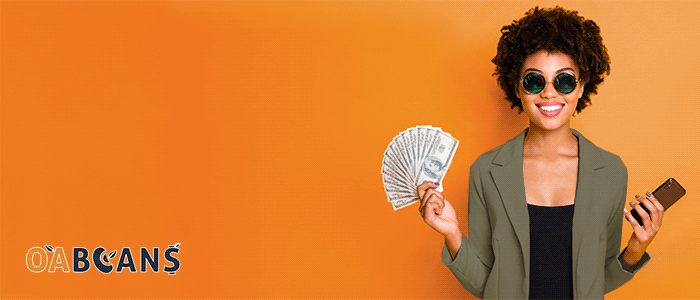 Final Thoughts
Even a little knowledge about IP claims can help you to protect your account a lot if you are in a condition where you want to prevent future IP claims, so these points will help you a lot.
But if you have received an IP complaint, don't be scared. Just follow the steps mentioned above, and don't forget to take valid claims seriously. Not responding to legitimate complaints can have very bad consequences for your business. If you wanna know more about Amazon FBA, online arbitrage deals and etc, follow our blog.
FAQ