What is Wholesale Selling?
It is when you buy bulk branded products directly from authorized suppliers, manufacturers, or wholesale distributors to resell them on Amazon. Although you need big capital when you source the products from the suppliers in large quantities, the price per item is much less than if you buy your inventory from retail stores like Walmart or Target. You can make more profit in this way.
Do You Need a Wholesale License to Sell on Amazon?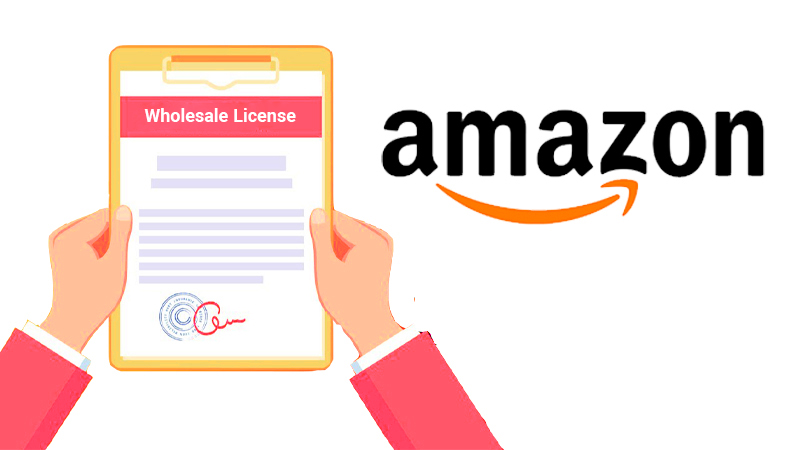 Wholesale sellers need a license that is called differently in different states or countries. It is called a business license, tax-exempt form, or something else. Sellers need to know wholesale license requirements in their region.
Is Selling Wholesale Worth it?
The wholesale work is large and probably terrifying. But because you can negotiate with the suppliers, you can guarantee constant and lower prices for your business. Once you find the best items, you can have a predictable cash flow. It saves your time because you don't need to look for profitable items every day and be worry about fluctuations.
How to Start Wholesale Selling on Amazon?
Amazon wholesale might seem terrifying but with a few steps, you can run your business. No matter you want to start Amazon FBA business or Wholesale, you need an Amazon seller account. The wholesalers certainly sign up as professional sellers. Before starting your business you need to take your business license.
The next step is doing product research and sourcing your inventory. The product research is very similar to what you do for the Amazon FBA listing. You should find the most profitable products and consider a profit margin for your business. To do the most effective product research, use the appropriate tools. Try to find the right items with proven demand.
---
Know More About Amazon FBA Product Sourcing
---
Once you find your favorite products, it is time to find a supplier who can provide your items in bulk. These websites are popular for supplying Amazon wholesale products:
4WholesaleUSA
Tope ten Wholesale
ToyDirectory
Greatrep.com
Alibaba is another popular website that many wholesale sellers use to find a supplier. But you can't find brand-name products in Alibaba and this website is better for private label sellers.
Try to communicate with the suppliers and negotiate for a lower price. The minimum order quantity is an important factor that varies from a supplier to another. It's better to ask for a sample before ordering your whole inventory. You can inspect the possible problems of the product before investing in it.
Big brands want to protect their value so you should prove your business as an asset to them before they let you resell their brands. Try to communicate and convince them with your business plan. Start with the smaller quantities and if it goes well, scale it up. Don't forget that the secret of higher profit in Amazon wholesale is ordering in bulk. So don't stay on low quantities after you assure your inventory is good enough.
---
Read More: Amazon Restricted Products
---
Start listing then. Make sure to use high-quality images and SEO-friendly descriptions. If you use the FBA program, the rest is with Amazon.Amazon is responsible for picking, packing, and delivering orders to customers. Just check your inventory and the customers' feedback.
Pros and Cons of Amazon Wholesale Selling
Nothing is perfect and Amazon wholesale has the pros and cons together. Knowing them leps you to make an informed decision:
Pros of Amazon Wholesale
Less competition: Getting approval form from established brands is a little bit longer and many people don't want to struggle with it.
More profit: The price per item is lower when you buy the products in bulk. So you can make more profit on each sale.
Less time to source the products: You don't search for different daily leads. Once you find your supplier and negotiate the price, you source your inventory from it.
Cons of Amazon Wholesale
More capitals: the suppliers usually have high minimum order quantities. It increases the initial capital.
More risk: If you buy a product that doesn't sell well, your loss more money. So it has a higher risk.
The tough process to get approved: Getting approved by big brands is difficult. In addition, they have rules on pricing, advertisement, and … that you should follow. It makes business management more complicated.
What Wholesale Items Sell Best?
Usually, the smaller and lighter items are a better choice when it comes to wholesaling. Because they are stored in bulk so keeping smaller products is easier.
The followings are the most suggested items by the experienced sellers:
Jewelry
Sunglasses
Clothes
Video games
Toys
Phone accessories
USB charging docks
Pet supplies
Beauty products
Health care equipment
Is it Legal to Buy Wholesale and Resell?
Generally, you can resell all the products you have bought legally. But here there are two points you need to consider:
Some products are covered by a warranty like electronic products. It can cover you for any repairs over a certain period. As a third-party seller, your customer isn't cover by this warranty. You can only offer your separate warranty to the customer.
Copyright and trademark are very important for Amazon. If you use their logo and brand without permission, your business could be affected by IP Complaints. Amazon won't let you resell them and you will lose your inventory.
---
Read More: Is Retail Arbitrage Legal?
---
Final Thought
When professional sellers want to take their business to the next level, they usually start Amazon's wholesale business. They can source the items at a lower price and make a constant cash flow with their proven products and suppliers. Wholesale on Amazon isn't risk-free and has pros and cons. You can consider this method as a scaling-up business plan when you have a successful business. If you wanna know more about online arbitrage deals, follow our website.