What Are the Key Differences Between Amazon & eBay?
Both eBay and Amazon act as online shopping sites, allowing visitors to browse the available products listed for sale or auction through each company's online store. While eBay and Amazon have evolved to meet the needs of today's consumers, there are apparent differences between the two companies. Amazon differentiates itself from eBay regarding business models and pricing, sellers' services, and buyers' ancillary services.
Let's see what makes these marketplaces different:
Cost and Selling Fees
The cost of selling on both sites is more or less the same. On eBay, you pay to list and enter each item, regardless of your success. Amazon does not have these expenses, but you must pay referral fees and other expenses related to the FBA program (if you use it).
Selling Format (Auction vs. Fixed Price)
Auctions are the best way to get market value for collectible items. eBay is best if your products are unique and you want the best prices.
While Amazon is the king of fixed prices, eBay is moving in that direction by deemphasizing auctions and encouraging fixed-price listings.
Photos
Photos are one of the main differences between Amazon vs. eBay. eBay sellers have always struggled with photos: how to take good photos, get photos seen on eBay, and how many photos to post. Each product, even if it is precisely the same as another, has its own photo on eBay.
Selling on Amazon vs. eBay is different. On Amazon, a product has a photo and description page, and all sellers use the same page.
Return Policy
Some sellers fear Amazon's mandatory return policy, called the A-Z Guarantee. This guarantee allows the buyer to receive a full refund (for up to 90 days) if the product is materially different from the description.
eBay sellers are free to battle with buyers to resolve a dispute. This may result in negative feedback for the seller. They are not required to offer a return. If a buyer is determined to receive a return, they will find a way to do so.
So, that's another difference regarding Amazon vs. eBay selling.
Shipment
eBay sellers often raise shipping prices a bit to scratch a little more profit and thus avoid eBay taxes. However, now eBay penalizes you for it by lowering your visibility.
Amazon gives you a shipping credit based on the product category. Although it usually does, it may not cover all shipping costs, but you cannot charge the customer more than what Amazon states.
Pros & Cons of Selling on Amazon & eBay
Now, we know the differences between selling on eBay and Amazon. But what are the pros and cons of these platforms? What advantages does each of them offer sellers? We'll discuss this below.
Pros of Amazon
Amazon offers you the possibility of having an international customer base and selling in multiple countries other than your own.
Selling on Amazon has endless possibilities for expansion and growth for your brand.
Amazon is a highly customer-centric company famous for effectively handling customer service and returns management. This makes it a reliable platform for buyers.
Amazon gives you access to its massive customer base – 310 million buyers worldwide!
Amazon has hundreds of distribution points in many countries worldwide and a very efficient order management system.
Cons of Amazon
Competing on Amazon (and in a global market) can be complicated for many brands depending on the product, the added value compared to the competition, etc.
Amazon's fees and commissions can be high for sellers who don't have little capital. In addition to fees related to logistics management (Amazon FBA), other expenses must be taken into account, such as advertising or other fees related to the visibility of your product.
Pros of eBay
There are more than 160 million active buyers on the website during any given month, which gives you a broad customer base to work on.
When you sell products on eBay, the auction listing format allows you to generate more revenue for an item than if you sold it to a customer directly.
When comparing Amazon vs. eBay, we find it's pretty easy to start selling on eBay. You can get your first listing up and running in less than 30 minutes.
When you start selling on eBay, you won't have to worry about this marketplace trying to be competitive with your products if they become popular. This platform does not sell any of its products. That means buyers only see items that are available through third-party sellers.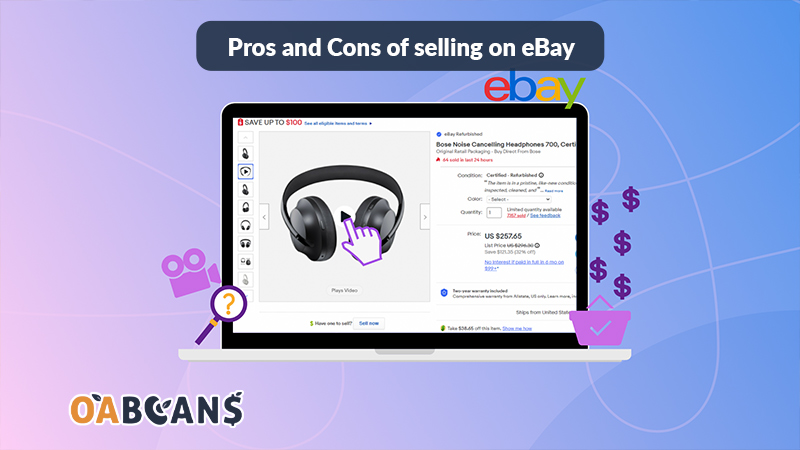 Cons of eBay
When you start selling on eBay, you should be aware of the transaction's seller fees. You will receive 50 free listings per month, but you have to pay $0.35 in most categories for every other listing beyond that.
Your final value rates are based on your reputation. Suppose your eBay account does not meet or exceed the minimum performance standards. In that case, the platform charges you an additional four percentage points on top of the standard final value fees you pay when the item is sold.
---
Read More: Online Arbitrage VS. Private Label
---
Which One is More Popular; Amazon or eBay?
We must consider two aspects to answer the age-old question of Amazon vs. eBay. First, we must know which marketplace is more profitable for sellers and then see which one is more preferred by customers.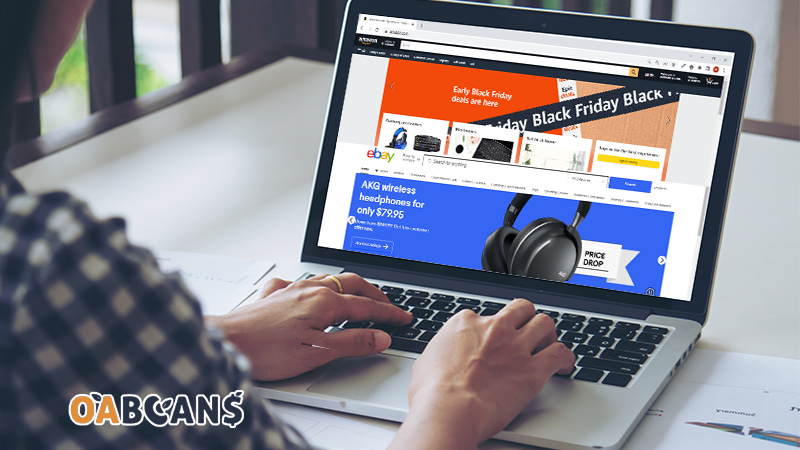 From a seller's point of view: Amazon is more prevalent among sellers, primarily due to its FBA (Fulfillment by Amazon) program. It does a remarkable job of helping sellers to increase their sales, and its one-click checkout has made a considerable difference compared to eBay and PayPal.
The FBA program makes logistics and shipping management extremely easy for sellers. Sellers have to ship their inventory to Amazon's warehouses. Amazon will take care of packing, shipping, returns, and customer service (for a fee).
From a buyer's point of view: For this aspect, statistics are all you need. More than 300 million people use Amazon monthly, while eBay has 167 million monthly buyers. Most people prefer using Amazon over eBay because of the excellent customer service and return policies that Amazon has in place.
So, we can conclude that while eBay is a popular eCommerce platform, Amazon is preferred by both sellers and buyers.
Which Marketplace Do Consumers Trust More?
It has been proven that Amazon is safer and more trustworthy than eBay. As mentioned earlier in this article, you can become a seller on eBay in 30 minutes, while the approval process for becoming an Amazon seller is much more complex and requires verification. So, consumers can be sure that everything sold through Amazon comes directly from the company that makes the items. However, anyone can sell anything on eBay, which makes it harder to trust.
Fulfillment on Amazon vs. eBay
One of the most critical differences between Amazon vs. eBay is that eBay does not offer an in-house fulfillment service such as Amazon FBA.
Amazon FBA – or Fulfillment by Amazon – is a service that helps sellers with logistics, returns management, and even customer service. If you become an Amazon FBA seller, Amazon will store, pick, pack, ship, and deliver your products to customers. They will also handle returns and customer service after the order has been shipped.
eBay planned to introduce a similar in-house fulfillment service (called "Managed Delivery") back in 2019, but it failed because it didn't fit into their business model and was ultimately ended in early 2020.
However, the real reason was that eBay couldn't compete with Amazon's FBA program in scale and speed.
---
Know More: Amazon FBA vs. FBM
---
Fees & Costs of Selling on eBay & Amazon
One of the similarities between Amazon and eBay is that both marketplaces have fees and commissions that sellers must consider. However, the amount of these fees and costs are not the same. Here are the fees and costs of selling on Amazon vs. eBay:
Amazon Fees
Amazon has four primary seller fees:
Sale-related fees: These consist of referral fees (6%-45%), minimum referral fees ($0-$2), and closing fees ($1.80). These fees vary depending on your item category and selling price.
Seller account fees: Amazon offers two different plans for seller accounts – Individual seller (99 cents per item sold) and Professional seller ($39.99 per month).
Shipping costs: These are not seller fees, but you have to be careful, so they don't cost you a lot of money. Shipping costs depend on the size and weight of each package you ship.
Amazon FBA fees: These include picking, packing, and weight handling fees, plus monthly storage fees.
eBay Fees
Insertion fees start at $0.35 per listing.
Final value fee: % of the total amount of the sale + $0.30 per item
Optional listing upgrade fee: depends on the selected upgrade option. For example, you have to pay $4.00 for using a bold font for items priced at $150 or less.
Optional promoted listing fee starting at 1% of the assessed final value fee
Subscription fee: $4.95 – 2,999.95 per month, depending on the plan
Payment processing fee: $0.30 fixed per order
Real state listing fee: $35 – $300 per listing + $35 notice fee
What Products Can You Sell on Amazon & eBay?
While Amazon has strict policies regarding second-hand items, eBay is like a garage sale where you can sell anything. When comparing the products on Amazon vs. eBay, you can see that both marketplaces have various categories you can choose from.
Amazon:
Toys and games
Electronic accessories and gadgets
Video games
Camera and photography accessories
Books
eBay:
Mobile phones and accessories
Video games
Health and beauty products
Home and gardening products
Computers and tablets
Final Thoughts
Considering everything mentioned in this article, we can say that Amazon is the winner in the Amazon vs. eBay battle. Although the auction system on eBay can be tempting, Amazon has fewer fees and a more extensive customer base than eBay. It's more popular among customers and preferred by sellers.