What is Amazon Seller Fulfilled Prime (SFP)?
It is a program that allows qualified sellers to use the Prime badge on their products and directly deliver orders to Prime subscribers using their fulfillment.
Sellers must commit to delivering orders within two days at no additional cost to the customer, meeting Amazon Prime's high-performance expectations, and using Amazon-approved shipping carriers.
If you can prove to Amazon that you can do this, you may be eligible to be part of Seller Fulfilled Prime.
This allows you to include the Prime badge on products, tapping into an element of reliability and trustworthiness crucial to customers, improving visibility in search, and increasing your chances of winning the Buy Box.
Amazon Seller-Fulfilled Prime Requirements
To be considered and remain eligible for Amazon Seller Fulfilled Prime, the supplier must always be eligible for the Premium Shipping program. Some eligibility criteria are needed to be accepted in this program:
• A demonstrable on-time delivery capability of at least 92% for Premium Shipping orders.
• A form of tracking ID that is valid for at least 94% of Premium Shipping orders.
• A cancellation rate of less than 1.5% for Premium Shipping orders.
• Previous performance percentages must be maintained.
• Continue to offer premium shipping options.
• Have a 99% shipping time rate.
• Have a cancellation rate of less than 0.5%.
• Use Amazon Buy Shipping for at least 98.5% of orders.
• Use an Amazon-approved carrier to deliver orders.
• Accept and adhere to the Amazon Return Policy.
• Allow Amazon to handle all customer service inquiries.
---
😍 How to Prepare for Amazon Prime Day in 2022?
---
How Amazon SFP Works?
Up to 70% of Amazon sellers have assured that thanks to having the Prime badge, their sales have increased by more than 20%. The SFP is a perfect tool to offer potential customers a wider range of products.
In addition, it is the perfect way to sell high-volume or very delicate products. Some examples are a sofa, a vase, a piece of jewelry, or a mattress. To apply for SFP, the seller must go to the Seller Fulfilled Prime section in Seller Central. Here you must create a Prime shipping template where you must specify specific characteristics such as whether your shipments will be local or national.
To get in early, you need to take a Seller Fulfilled Prime test to prove your performance. If the seller meets all the requirements, Amazon will notify the seller two days in advance to start being part of SFP.
How to Enable Amazon Seller Fulfilled Prime?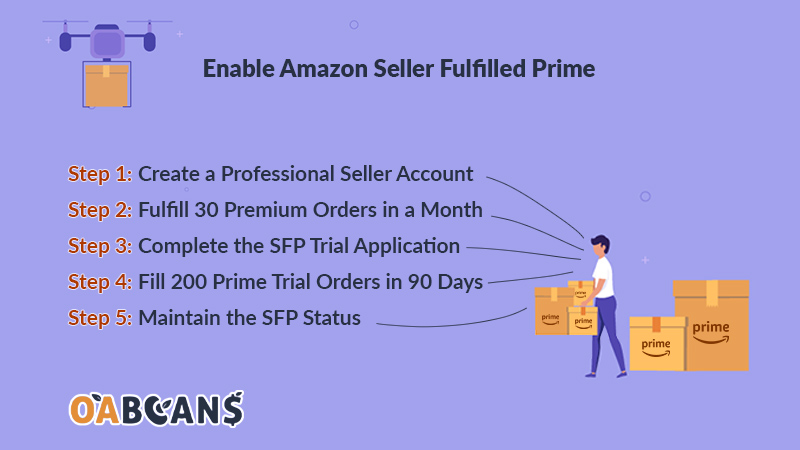 Step 1 – First of all, you should sign up for a professional seller account and activate Premium Shipping.
Step 2 – Next, you need to fulfill 30 premium orders in a month. This is the real trick to being eligible for Amazon Seller Fulfilled Prime. In the 30 days before applying for the SFP, you will need to have completed 30 Premium Shipping orders.
Step 3 – Enroll in the Seller Fulfilled Prime trial. The next step is to complete the Seller Fulfilled Prime application and agree to offer overnight or two-day shipping on Prime items. You must also agree to Amazon's return policy and customer service requirements.
Step 4 – Fill 200 Prime trial orders in 90 days. Within 90 days of starting your SPP trial, you must complete 200 eligible orders. Keep an eye on your performance stats tab to see your current status.
Step 5 – Maintain good standing to continue using the program.
---
What is Amazon FBM & How it Works?
---
Seller Fulfilled Prime Shipping Rates
Amazon Seller Fulfilled Prime shipping rates are determined mainly by order volume, packaging sizes, and the customer's location. Free standard shipping must be offered on all Prime orders, which can increase shipping costs.
The SFP is generally more cost-effective than the FBA program, but in both programs, sellers must pay an Amazon referral fee, which is between 5%-45% of a product's selling price (average of 15%).
Pros & Cons of Seller-Fulfilled Prime
The truth is, there are several reasons why sellers are transitioning to specific ASINs to be fulfilled through Seller-Fulfilled Prime, and they are doing so to:
• Get access to the Prime customer base.
• Be able to gain complete control over their inventory, which will eliminate the need to ship stock to Amazon.
• Be able to experience the same Buy Box privileges as Fulfillment by Amazon (FBA) sellers.
• Eliminate FBA shipping charges.
• Not incur long-term storage costs if they don't need to.
• Increase profits from bulky and heavy merchandise that are subject to high FBA fees.
• Sell certain products that are not eligible for FBA.
• Implement a more transparent return process.
• With SFP, sellers can directly handle returns for Prime purchases, helping them track and identify returns of their products.
On the other hand, the Amazon Seller Fulfilled Prime program is expensive. For example, to meet the free shipping requirement, we will need to include the shipping cost in the product price.
Due to the added costs, this program will surely not be suitable for all sellers. It will be profitable to a greater extent, especially for manufacturers and brand owners, who are the sellers that work with the highest margins.
If you are a seller that resells third-party products or a multi-brand store, this program will not suit your needs, or at least, it will not be suitable for all your products.
---
Read More: How to Start Amazon FBA Business?
---
SFP vs. FBA; Which One is Better?
• Logistics: within the FBA framework, the platform manages the entire logistics process, while the SFP program obliges the vendor to manage the warehouse or logistics and cover the shipping costs.
• Stock control: With FBA, product storage will be entrusted to Amazon, and storage fees will increase over time. This problem does not exist with SFP, but the seller must respect the delivery times set by Amazon.
• Returns management: If a product gets returned under the FBA program, Amazon will handle the entire process. However, sellers need to have customer service and monitor returns more carefully with SFP. In both cases, the seller must cover the fees.
• Access to services: As mentioned in this article, the Amazon Seller Fulfilled Prime has strict eligibility criteria. You may also have to wait for a slot to become available because Amazon does not constantly take on new SFP vendors. However, the FBA program is much easier to enroll in.
Whether you choose the FBA or the SFP program, some methods can help you increase your sales and have a more profitable business. One of these methods is buying online arbitrage deals, which can help you find the right products without keyword research skills or finding the right supplier by yourself. Click for more information about online arbitrage deals. 
Final Thoughts
Amazon Seller Fulfilled Prime is Amazon Prime's fulfillment program that allows you to ship directly to local Prime customers from your warehouse. After completing your Seller Fulfilled Prime trial, your products will be displayed with a Prime badge, increasing your visibility to millions of Amazon customers.
FAQ