General Statistics of Amazon in 2023
There are many Amazon statistics available on the internet. It could be overwhelming for you to which ones are practical. We choose 10 Amazon stats among all and narrow them down below:
66% of consumers start their online research for products on Amazon
There are more than 200 million Amazon Prime subscribers worldwide
Spending through all eCommerce sites in the U.S. reached $11.2 billion on Prime Day 2021
Amazon's revenue on Prime Day 2021 was 29% higher than on an average day in June 2021
About 50% of the entire eCommerce Gross merchandise value (GMV) in the U.S. goes to Amazon
Amazon has more than 90% of the market share in five categories:

home improvement tools (93%)

The total Amazon revenue was $469.8 billion in 2021
There are about 300 sales every second on Amazon during the Christmas season
Roughly 3,700 new sellers join Amazon every day
About 89% of Amazon sellers use FBA
In 2021, 60,000 Amazon sellers surpassed $1 million in sales
Top 3 Amazon Global Marketplaces where third party sellers plan to expand are: United States, Canada and United Kingdom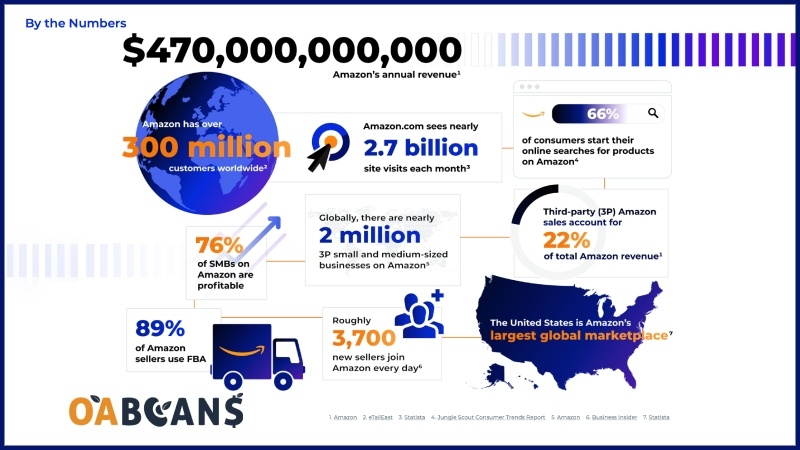 There are some fantastic stats about other alternative online platforms for Amazon sellers:
About %28 of Amazon sellers are also selling on eBay. At the same time, 15% are also choosing Shopify. Esty attracts about 13% of Amazon sellers. Besides, the Facebook marketplace that worthy of mention as 12% of Amazon third-party sellers use each of them. Last but not least, the platform that about %12 of sellers use is Walmart.
Amazon Product & Categories Statistics
You, as a seller, need to know what the customers buy to become successful in your business. Here, the top 10 Amazon product categories for SMB sellers are listed based on the stats of the Amazon Seller Report in 2021:
Here are Amazon's stats for the 10 least competitive categories:
| | |
| --- | --- |
| Category | Percentage of Sales |
| Automotive Parts & Accessories | 7% |
| Handmade | 6% |
| Apps & Games | 6% |
| Industrial & Scientific | 5% |
| Computers | 5% |
| Video Games | 4% |
| Collectibles & Fine Art | 4% |
| CDs & Vinyl | 3% |
| Luggage & Travel Gear | 3% |
| Musical Instruments | 2% |
You should know that sellers can sell in multiple categories simultaneously and provide products from different sources. China remains the leading source of providing goods for the U.S., especially for private label Amazon sellers. Because of the Pandemic, the global supply chain has been strained in recent years.
2021 is known as a uniquely challenging year for sourcing. Events like hurricanes in the coastal, U.S.flooding in Western Europe, and the Suez Canal blockage impacted freight transport capacity. Below is a chart of the top global supplier countries for Amazon products:
Summarized percentages exceed 100% because of many sellers source products from multiple countries. Sellers self-identified supplier countries, including Taiwan and Hong Kong. Other sourcing countries include Vietnam, Belgium, Bangladesh, Pakistan, and Turkey.
It is good to know that 88% Amazon sellers sell 50 or fewer products, while about 19% of them have only one item in their inventory list.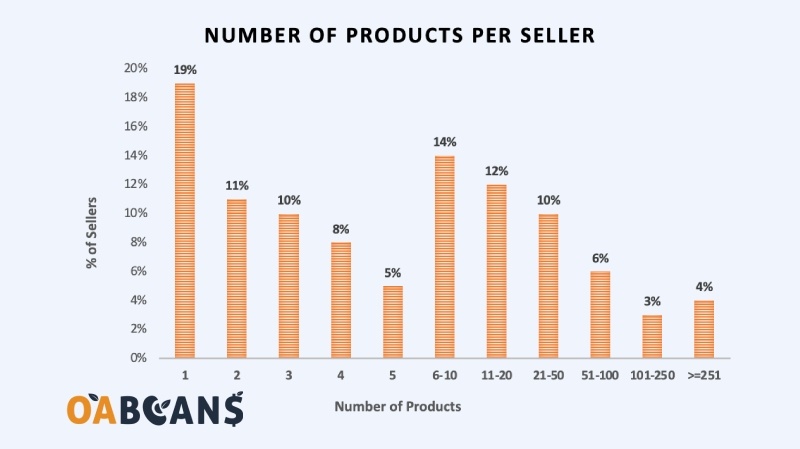 The State of Amazon Sellers in 2023
The term "Amazon seller" is often used to refer to the third-party or "3P" sellers who sell the others' brands and products. There are also "first-party" or "1P" sellers who sell their own products to Amazon as a vendor. Finally, Amazon itself is a seller, too.
Below are three demographics of Amazon sellers based on location, gender, and education.
Location: Among all Amazon sellers, 47% live in the United States, 9% in Canada, 6% in the United Kingdom, and 4% in India.
Gender: There has been a constant trend over the years that two-thirds of all sellers on Amazon identify as male.
Education: 85% of sellers have some level of post-secondary education, whether it's an associate degree or a Ph.D.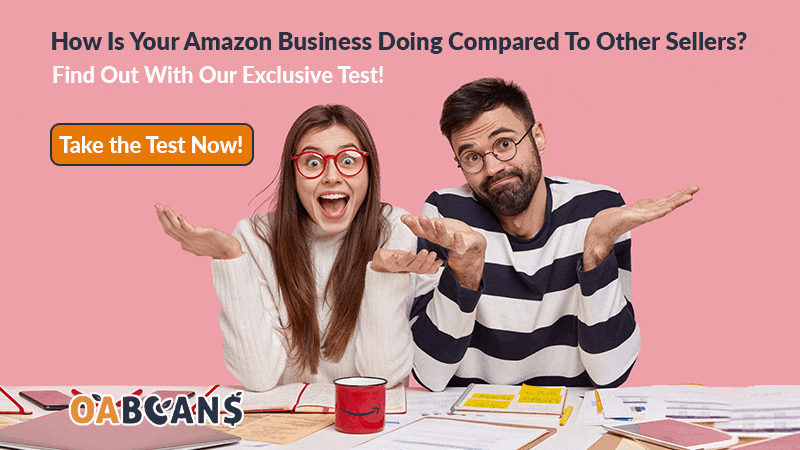 See the following graph to understand which business model is the most common and favorite one on Amazon.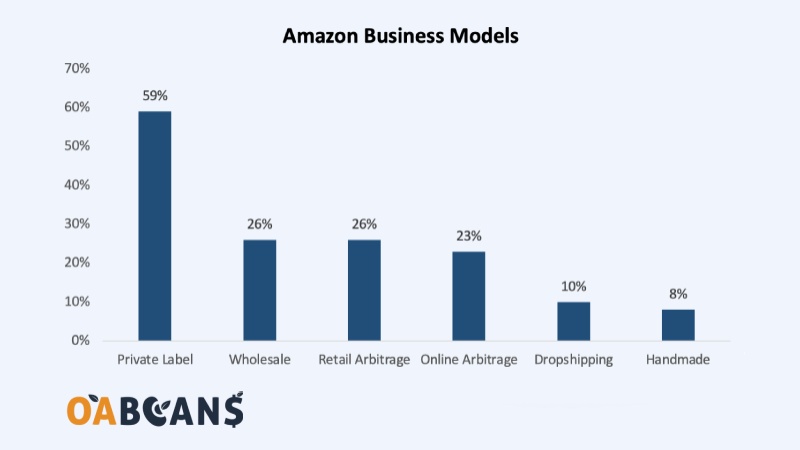 The following state of Amazon Sellers is about choosing the fulfillment method among FBA and FBM.
In 2021, 89% of Amazon sellers used FBA, and 32% used FBM. The sum is more than 100% because some sellers use both methods.
In 2020, Amazon put some restrictions on FBA inventory, which caused many sellers to start using FBM. This jump was nearly 10% compared to previous years.
Besides, Amazon adds a 5% fuel and inflation on U.S. merchants, effective 18th April 2022. This announcement means Amazon will charge an average of 24 cents more per unit it stores and ships through its Fulfillment by Amazon (FBA) service. It is expected that more people in 2022 will use FBM.
---
Know More About Amazon Top Sellers in the World
---
Sales and Profitability of Amazon Sellers
Building a lucrative business is a dream of every seller. The spectrum of profits is broad and depends on the business model, the sellers' level of experience in eCommerce, and the size of the business.
Actually, the sales and profitability of amazon sellers vary from $500 to $250,000 monthly. An average of $42,000 is what new sellers annually can earn.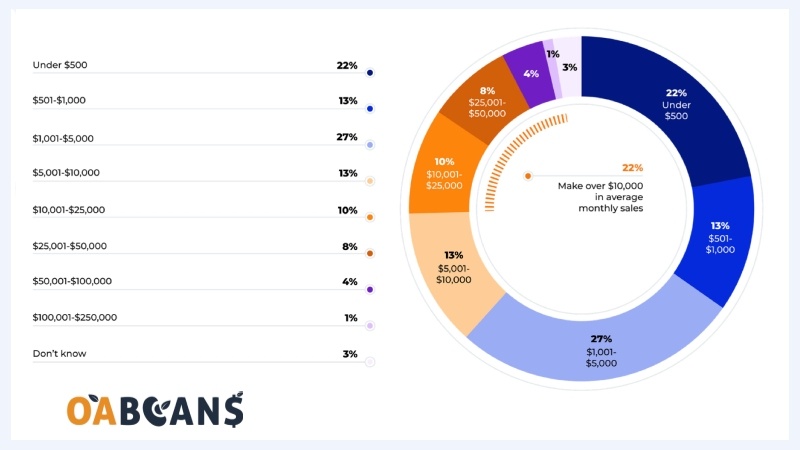 With increasing years of experience on Amazon, the number of sales will increase. 22% of small and medium-sized businesses (SMBs) make over $10,000 in average monthly sales. In 2022, 66% (two-thirds) of sellers earn profit margins higher than 10%, and nearly one-third (32%) earn profit margins above 20%.
---
Do You Know How Much Money Do Amazon FBA Sellers Make?
---
10 Challenges of Top Amazon Sellers in 2023
Sellers face various obstacles while starting a business on Amazon. They progress through their selling journeys and solve these challenges. The most severe difficulties that top Amazon sellers will encounter in 2022 are:
Getting Customer Reviews
Finding a Product to Sell
Managing Advertising Strategy & Budget
Protecting Their Business from Counterfeiters and Other Risks
Conducting Market Research
Finding a Supplier
Finding Relative & High Quality Keywords
Importing Products
Optimizing Product Listing
Branding Their Business/ Product
Final Thought
At the time of writing this post, Amazon has been the biggest name in the eCommerce industry and is known as a market leader. Regularly, millions of buyers use Amazon to make day-to-day purchases. So, it has considerable potential for new sellers to list their products on Amazon. It is critical to follow the Amazon sellers' facts and statistics to do a profitable business. Moreover, to find profitable online arbitrage deals, you need to do product research and analyze the market.
FAQs about Amazon Sellers Statistics
Sources:
[1] https://www.junglescout.com/amazon-seller-report/
[2] https://www.statista.com/statistics/788109/amazon-retail-market-share-usa/
[3] https://www.bigcommerce.com/blog/amazon-statistics/