What is Amazon Retail Arbitrage?
It is one of the business models you can use to sell on Amazon. It has a simple concept. Retail Arbitrage is the act of buying discounted products at a low price from retail and mortar stores and reselling them at a higher price on Amazon. You can make a good profit from this price differentiation.
Finding profitable products is essential to the success of your retail business. So, if you want to keep everything going smoothly, it would be great to use suitable tools.
What is an Amazon Seller Scanner App?
An Amazon seller scanner app is a tool for retail arbitrage sellers to scan the product barcode and get helpful information on that product.
These tools let the sellers see how the product in real-time performs based on its metrics and give them its price history data, approximate profit, and eligibility to sell that item.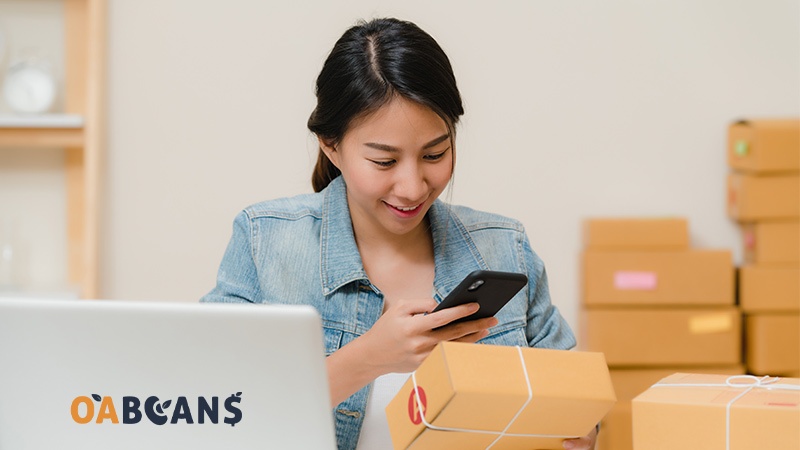 Best Amazon Seller Scanner Apps
Third-party sellers who use Retail Arbitrage for their business can download an Amazon seller scanner app on their smartphones.
These apps can help sellers know their competitors and maximize their returns in the quickest and most efficient possible way. Besides, these scanner apps provide important product data such as current price, sales rank history, and the number of sellers by scanning the product's barcode. With all of this information, sellers can decide whether this particular product is suitable for selling on Amazon.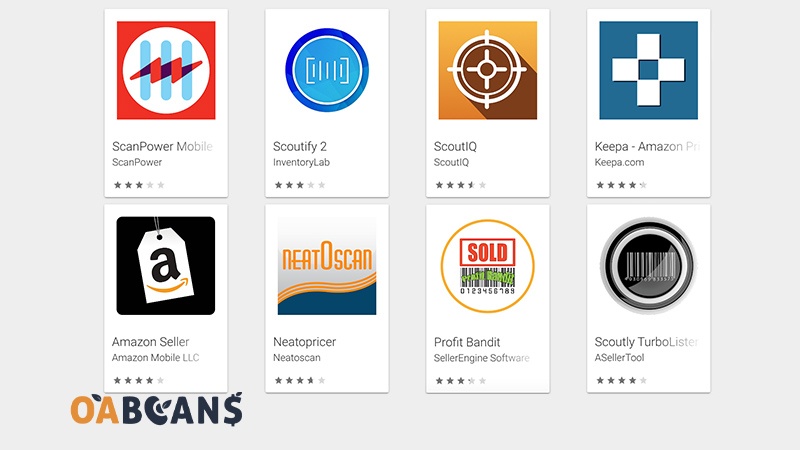 The most fantastic Amazon seller scanner apps are listed below.
1) Amazon Seller App
Even if you don't use Retail Arbitrage on Amazon, the Amazon seller app is the essential app you will need. As it is free, you can install and use it without worrying.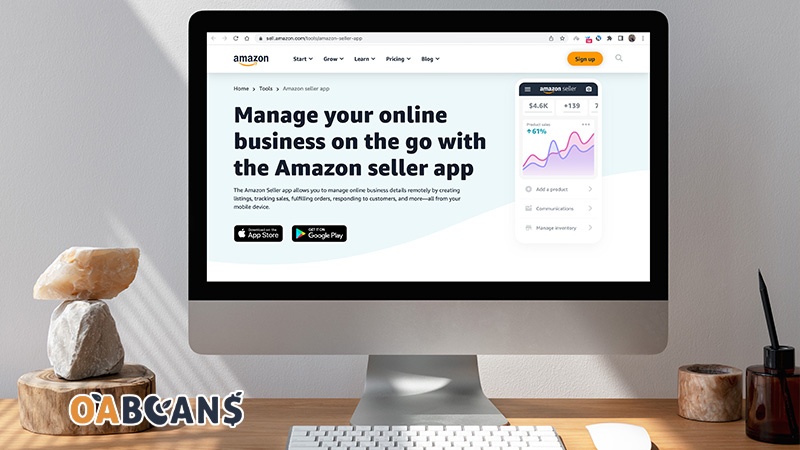 · How to Use the Amazon Seller Scanner App?
After downloading and installing the Amazon seller app, you can start scanning a product barcode in the physical stores. Here are the steps:
Peel the top layer of the sticker.
Start the Amazon mobile app.
Select the search bar in the app.
Choose "Scan It."
Place your smartphone camera in front of the code.
Center the code on the screen. Scanning will finish after a few seconds. You will have access to a page containing information about the product.
· How to Scan Products with Amazon Seller Scanner App?
You can quickly scan through products when you are in a local store. Having a smartphone is the main requirement. Then you have to download an Amazon barcode scanner app and activate its barcode scanning feature. Launch scanning the product barcode on the packaging. The Amazon scanning app will give you the data within seconds. It will get you an overview of the product's current price on Amazon. The number of sellers, average price, potential profit, price change, and if Amazon sells the same item are available.
· Is Amazon Seller App Legit?
Actually, it is a full suite of tools and free of charge. The merchants can manage their business on Amazon with the help of the Amazon seller app. It is legal and reliable, but you need to have an Amazon seller account.
2) ScanPower
It provides live pricing data on Amazon for sellers. You can even reach your desired products by typing a keyword and looking for that. This app allows you to send data to your desktop and reflect on it later when you are out of the home. It is also available in a web browser form named ScanPower Scout. The subscription fee is $49 for a basic monthly plan for 2 account users.
Details:
Find profitable products using a barcode, ASIN, ISBN, or UPC
Ability to create 2D barcodes with ScanPower Boxt
Shows whether or not Amazon sells a product
ScanPower allows sellers to immediately create an Amazon listing and print the FBA label in one step
ScanPower Evaluate calculates the net payout of each product
Keep track of your cost of goods sold (COGS) and return on investment (ROI)
Limitations:
Missing back button on the search pages causing duplicating scan
Does not work with an Amazon Individual account
Quite expensive
3) Profit Bandit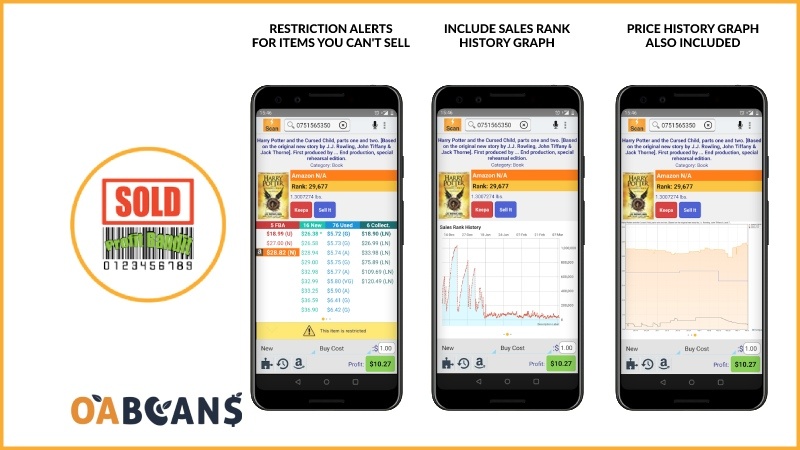 This app is connected to Amazon's API, and you access live lookup, it has the most up-to-date results. It has many features such as scanning barcodes, manual search, sales rank, restricted item notification, and your Amazon profit. It calculates profit based on 15 factors, including Amazon fees, weight, taxes, cost of goods, and shipping. You can 20products for free. The subscription fee is $9.99.
Details:
Affordable app
Shows availability of Amazon Buy Box
Indicate product weight
Can calculate net profit and ROI
Shows the estimated profits
Limitations:
Doesn't link to Keepa
Needs a reliable internet connection
Lack of database scanning mode
4) Scoutly
It was formerly known FBAScan. If your internet connection is not strong enough while seeking products to sell, Scoutly is very helpful and convenient. It works offline. Besides, it is the only app that puts a complete Amazon pricing database onto your phone. It is available in the U.S., Canada, and the UK. Its monthly plan starts from $9.95.
Details:
Integrates Keepa charts
Set up product-specific profit triggers by Amazon
Can be used even when offline
Shows average sales rank
Limitations:
A 30-day free trial is available only in the Professional plan
Has a tendency to crash during scans
Downloading the databases will take up phone space
5)ScoutIQ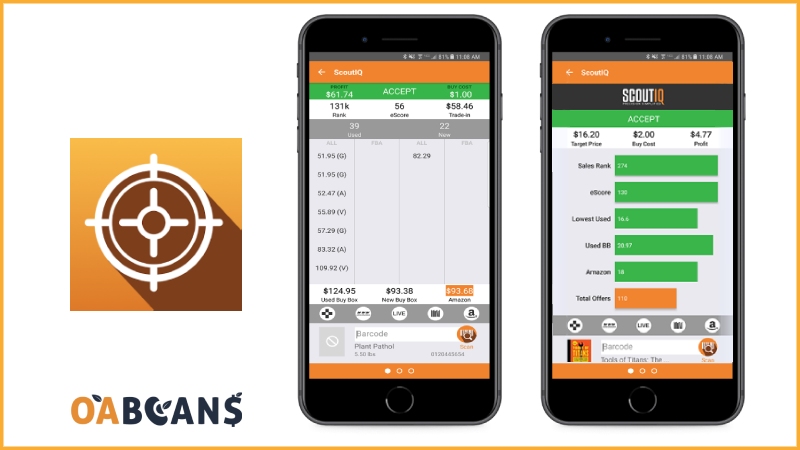 The best app for Amazon sellers who focus on selling books is ScoutIQ. It is also possible to scan other categories, but it is ideal for scanning books. Working without an internet connection is one of its benefits. It means you can download the database of Amazon's products and scan products quickly. You must pay $14 monthly for just live mode only.
Details:
The feature eSCORE measures how often a book has sold in the past 6 months.
Can also find the historical demand for a book.
Set "accept or reject" triggers with sound notifications.
Integrating with book buyback websites, it gets an immediate quote.
Limitations:
The database takes a while to download
It can be a little clunky
6) Scoutify2
With helping of this app, you can scan products' barcodes using camera phones. It provides you with the following information: product potential profit, price on Amazon, ranking, and more. In addition, it is possible to connect this app with Amazon prices tracking software like Camel Camel Came and Keepa. It costs $49 monthly.
Details:
Calculate net profit and ROI
Scanning is much faster than the Amazon Seller app
Indicate net profit and ROI
Limitations:
Only available with an Inventory Lab subscription
7) Keepa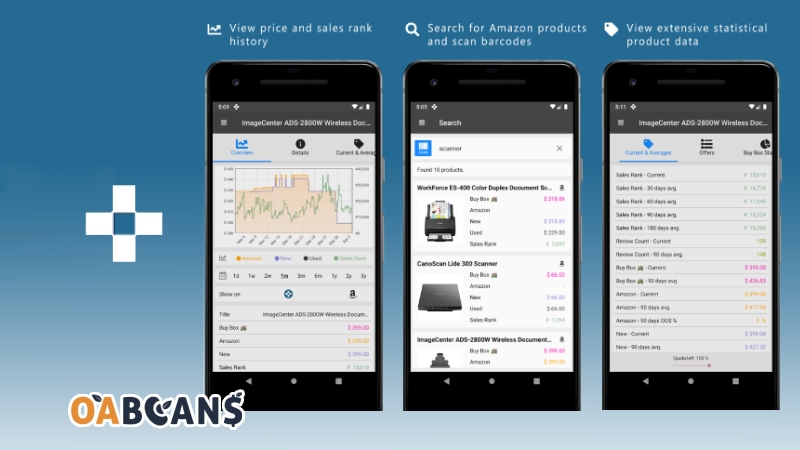 Initially, Keepa was a web price tracking tool. Later on, it introduced an app version for the convenience of third-party sellers. They can scan barcodes and understand a detailed product's price history along with multiple data points, including review count, product rating, and new offers. A premium subscription costs $15 per month.
Details:
Search for deals on Amazon
See historical data since the product entered the market
With a paid subscription, it provides detailed sales history charts
View the best selling products on Amazon
Limitations:
Customer experience will be smoother if it improves its functions.
8) Neatopricer
It is known as a multiple-purpose Amazon seller tool. Initially, it provides lightning-fast Amazon price comparisons for Amazon sellers. It can work offline by downloading a database that contains more than 18 million items from Amazon.
So even if you don't have access to wi-fi or signal, by using Neatoprice, you can still do your Retail Arbitrage. It helps you scan products and reaches the price details and sales info. You have access to 14 days trial and must pay $50 for a monthly subscription for one license.
Details:
Large font mode for tired eyes
Use PDA (Portable Data Assistant)
Provides lightning fast Amazon price comparisons
Live and offline database lookups
Hide pricing info (for employees)
Limitations:
Local database is not 100% accurate (not as accurate as live)
Relatively expensive
You need to download local DB every week (or daily)
Final Thoughts
The necessity of more apps for sellers' convenience is more apparent as the Amazon marketplace expands. Retail Arbitrage is one of the popular selling models, although it requires doing the legwork. Finding lucrative products through the aisles of Walmart or Target is taxing physically and mentally. So, it is critical to arm with the right app while sourcing items for your Retail Arbitrage business on Amazon. You can start using each app for free for a limited time and discover how it works.