Preparations to start selling books on Amazon
First of all, you need an Amazon account as an Amazon seller. Amazon has two possible selling account features: Individual and Professional. If you are a newbie and the number of your monthly sales is less than 40 products, the Individual plan is the best choice for you. Because it is a pay-as-you-go model, it doesn't impose any extra cost on you.
The other option is the Professional plan in which you can sell more than 40 units per month. But, it has a $29.99 monthly subscription fee. It is practical for the most medium to large-size businesses.
| | |
| --- | --- |
| Individual selling plan | Professional selling plan |
| CDN $1.49 per item fee for each item that sells | CDN $29.99 monthly subscription fee |
| Single listing creation | Multiple listing creation using spreadsheets and uploads |
| Online listing and order management | Inventory and order management using reports and feeds |
| Access to tools on Seller Central to perform account functions | Access to Amazon Marketplace Web Service to upload feeds, receive reports, and perform other API functions |
Here, you can choose between FBA and FBM fulfillment methods. In the FBA (Fulfillment by Amazon) method, Amazon will be responsible for the whole process from storing, picking, packing, and shipping after selling your book. Even Amazon does return and customer service. Basically, expert sellers will go for Amazon FBA Business.
FBM (Fulfillment by Merchant) is suitable for newbies with limited orders. Besides, shipping large items is cheaper than Amazon FBA.
---
Read More: Amazon Individual vs Professional Seller Plans
---
What Kind of Books Can You Sell on Amazon?
All formats such as paperbacks, hardcover, or even ebooks are eligible to be sold on Amazon. It is possible to source books from your brick-and-mortar store or resells non-fiction books you have already read. Listing rare hardcover collectibles or beloved comic books is another possibility.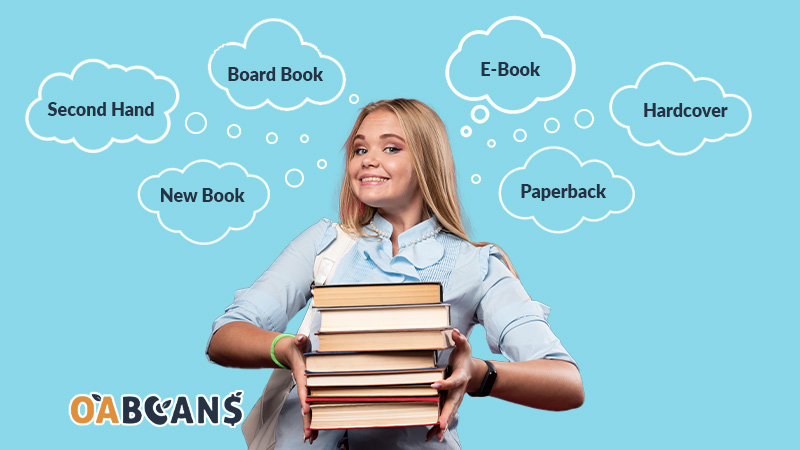 Even you can get rid of children's books that you don't need anymore. It is critical to consider that high-demand books can be sold better. A list shows Best Sellers in Books based on sales of the most popular book title. We suggest these books:
Sell used books online
Sell textbooks online
Sell books without an ISBN
Sell new books online
Sell collectible or rare books online
Sell ebooks online
How to Find Books to Sell?
You can source your inventory in several different places, which can help you grow your Amazon business constantly. Here, we list them:
1) Book Sales
It is somehow hunting for treasure, going to book sales, and selecting suitable books to sell. By using a book scanner and Bluetooth scanner, you can faster find lucrative books on sale for selling.
2) Estate/closing sales
Generally, large book collections are sold together, and you can buy an entire collection with pennies on the dollar.
3) Sell your own books
This is the most straightforward way of sourcing books for selling on Amazon. You can make money from your old book collecting dust like old comic books, textbooks, and rare topics.
Many websites have books with lower prices than Amazon, and sellers can buy them at a lower price from these websites and resell them on Amazon with the Online Arbitrage method.
5) Bulk Purchase/wholesale
Facebook, Craigslist, and eBay offer lots of used books at a low price. You need to ensure that these books are
6) Free books
You can find free books on Facebook Marketplace or Craigslist from those who want to offload their books at no charge. Before listing them, check if other sellers have not listed the same books for free because they can't sell them.
---
Read More: How to Find Prep Centers for Amazon FBA Online Arbitrage?
---
How to List Your Book on Amazon?
After registering to start selling on Amazon, you can list your books on your inventory. The best and easiest way is to go to the Amazon page, use the actual product detail page, and find the book you want for your inventory. Write the book's registration code (ISBN) in the Amazon search bar, the same as looking for a product to purchase.
Consider that printed books before 1970 didn't have ISBN; instead of it, you can use the title manually. There is a gray button just below the "Buy Box" on the product listing page that says "Sell on Amazon."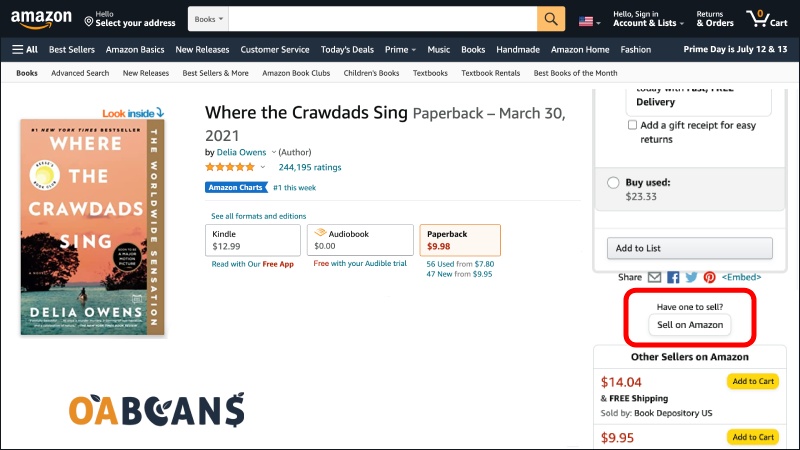 Since you are permitted to sell on Amazon, you can go to the next step by clicking on this gray button. Below picture will appear.
Now, you need to enter the following information:
It would be wise to price the books based on their condition. Statistics show that books with "Very Good" quality usually sell more than "Acceptable." If you automatically set the price to match the lowest price, it may cause a "race to the bottom." In completion with lower-quality and cheaper options, you can sell a book in good condition quickly.
You have your own personal code for each book. You must specify it. Otherwise, Amazon randomly generates one for you.
Choose among FBA and FBM
---
Read More: Amazon FBA vs FBM : Which One Is Better?
---
The default number is one unless you change it to the number of available copies.
Opt for one of these five conditions: "New," "Like new," "Very good," "Good," and "Acceptable." Be aware of listing a book in "New" condition, Amazon may ask for an invoice, or the publisher may report you.
| | |
| --- | --- |
| Condition | Description |
| New | With cover and original protective wrapping. Does not include books with labels such as "Bargain." |
| Used – Like New | Have minor cosmetic defects but without notes or highlights. The dust cover, if there is any, should be intact. May have remainder marks. |
| Used – Very Good | Have minor cosmetic defects. Dust cover and set cases may be missing. May have remainder marks. |
| Used – Good | Pages may include limited notes and highlighting, but all pages and the cover should be intact. May include "From the library of" labels. Shrink wrap, dust covers, or the boxed set case may be missing. |
| Used – Acceptable | All pages and the cover are intact, but shrink wrap, dust covers, or boxed set case may be missing. Pages may include limited notes, highlighting, or minor water damage but the text is readable. |
What Are the Fees for Selling Books on Amazon?
Whether you choose an Individual or Professional plan, you have to pay per sale ($1.49)for the former and a flat monthly fee ($29.99) for the latter. Besides, the referral fee for books is 15%. In addition, you have to pay $1.80 for the closing fee. However, you will charge a flat 15% for collectible books.
Moreover, the shipping rate varies depending on your fulfillment method, Fulfillment by Amazon (Amazon FBA Business) or Fulfillment by Merchant (FBM).
Amazon has a guideline for each fulfillment method.
FBM vs. FBA

Pros

CONS

FBM

Hands-on fulfillment

Not automatically eligible for Prime

Low Amazon fees

Higher overhead costs

Slightly higher profit margins

More responsibility and work

Not automatically

FBA

Hands-off fulfillment (less work)

Additional fees

Automatic Prime eligibility

Limited access to inventory

Multichannel availability

Tax obligations

Low shipping rates

Less control
Step-by-Step Guide to Sell Books on Amazon
Below are the steps which you have to follow for selling a book on Amazon:
Select the type of books you want to sell
Create your Amazon seller account
Decide your fulfillment method
Set your book pricing
List your books on Amazon
It is time to promote and market your books
The last step is packing and shipping your books
---
Read More: Amazon FBA vs Dropshipping
---
Pros and Cons of Selling Books on Amazon
You have to consider many factors while deciding which format to sell on Amazon.
| | |
| --- | --- |
| Pros | Cons |
| Fairly easy to get started on Amazon Marketplace | Amazon listing hijacking |
| Reliable Amazon customer relationship | Small and medium businesses (SMBs) still responsible for customer care and feeding |
| High number of sales on Amazon | It may be more difficult for you to build a dedicated following for your brand |
| Worldwide marketplace with more than 300 million customers | Lots of competition |
| Amazon has the most streamlined system for both authors and buyers | Various costs |
| Supportive customer service | |
Final Thought
Selling books on Amazon is one of the most profitable businesses in the market. You have to put some effort into finding out the types of books that sell more. Do some research to discover the categories and genres people like more to buy. Monitoring Amazon's annual best-seller list can help you understand the pattern that indicates on-demand books. The lower number shows that the product sells better. Using online arbitrage leads is another option that is convenient to use.
Selling Books FAQs