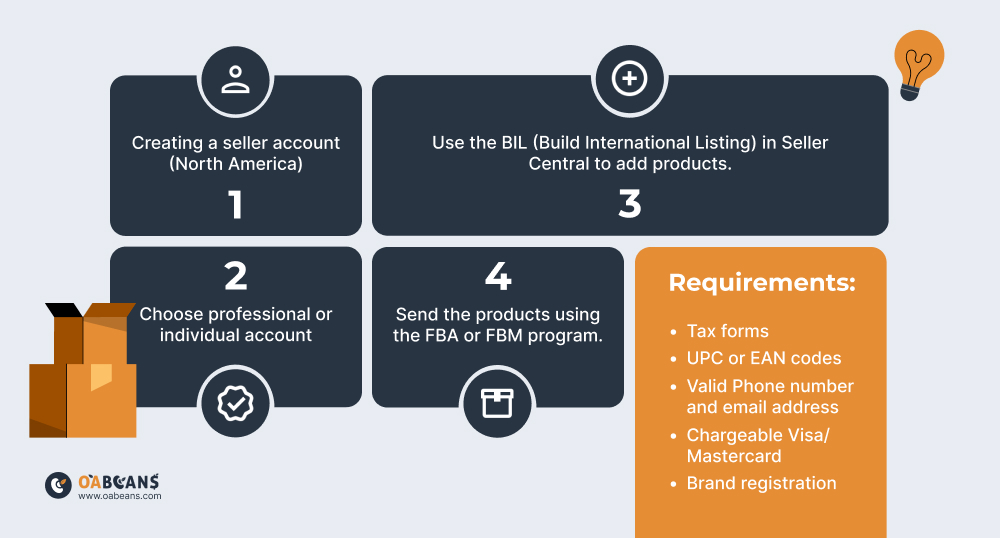 Why Should Canadians Choose Amazon US?
Since 2017, online shopping has grown in Canada, and about 80% of the population currently shops online. But, when you compare it with the number of American shoppers, about 70% of Amazon accounts, you realize why Amazon.com is so attractive for sellers.
Half of 263 million American Amazon subscribers are also members of Amazon Prime's premium shipping service. This service helps sellers to give a better service to buyers.
When you use North America Unified Account in "Seller Central," you can conveniently switch between Amazon.ca, Amazon.com, and Amazon.com.mx seller tools to list products and manage orders in all stores. This has the following benefits:
For your North America Unified Account, you can pay a single monthly Professional selling plan subscription fee
Across the U.S., Canada, and Mexico marketplaces, you will have access to tools and services to help you manage your business
Through a consolidated user interface, the account information updates.
In managing Orders or with one combined Order Report, you can keep track of orders on multiple North American sales channels
You can manage your inventory consistently and share listing information across Amazon's U.S., Canada, and Mexico marketplaces
Thanks to the Amazon Currency Converter for Sellers, you get paid to your local bank in your local currency
Many reasons can convince you to sell on Amazon.com, the biggest eCommerce site globally, from Canada. Here, we nail them down:
1) Fast approval of the platform
Generally, Amazon approves the accounts of new sellers within a week. This short approval process is minimal downtime for your business.
2) Huge potential market to tap into
With more than 124 million prime users in 2019, it has the most considerable potential for sales. Amazon provides regular and rapid shipping for these VIP customers who pay a monthly/annual subscription. The reports show that Prime users spend double compared with regular Amazon customers.
3) FBA makes an international business a breeze
Not only has shipping become easier by FBA, but also the whole customer experience. You don't require to translate your inventory because both countries have the same language, English.
4) Low barriers to entry
As a Canadian-based business, selling products in the USA can be costly. Also, Amazon may put some red tape before your complicated endeavor. On the other hand, it offers some services to start your business quickly.
Amazon.com VS Amazon.ca; Which One is Better?
Many reasons can convince you to sell from Canada on Amazon.com, the biggest global eCommerce site. Here, we nail them down: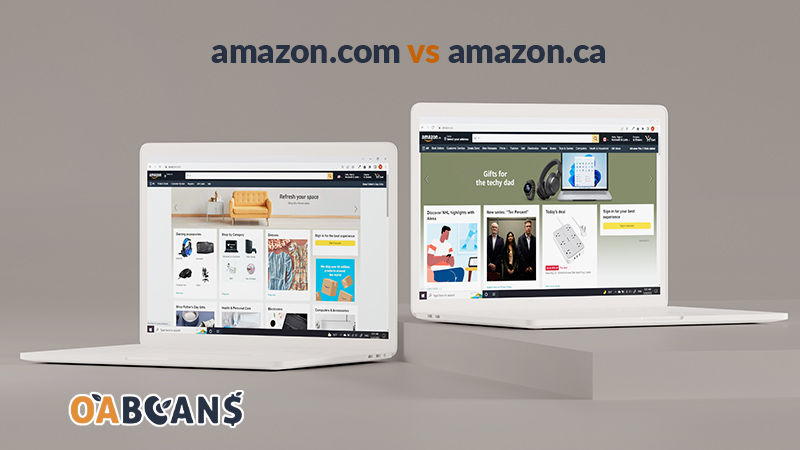 Comparing the population of Canada to the USA in 2021 shows you how big the US market is. Canada had about 38.4 million people, whereas the US had approximately 331.4 million. See! It is about 10 times., which allows Canadian sellers to sell about 10 times more on Amazon.com than on Amazon.ca.
If you convert the USD to CAD, the average price of products is higher on Amazon.ca than on Amazon.com. It has two main reasons. The first reason is that the supply and demand in Canada, the competition is lower, so sellers can sell their products at a higher price. The second reason is the shipment.
The shipping charge to Canada is higher compared to the US. This is an extra cost to your prices as you choose to fulfill your products through Fulfillment by Merchant (FBM).
The total number of listed products on Amazon.ca is 133 million, while there are 350 million listed products on Amazon.com. These statistics help you understand that Canada's competition is much lower than the US.
If you want more global options, learn how to sell products internationally on Amazon.
Fulfillment methods for Amazon USA
In Canada, users can leverage one of these two methods:
FBA:
In this method, you send your products to Amazon centers, and the platform does the rest of the job for you. This is the more convenient, time-saving method since Amazon takes over the shipping, packaging, and labeling (of course, for a monthly fee). FBA also makes all your items eligible for Amazon Prime. Learning how to start an amazon fba business can benefit new sellers and people who don't have much free time.
FBM:
Unlike FBA, in this method, you (the seller) take care of the storage, packaging, and shipping. This way, you can save money, but it is pretty time-consuming. Many FBM sellers use a third-party fulfillment service instead of Amazon. Read how to start amazon fbm here.
Financial Accounts Need to Start Selling on Amazon USA
You would need a bank account to manage your transactions. Still, you don't necessarily require a US bank account, so it could be a Canadian bank account because Amazon makes it easy and provides an exchange service ACCS (Amazon Currency Converter for Sellers).
However, some sellers prefer to use other currency exchange services because of the transfer fees and the better rate they offer than Amazon. Transferwise Borderless account is another money transfer service that some sellers use, offering a business account with zero fees.
To eliminate excessive fees, you can also use a US bank account. Canadian bank also gives you this service, which is suitable if you want to do Online Arbitrage for long-term periods.
Step-by-Step Guide to Setup an Amazon US Account
Below are your requirements to start selling on Amazon US from CA.
A valid bank account – Also sorted through Transferwise
Tax forms
UPC or EAN codes for items in your inventory
Phone number and email address – For login purposes and two-factor authentication
Chargeable Visa/Mastercard – Available through Transferwise is a borderless money transfer service/bank, a perfect solution offering a business account with zero fees saving you even more cash each month.
Brand registration – If you have a registered brand name
Now, get started by following the steps:
Create a seller account and select North America. You will pay less when choosing the North American Unified Account from Canada. No additional fee is required to sell in US and Mexico.
Choose between a Professional account and an Individual account based on the scale of your business. If you monthly sell 20 items on amazon.com or amazon.ca, an Individual plan is better for you. Otherwise, the Professional plan is more cost-effective.
For adding products to your list, the Build International Listing (BIL) tool in Seller Central is helpful as you list items in multiple marketplaces.
Once you sell an item, it is time to deliver the product to the customer. In Amazon FBA service, Amazon fulfills all processes, from picking, packing, storing, and shipping to return and customer service.
Finally, using Transferwise, you receive your money at a low exchange rate without paying a high bank fee.
Where Can You Find Inventory in Canada?
There are three general ways to find inventory in Canada: Wholesale, Retail Arbitrage and Online Arbitrage.
You can source products in Canada and also the USA. If you do online arbitrage, you can source products from all online retail stores in the USA.
In the case of online arbitrage, all you need to do is source from websites that sell discounted products and have shipping to the USA. This way, you can resell them for a higher price and profit. Websites like Qalara (Handmade fashion and decor), Walmart (Baby Products, Electronics, etc.), and Canadian Tire (Home Decor and outdoor products) are among the best sourcing options in Canada.
Some websites help you supply wholesale products and keep them in your inventory. Websites like Faire (Food, Beauty, Fashion, etc.), BDI (Mechanical tools), and Dorfin (Household products, stationery Supplies, Tableware, etc.).
If you want to do Retail Arbitrage, you must go to physical stores, buy items and then list them on Amazon. Many retail stores in Canada, like the Bargain Shop, Walmart Canada, FreshCo, and The Great Canadian Dollar store.
How to Sell on Amazon.com from CA with OABeans?
As we said before, your seller account on Amazon can be used as a platform to sell internationally. If your business is based in Canada, you can use FBA options and sell in the United States. OABeans Online Arbitrage Deals make business easier for you.
One of the first and most important things you need to do to succeed in the FBA business is to decide what to sell. Making a good decision in the first stages helps you get more stable benefits and spend less time manually searching for potential products. The Online Arbitrage Deals service in OABeans delivers daily lists of profitable products. These lists make product selection much easier and are made specifically for reselling in the US. Here are the steps for selling in the US with the help of OABeans lists:
Select a subscription plan based on your business type and unique needs.
Provide OABeans with contact information and make an account.
Now, you will get daily lists in your email. These lists include purchase links, price history, and all your needed data.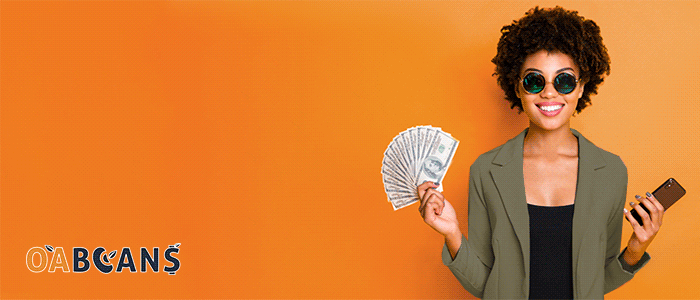 Final Thought
If you, as a Canadian, decide to scale up your business, selling on amazon.com is a perfect way. It doesn't have too much difficulty, and there are Amazon tools on the market to help you, like FBA, the Unified Account, Build International Listings tool. By using amazon.com, you reach a big American market and benefit from it. Transferring money is as easy as pie using a banking service like Transferwise.
FAQ