Why Should Canadians Choose Amazon US?
Since 2017, online shopping has grown in Canada, and nowadays, about 80% of the population currently shops online. But, when you compare it with the number of American shoppers, which is about 70% of Amazon accounts, you realize why Amazon.com is so attractive for sellers.
Half of 263 million American Amazon subscribers are also members of Amazon Prime, Amazon's premium shipping service. This service helps sellers to give a better service to buyers.
When you use North America Unified Account in "Seller Central," you can conveniently switch between Amazon.ca, Amazon.com, and Amazon.com.mx seller tools to list products and manage orders in all stores. This has the following benefits:
For your North America Unified Account, you can pay a single monthly Professional selling plan subscription fee
Across the U.S., Canada, and Mexico marketplaces, you will have access to tools and services to help you manage your business
Through a consolidated user interface, the account informationupdates
In manage Orders or with one combined Order Report, you can keep track of orders on multiple North American sales channels
You can manage your inventory consistently and share listing information across Amazon's U.S., Canada, and Mexico marketplaces
Thanks to the Amazon Currency Converter for Sellers you get paid to your local bank in your local currency
Many reasons can convince you to sell on Amazon.com, the biggest eCommerce site globally, from Canada. Here, we nail them down:
1) Fast approval to the platform
Generally, Amazon approves the accounts of new sellers within a week. This short approval process is minimal downtime for your business.
2) Huge potential market to tap into
With more than 124 million prime users in 2019, it has the most considerable potential for sales. Amazon provides regular and rapid shipping for these VIP customers who pay a monthly/annual subscription. The reports show that the Prime users spend double compared with regular Amazon customers.
3) FBA makes an international business a breeze
Not only has shipping become easier by FBA, but also the whole customer experience. You don't require to translate your inventory because both countries have the same language, English.
4) Low barriers to entry
As a Canadian-based business, selling products in the USA can be costly. Also, Amazon may put some red tape in front of your complicated endeavor. On the other hand, it offers you some services to quickly start your business.
---
Read More: How to Start Amazon FBA Business?
---
Amazon.com VS. Amazon.ca; Which One is Better?
Many reasons can convince you to sell from Canada on Amazon.com, the biggest global eCommerce site. Here, we nail them down: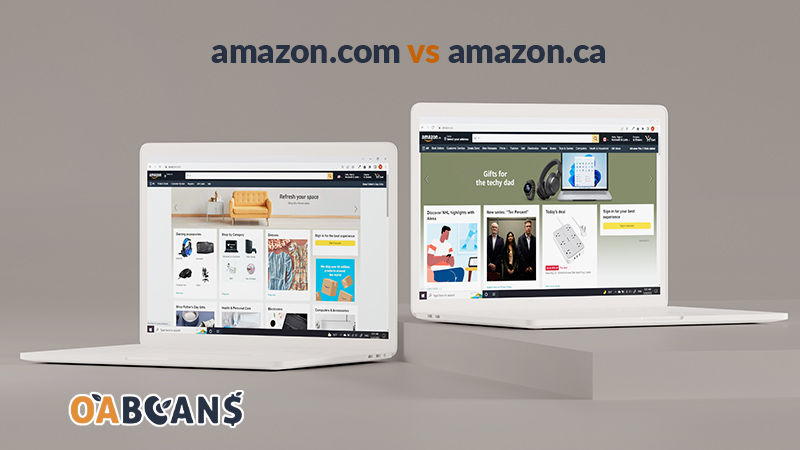 Comparing the population of Canada to the USA in 2021 shows you how big is US market. Canada had about 38.4 million people, whereas the US had approximately 331.4 million people. See! It is about 10 times., which allows Canadian sellers to sell about 10times on Amazon.com than on Amazon.ca.
If you convert the USD to CAD, the average price of products is higher in Amazon.ca than on Amazon.com. It has two main reasons. The first reason is that the supply and demand in Canada, the competition is lower, so sellers can sell their products at a higher price. The second reason is the shipment.
The shipping charge to Canada is higher compared to the US. This is an extra cost to your prices as you choose to fulfill your products through Fulfillment by Merchant (FBM).
The total number of listed products on Amazon.ca is 133 million, while there are 350 million listed products on Amazon.com. These statistics help you understand that Canada's competition is much lower than the US.
Financial Accounts Need to Start Selling on Amazon USA
You would need a bank account to manage your transactions, but you don't necessarily require a US bank account so it could be a Canadian bank account. Because Amazon makes it easy and provides an exchange service ACCS (Amazon Currency Converter for Sellers).
However, some sellers prefer to use other currency exchange services because of the transfer fees and the better rate they offer compared with Amazon. Transferwise Borderless account is another money transfer service that some sellers use as it offers a business account with zero fees.
To eliminate excessive fees, you can also use a US bank account. Canadian bank also gives you this service, which is suitable if you want to do Online Arbitrage for long-term periods.
---
Want to know the income of Amazon's top sellers?! Click here
---
Step by Step Guide to Setup an Amazon US Account
Below are the requirements you provide to start selling on Amazon US from CA.
A valid bank account – Also sorted through Transferwise
Tax forms
UPC or EAN codes for items in your inventory
Phone number and email address – For login purposes and two-factor authentication
Chargeable Visa/Mastercards – Available through Transferwise is a borderless money transfer service/bank which is a perfect solution offering a business account with zero fees saving you even more cash each month.
Brand registration – If you have a registered brand name
Now, get started by following steps:
Create a seller account and select North America. You will pay less when choosing the North American Unified Account from Canada. No additional fee is required to sell in US and Mexico.
Choose between a Professional account and an Individual account based on the scale of your business. If you monthly sell 20 items on amazon.com or amazon.ca, an Individual plan is better for you. Otherwise, the Professional plan is more cost-effective.
For adding products to your list, the Build International Listing (BIL) tool in Seller Central is helpful as you list items in multiple marketplaces.
Once you sell an item, it is time to deliver the product to the customer. In Amazon FBA service, Amazon fulfills all processes, from picking, packing, storing, and shipping to return and customer service.
Finally, using Transferwise, you receive your money at a low exchange rate without paying a high bank fee.
---
Read More: How to Sell Internationally on Amazon?
---
Shipping From Canada to the USA
It isn't effortless to manage your inventory and logistics across the border, and you require an effective shipping way. Besides, you must know your operating area's import/export regulations and rules. There are appreciate taxes and fees that you should pay.
You can simplify the whole process for yourself by using FBA (Fulfillment by Amazon). With helping of Amazon's international logistics, you can go through this complexity. Consider that FBA programs on Amazon.com and Amazon.ca are separate. When you list on Amazon.com with your North America unified account, you have to send your items to Amazon warehouses in the USA.
Packing and shipping the items across the border to the US fulfillment centers could be expensive while sourcing the products online. Becoming a partner with one or more prep and ship companies known as prep centers is the solution for Canadian sellers to work with the limitations.
These preparation centers are specialized in receiving, prepping, packing, and shipping the inventory to Amazon fulfillment centers in the US. The general workflow of most companies is like this:
From the comfort of your home, you easily order products via Online Arbitrage or wholesale
Then ship the purchased products to your US-based prep centers
After receiving your products, the prep center inspects them (the communication would be through Dropbox or a shared Google Sheet)
If the number of your products is adequate to make a large shipment (your shipping cost per item will be much less), you can collaborate with the prep center to create listings, product labeling, and shipping labels.
After finishing preparation and listing, the prep center packs your products, applies the shipping labels (Amazon offers them at a discounted shipping rate to its partners), and ships your products to the assigned Amazon warehouses.
There are some criteria when chosing the prep centers:
The place of your prep center affects your sales tax. If you select the states with a two percent sales tax instead of seven percent, you can save a lot more money.
The packing and shipping speed of the prep center is critical for inspection. It shows that your products are ready and you can sell them as soon as possible.
Your priority must be ensuring that the prep centers handle your products correctly at a reasonable price and with minimum risk of error.
The prep center must be big enough to store your inventory. Some products require a specific climate to avoid damages and changes, so prep condition is critical to reducing this risk.
Transit time from the arrival site to the prep center is vital for faster shipping. Choosing a prep center near where your products are shipped is better to save time and effort. So
Another option is going down with the FBM (Fulfilled by Merchant) method. But, be aware that you will be responsible for storing, shipping, and factoring in your inventory cost by using this method.
The delivery time of FBM is not as fast as American customers expect. Besides, if you don't have many items to ship, shipping products from your own warehouse or location in Canada to the USA can be expensive.
To have safer and easier shipping of the product from Canada to the US, you can use the service from reliable and well-known companies. In the following, we nail down their name:
It is a shipping solution with an easy-to-use platform that give you access to low-cost postage. Canada Post, Asendia, USPS are their shipping partners to handle the delivery to your customer.
To compete with US sellers, Stallion Express is the best choice. You can improve your company's bottom line with access to discounted rates on USPS postage.
It is an international consolidation and forwarding service that provide you a favor to shop and buy from online retailers globally at the lowest price.
Fees & Taxes of Shipping from CA to the USA on Amazon
As a Canadian seller, you need to cover the tax implications of selling on amazon.com. Tax rules and regulations are complicated in the USA; however, filling out a form regarding your income taxes. For Canadian citizens, there is a W-8BEN form to fill out. You can earn your profits from your US sales and just pay your Canadian taxes as well.
Custom taxes and fees are the other costs you need to consider while selling on amazon.com from Canada. It is recommended to hire a customs broker to deal with all of these issues, whether you choose to use FBA or FBM method. Some major shipping companies can be your brokers, but Kuehne and Nagel are other available choices.
Where Can You Find Inventory in Canada?
There are three general ways to find inventory in Canada:
Wholesale:
You can directly connect with a manufacturer or wholesale supplier and buy your desired products in bulk at a low price. Obviously, it requires more money to spend upfront. Although, many suppliers have had reasonable minimum purchase requirements recently.
Retail Arbitrage:
You can also buy discounted products from Canadian brick-and-mortar stores like Walmart and resell them on Amazon. It is the best choice for newbies. With little money, you can start selling on Amazon. It is understandable, and many products with impressive ROI are available in local stores.
Online Arbitrage:
Sourcing your inventory from an online marketplace such as Target.com and reselling them on Amazon is Online Arbitrage. The world is your oyster in this method, and you can source products in your pajamas.
Generally, buying products from Canadian retailers to sell on amazon.com is not profitable because of the cost and complicated return process. But, if sellers purchase products from Amazon.ca for their inventory and sell them on Amazon.com, it could be lucrative.
How to Sell on Amazon.Com from CA with OABeans?
If you want to get started to sell on amazon US from Canada using OABeans service, follow the below steps:
Subscribe to OABeans CA Service & Get the Daily List of Items to Sell.
List All the Items On Your Inventory on Amazon Seller Account.
After a customer buys Your Product, Purchase it from the source on Your List in Canada.
Ship the Product to Your Customer's Address in the US & Finish the Job.
Many of you may think it is the same service as dropshipping, or there is no difference between this service and Online Arbitrage. None of these thoughts is true. It is entirely a new business model that you can't find anywhere. It has these specifications:
20% Average Net ROI/Lead
$35 Average Net Profit/ Lead
No Hidden Cost (All Costs Are Calculated)
No Competitor (1 Seat/ List)
No Dead Stock (First Sell the Item, Then Buy It)
Differences Between Dropshipping and Our Service
As you are sourcing the products from Amazon.ca, the products you buy have the Amazon Prime badge; so they will reach the customer faster and your Amazon Account Health won't be in danger. Also Amazon Canada will be responsible for returning and refunding products, and you won't deal with these issues.
Difference between Online Arbitrage and Our Service
You will use FBM instead of FBA.
There is no need to filter the deals; because there is no need to buy products at the first step.
There is no need to buy products in advance. Firstly, you list them on Amazon.com, and after they are sold, you can buy them from the source.
As long as the characteristics of a lead don't change, the leads you receive are cumulative and can be used.
Final Thought
If you, as a Canadian, decide to scale up your business, selling on amazon.com is a perfect way. It doesn't have too much difficulty, and there are Amazon tools on the market to help you, like FBA, the Unified Account, Build International Listings tool. By using amazon.com, you reach a big American market and benefit from it. Transferring money is as easy as pie using a banking service like Transferwise.
FAQ