What Counts as an Online Arbitrage Deal?
Online arbitrage deals, also known as online arbitrage leads, are ready-to-sell, profitable products you can purchase from online retailers and resell on Amazon. An OA deal must not include items that will be challenging to sell, unprofitable, or problematic in the eyes of Amazon. Here are some of the good qualities that OA deals should have:
Eligible to Sell: Before investing in a product, ensure you can sell it on Amazon. Some categories and brands are restricted (gated) on the Amazon marketplace, which means sellers must get Amazon's approval to offer them.
Not Hazardous (FBA-Compatible): If you use the Amazon FBA fulfillment method, ensure your products don't count as hazardous. For example, some items containing certain chemicals may have shipping restrictions.
Fits Your Profit and ROI Goals: Just because an item is available at a lower price doesn't mean it will be profitable. Factor in your individual goals and costs – including shipping expenses, Amazon fees, etc. – and potential returns.
Reasonable Competition: If an item has many sellers with hundreds of units in stock, it may be too hard to compete.
Sales History: This is a good indicator of the product's popularity and helps predict its future sales. An item with a consistent or upward sales record can be counted as an OA deal.
How to Optimize OA Deals to Get the Most Profit?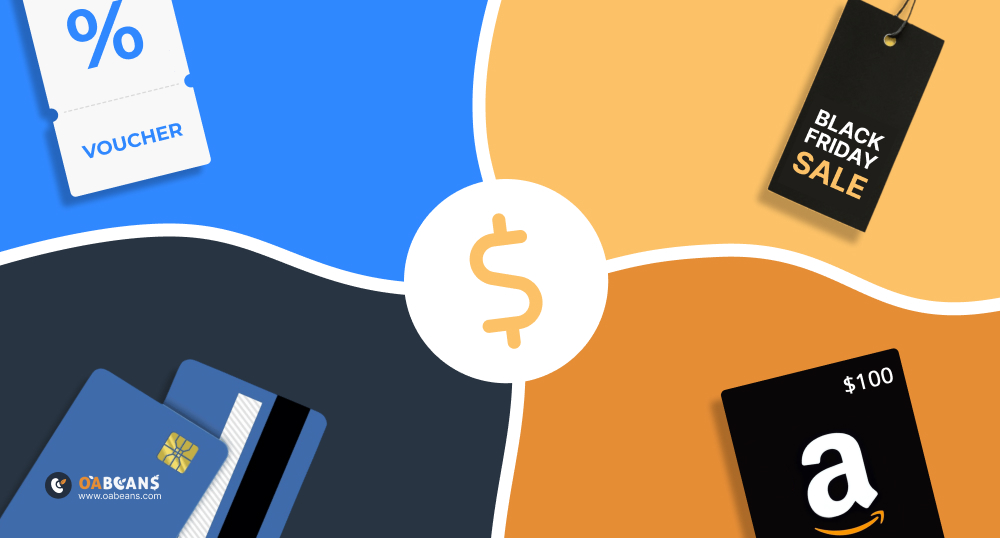 Online arbitrage is all about optimizing the acquisition cost to maximize profit margins. There are various tools and strategies to optimize OA deals, including:
Coupons: vouchers that provide a fixed discount on the purchase price, either as a percentage or a set dollar amount.
Discounts: Direct reductions in the listed price of a product – can be seasonal, clearance, or promotional.
Gift Cards: Preloaded cards that can be used as an alternative to cash when purchasing products from a specific retailer.
Cash Back and Rebate Offers: Post-purchase incentives that return a portion of the purchase price to the buyer.
Best Methods for Optimizing OA Deals
Now, we know the best methods for optimizing OA deals, but tons of websites offer coupons and cashbacks, and they can't all be trusted. Below, we will introduce some reliable websites and extensions for OA sellers:
1. Use Discount Gift Card Websites
Gift card websites allow you to buy gift cards for less than their face value, giving you free money to spend. Here are some of the best discount gift card websites:
Card Cash: They buy gift cards for less than their value from people who don't want them, so they resell them at a discount. Card Cash offers a 45-day guarantee period to ensure safe savings.
Raise: This is an excellent marketplace for gift cards. The amount you can get for a gift card on Raise.com depends on the brand, its popularity, and the size of the discount. You can also get coupons and discount codes on Raise.
2. Use Coupon Websites
Coupon websites collect coupons and offer them to OA sellers to help reduce sourcing costs. CouponFollow is of the best coupon websites you can use. This platform aims to provide the best and most recent coupon codes and offers a browser extension (Cently). You can locate coupons on CouponFollow by searching for a specific store or browsing the latest posted deals. It uses a real-time algorithm to curate a list of active coupons.
3. Use Cashback Websites
These websites offer a percentage of your purchase back, which can be a good strategy combined with coupons and gift cards. Some reliable Cashback websites include:
TopCashBack: This is one of the most popular cashback websites that allows you to save money on online purchases from partnered retailers. Plus, the website is free to join, and there is no minimum payout. 
Quidco: Another cashback website that lets users earn free money when purchasing. Quidco is entirely free to use, and even its premium plan takes the fee out of your cashback, so you don't have to use your bank card or deposit money on Quidco. 
Mr Rebates: This legit cashback website rewards you for taking advantage of their cashback offers. You can become a member on Mr Rebates' website to gain access to many cashback offers or install its Chrome extension to get notified about cashback offers on online stores you visit. 
BeFrugal: This website offers cashback and coupons at over 5000 online stores. It also has a Chrome extension and mobile app and offers various payment methods such as PayPal, Venmo, gift cards, etc. 
Complete Savings: Besides cashback, this website offers discounted gift cards and other rewards. It charges a monthly fee but does offer a 30-day free trial. 
For more info about this topic, follow best cashback websites article.
4. Getting Chrome Extensions
If you use the Chrome browser, there are tons of extensions you can use. These extensions alert you to savings opportunities automatically:
Rakuten: This extension alerts you to cashback opportunities while shopping online and automatically applies the best coupon code at checkout.  
CapitalOne Shopping: This free extension will let you know if you can earn rewards while shopping and try out coupon codes. It works with thousands of online stores and offers additional features such as price comparison, shopping credits, watchlist, automated price protection, featured offers, etc. 
TopCashBack: Besides their website, TopCashBack offers a browser extension that alerts users to cashback opportunities when they visit online retailers. 
RetailMeNot: This extension automatically finds and applies coupon codes at checkout, eliminating the need to copy and paste codes on the checkout manually. 
Honey: This is one of the best and most popular extensions for OA sellers that automatically finds and applies the best coupon codes at checkout. It also tracks price drops and offers a rewards program. 
For more info about this topic, follow Chrome extensions for Amazon sellers article.
5. Searching on Google
This is a simple yet effective method for optimizing OA deals. All you have to do is type "[product name] + discount" or "[retailer] + coupon," and Google will provide you with hundreds of results. However, before using any of these websites, ensure they are legit by reading user reviews.
Top Tips to Optimize Online Arbitrage Deals
When using cashback and coupon websites, it's always good to make sure you are using a legit and reliable platform – if possible, one that offers guarantees or free trials. Some additional tips to optimize OA deals include:
Use more than one coupon website. Different coupon websites might have exclusive deals or discounts.
Use cashback rewards. Cashback rewards lower the cost of your purchase. Even if it's just a little bit saved each time, it can add up to a lot afterwards. This can help increase your profits.
Don't use every coupon. Some deals might sound good on paper, but they come with strings attached, like limitations on what you can buy. Always ensure a coupon truly offers value for your specific needs.
Use coupon extensions to save time. Extensions like Honey, Rakuten, or RetailMeNot automatically apply the best available coupon codes at checkout, eliminating the need to search manually and test codes.
Remember that a good deal can turn bad due to increased competition. If you've found an excellent deal, chances are, others have too. Always assess the competition level and potential demand before making a purchase.
Final Thoughts
The line between a successful online arbitrage deal and a missed opportunity is often determined by sellers' sourcing strategies. By mastering the art of optimizing OA deals using coupon websites, cashback rewards, and extensions, sellers can save both time and money. These tools offer various benefits, such as eliminating the need to manually search and input coupon codes at checkout, comparing different codes to pick the best one, and much more. Using the tips and websites introduced in this article, you can make the best of your OA deals.