What Are the Best-Selling Items on Amazon?
Top selling items on amazon are a dedicated section on the platform, updated every hour. It contains all the frequently bought and trending products along with their ranking in each department so that you can decide the most suitable best sellers to sell.
It's essential to keep a close eye on this product category because sometimes, a product you had in mind to sell can be replaced by one that has gained popularity. This is the case for products that are 'on trend' or seasonal products that become popular only during the holidays.
Now let's find out what the top-selling products on Amazon are. Customers prefer a few main categories, such as Books, Clothing, and Home & Kitchen, no matter the time of year. Also, some items may be in seasonal demand but have good listing rankings.
Top Selling Food Products on Amazon
Since the COVID-19 pandemic, grocery shopping has become more digitalized, with many people shifting to Amazon instead of their local grocery stores. This is a great opportunity for sellers who want to offer best-selling products on Amazon. So, here's a list of top-selling food products on Amazon:
Soda (Coke, Sprite) & soft drinks
Chips (Cheetos, Doritos & Lays)
Breakfast cereal & instant oatmeal
Candy bars (Kit Kat, Snickers & Milky Way, etc.)
Pepperoni, jerky, bacon, ham & other packaged meat
Coffee
Fruit juices
Peanut butter
Macaroni & pasta
Legumes
Rice
Canned soups
Canned chicken, ham & beans
Ketchup, BBQ & mustard
Chewing gum
Want to start selling one of the most popular categories? Learn how to get ungated in grocery on amazon.
Top Selling Beauty Products on Amazon
Products for beauty and personal care have positioned themselves as one of the most profitable niches within Amazon. It's not surprising to know that 5 of the ten most searched subcategories correspond to hair care because many people have started to care more about their hair and skin health. Below you will find a list of the top-selling Amazon products belonging to the Beauty & Personal Care category:
Vitamin C serum
Spare parts for Phillips blades
All-in-one spray
Face cleanser
Gray reducing shampoo
Beard trimmer
Goat's milk mask
No Yellow shampoo
Phillips shaver
Deodorant cream
Tangle Teezer
Facial cleansing brush
Hair treatment spray
Epilator
Gel cleanser
topicals are also wanted among online shoppers, but you cant start to sell them spontaneously. First, read how to get ungated in topicals on amazon.
Top Selling Electronic Products on Amazon
The Amazon Electronics section is one of the most visited. This section offers mobile phones, tablets, streaming players, and many more devices at very reasonable prices. Mobile phones are one of the top-selling Amazon products, so you can make a lot of profit by selling in this category. Top selling Electronics products on Amazon are as follows:
Mobile phones (esp. Xiaomi brand)
Powerbanks
Apple AirPods
Bluetooth speakers
MicroSD cards
Smartwatches
Cables
Streaming devices
Digital thermometers
Gaming headphones
Fire TV Sticks
Smart speakers
Monitors
Tablets
Home cameras
Top Selling Camera & Photography Products on Amazon
Cameras, photography equipment, and other paraphernalia are a category with room for a potential new seller. It includes a wide range of products not dominated by certain brands alone. Top selling products on Amazon in the Camera & Photography category include:
Home security cameras
Telescope
Baby monitor
Portable lighting
Camera mounts
Top Selling Video Games Products on Amazon
This category is most popular among video game enthusiasts, from kids to teens to adults. There is always a good and ever-growing demand for this category because it uses the most exciting technology for entertainment purposes. There are subcategories to differentiate between gaming platforms like Nintendo, PlayStation, Wii, Mac games, PC games, etc. Top-selling Amazon products in this category include:
Gift cards for PlayStation, XBOX, Nintendo
Gaming headsets
Game controllers
Gaming mouse and control pad
Battery packs for controllers
Top Selling Home & Kitchen Products on Amazon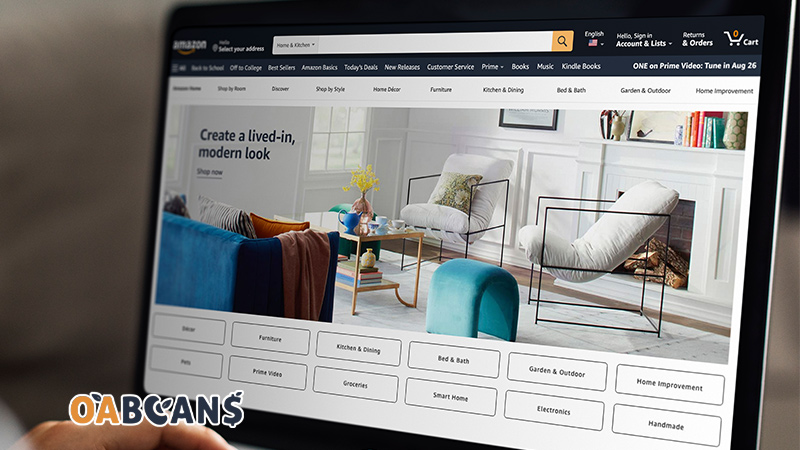 This is another category of most sold items on Amazon. Many are additional accessories to machines or items we have at home. Others are new gadgets that have been a complete success among users, and some are devices that have been the favorites of many families for months, as is the case with robot vacuum cleaners. Here's a list of the most popular products in this category:
Macrame wall hangings
LED shelf floor lamps
Kitchen knives
Hanging planter vases
Office chairs
Meal prep storage containers
Touchless trashcans
Drill bush attachments
Fringed pom-pom blankets
Industrial bookcases
Expandable under-sink organizers
Three-in-one chopper, dicer, and peeler
Faux fur shag rags
Drying racks
Top Selling Pet Supplies Products on Amazon
This category has been growing steadily over the years due to its diversity. It has everything for dogs, cats, birds, fish, aquatic animals, horses, and reptiles. From cleaning kits to toys to beds, this category has everything pet owners need and is considered one of the best selling amazon categories. Top-selling Amazon products in this category are:
Earth-rated dog poop bags
Dog collars
Dog travel bags
Pet carriers
Pet seats
Foldable pet steps
Calming dog beds
Pet strollers
Dog back seat covers
Dog grooming clippers
Hamster exercise wheels
Litter boxes
Air purifiers
How to Find & Check Top Selling Products on Amazon?
Amazon maintains a list of the top-selling products in each of the product categories they sell. The "Amazon Best Sellers" page lets you quickly compare product sales and ratings. You can filter items by new releases, see what other Amazon shoppers want, and provide it for them.
Amazon also allows you to track the most significant increases in sales in the last 24 hours. The easiest way to find top-selling Amazon products is as follows:
Open a web browser on your computer.
Type "www.amazon.com/gp/bestsellers" in the address bar and press Enter.
Click the tabs at the top of the screen to rank Best Sellers, Top Products, New Arrivals, and Most Wished.
Click the category of items you want to view in the left menu bar under "All Categories." The top 10 products will be displayed on the page.
You can also use tools like SellerApp to keep an eye on the best-selling products on Amazon. In addition to finding the top-selling products on Amazon, you need to monitor various metrics such as sales, Bestseller Rank (BR), keyword ranking, product dimension & margins, etc.
Best Selling Categories on Amazon
As an Amazon seller, you need to know which categories sell the most on the platform. This information lets you decide what categories and products you want to sell. Here is a list of the top 10 best-selling categories on Amazon:
Home & Kitchen
Beauty & Personal Care
Toys & Games
Clothing, Shoes & Jewelry
Health, Household & Baby Care
Sports & Outdoors
Arts, Crafts & Sewing
Books
Kitchen & Dining
Baby
Top Selling Products on Amazon USA
You can buy any product on Amazon USA, but some products are searched and purchased more in this region. Here's a list of all the top-selling Amazon products in the USA: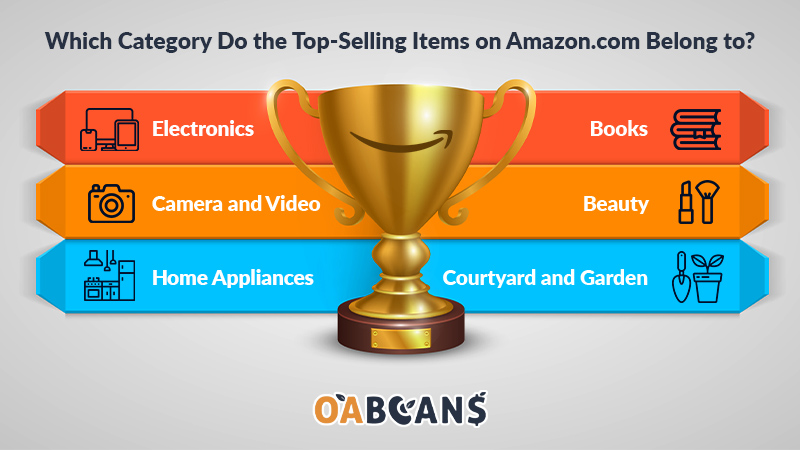 1) Electronics
Echo Dot (3rd Gen): It is a smart speaker with which you can order Alexa to do multiple activities: play music, communicate with others, and control your Smart home, among others. Its design allows it to adapt to sound and has several protection filters that guarantee your safety.
Fire TV Stick 4k: This remote control will allow you to watch your favorite movies, series, and videos from Netflix, YouTube, Prime Video, STARZ, SHOWTIME, CBS All Access, Pluto TV, IMDb TV, and Tubi, among others.
Roku Express: This is an HD media player with an HDMI cable that will allow you to stream your favorite series and movies with ease directly to your television. With this device, you can enjoy Netflix, Disney +, Apple TV, or other platforms.
2) Camera and Video
Wyze Labs: It's a smart home camera, giving you night vision up to 30 feet away, sound and motion detection, and streaming directly to your cell phone, all in 1080p Full HD quality.
Wyze Cam Pan: This smart indoor camera with night vision and 1080p Full HD quality. It has pan, tilt, and zoom (PTZ), with which you can control this device remotely from its application. You also get free motion recording and streaming from your Smartphone.
Gskyer Telescope: Its focal length is 400mm(f/5.7), with a 70mm aperture that allows you to get high-resolution images. It comes with two replaceable eyepieces, a wireless remote control, and an adjustable tripod, and the company guarantees lifetime maintenance.
3) Home Appliances
KUPPET – Mini washing machine: This machine is another one of the top-selling Amazon products which stand out for its high capacity, as it can support up to 26 pounds, in addition to its dual-function design, its integrated drain pump, and its timer control.
White Freezer: It is perfect for storing frozen foods, ice cream, ice, and more at -12 to -28 degrees. It contains a storage basket, and the manufacturers offer a full 1-year warranty.
Broan Nu-Tone is an odor extractor hood with a 2-speed fan and a 2850 RPM motor. It also has a separate light switch with a protective lamp lens up to 75 KW, which you can install in your kitchen or wherever you need it.
4) Books
The Happy in a Hurry CookBook: A New York Times bestseller, it is undoubtedly a book every kitchen lover should own. In it, Steve Doocy and his wife, Kathy, share countless delicious recipes, accompanied by funny stories that hook any reader.
The Office: A Day at Dunder Mifflin Elementary: This issue chronicles the path that Michael Scott, principal of Dunder Mifflin Elementary School, must follow to become the best leader in the world.
Humans: Brandon Standom expresses through this bestseller the meaning of being human. It is a compilation of photographs and stories from more than forty countries, reminding us of humanity's value.
5) Beauty
Tree Hut Shea: Natural sugar, coconut, and lime scrub leaves your skin soft, smooth, and rejuvenated.
L'Oreal Paris Telescopic Mascara: Give your lashes length and set your mascara with its flexible precision brush without hurting your eyes.
Revlon – Hot air brush: Dry and give volume to your hair with this brush with mixed bristles, which protect your hair and guarantee a better grip.
6) Courtyard and Garden
Flag holder for garden flags: Considered another one of the top-selling Amazon products, it is made of metal that gives it strength and is made up of 3 folding pole pieces, which facilitate its transport, storage, and installation. Its dimensions are 36.5″ high by 16.5″ wide, and it is weather resistant.
Gardguard – garden hose: Withstands a water pressure of 3 to 12 bars and a temperature of 41 ° F to 113 ° F. It comprises a high-density latex core and a 3300D polyester cover; its extension is 24.9 ft and comes with ten available safety nozzles.
ThermoPro TP49: It is a high-precision thermometer that measures temperature and humidity effectively. It also has a refresher that is updated every 10 minutes to have accurate readings, and thanks to its compact LCD screen, the data can be easily viewed.
We Provide Fast Selling Products on OABeans Leads List
All our product sourcing lists go through accurate checks and are repeatedly updated. We select products from the 1% or 2% highest-selling items on Amazon, making sure you can choose from top choices. These items are the ones that people are seeking and spending money on right now. Reselling them in online arbitrage helps you get more profit.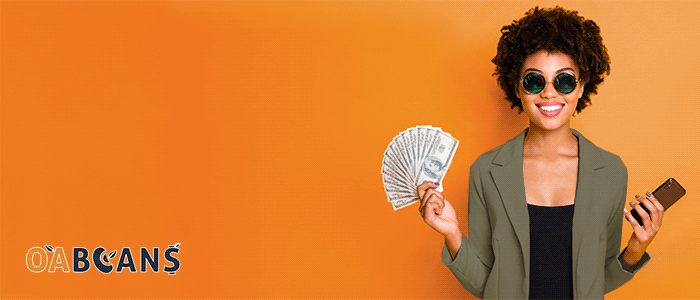 Final Thoughts
Top-selling Amazon products are constantly changing, but it's all about quality and value. Researching before making a decision can be a time-consuming process, but there are product research tools that can help. As a seller, you must provide value to buyers and be passionate about what you want to sell on Amazon to have a successful and profitable business.
FAQ