What is Online Arbitrage?
Online arbitrage is the act of buying something online (from online retailers like Walmart) and sells it on an online marketplace (like Amazon) for a profit. It seems all you need is a computer, yes and no. Online arbitrage isn't a "get rich quick" scheme. If you don't want to end up out of pocket and holding plenty of inventory that you can't sell, you need tools, data, and a systematic approach to identifying profitable deals.
In this article, we break down the important tools for doing online arbitrage and all you need to get started. Then we will answer some of your most frequently asked questions, and finally, we are going to give you a few expert tips to have a more successful business.
Different Types of Online Arbitrage
When we talk about online arbitrage, the first way that comes to mind is Amazon online arbitrage. It is not the only but the most famous marketplace to do eCommerce business. Here I want to introduce several marketplaces briefly.
1. Amazon Online Arbitrage
the most famous platform to do online retail arbitrage that includes more than 2 million sellers and attracts hundreds of millions of buyers across the world every month.
2. eBay-to-Amazon Arbitrage
It doesn't have a huge difference from other sourcing methods. You find a product on eBay with a lower price and list it on Amazon for a profit. But the point you should notice here is that many of the products on eBay are used. If you are working on a "new product" condition on Amazon, you can't use second-hand items. You need to check eBay products more carefully for possible damages and errors.
3. Amazon to eBay Arbitrage
In Amazon to eBay arbitrage, you don't buy goods from online retailers. You can sell the items without possessing them. First, you find an item on Amazon, then list this item on eBay for a higher price. Whenever it is sold, you order it from Amazon and send it to the eBay buyer.
But this can make both eBay buyers and Amazon sellers unhappy.
If the eBay buyer receives the product inside the Amazon box, he/she will understand that he/she could buy the product at a lower price on Amazon.
Amazon seller also won't be happy if understands that his/her products are resold without permission.
eBay has banned direct shipping products from Amazon to eBay buyers in some countries like the Us and UK. Although repacking the items by the eBay seller and sending them to the eBay buyer doesn't have a problem. It is explicitly written:
"Dropshipping, where you fulfill orders directly from a wholesale supplier, is allowed. However, listing an item on eBay and then purchasing the item from another retailer or marketplace that ships directly to your customer are not permitted."
4. Google Shopping
You can upload your product data on Google Merchant Center (GMC) and use the power of google for presenting your goods to the customers.
5. Walmart
Walmart is another huge marketplace with lots of opportunities to buy and sell. One of the most common sources to buy products at a reasonable price is Walmart. However, you can also use Walmart as a selling platform too.
6. Bonanza
Bonanza is recommended highly by the customers and gives unique features to know the potential buyers.
7. Facebook marketplace
Facebook is known for the connection that has made between people. But recently it is offering a buying & selling service. Facebook Marketplace is designed to sell & buy used items in the same community. A seller can post the items for sale. Anyone looking in his area can find the item and message the seller if they want to buy it.
What is Amazon Online Arbitrage?
Online arbitrage, or online retail arbitrage, is like retail arbitrage. You buy different items at a lower price to sell them for a profit. But the whole process in online arbitrage is based on the internet, so it's not limited to your geographical location. You can do it everywhere and spend how much time you want. That's why every year, more and more arbitragers are attracted to online arbitrage.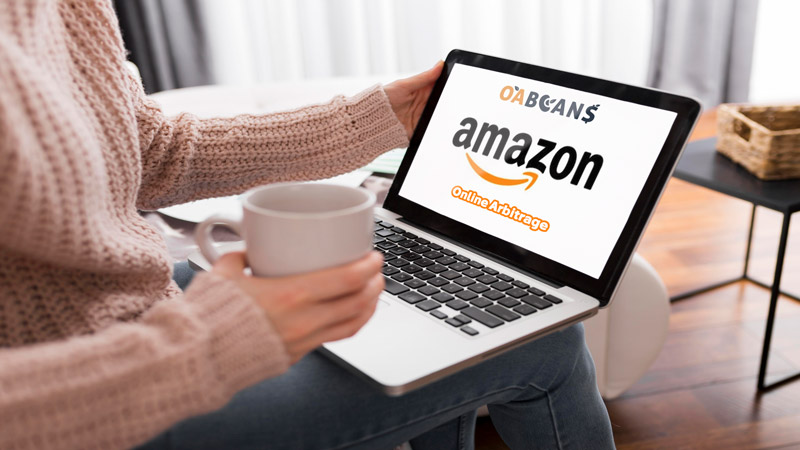 Amazon is the biggest online marketplace in the world. Thereby many online arbitragers sell their items on Amazon. This is called Amazon online arbitrage.
How Can I Make Money with Online Arbitrage on Amazon?
The rule is easy: buy goods at a lower price, sell them on Amazon at a higher price. It seems easy, isn't it?
After registering on Amazon as a seller, you should find the products on different websites. There are millions of various products all over the internet, and not all of them are profitable. You need technical knowledge to identify the best ones and buy them. Then all you need is to send your inventory to FBA prep and wait to sell your goods.
It can be challenging at the beginning. You can't make a very high profit. However, if you monitor your mistakes, define your procedure and understand your margins and revenue, you can reduce the risk and make your business more constant.
Read More: How to Get the Most from Online Arbitrage Subscriptions?
Online Arbitrage vs Retail Arbitrage
In both methods, online arbitrage and retail arbitrage, our goal is to make a profit. So, there is no basic difference between these methods but sourcing the products.
Although online arbitrage is easier and more time-efficient, you can do both like many sellers who do online and retail arbitrage. Why leave money on the table if you can make a profit with it?
For example, you can find big liquidation, reduced stock, or clearance on retailers. Also, outlet stores are a good place for hunting very profitable deals. Some online stores like Target.com offer the seller the opportunity to order the goods online and pick them up from the stores.
However, online businesses are trendy, especially after covid-19. Today, more people are doing online arbitrage, and fewer people are attracted to retail arbitrage. The primary constraint of retail arbitrage is that you are limited to stores that you can go to physically. But in online arbitrage, you can use all the websites, regardless of where they are.
Read More: Online Arbitrage vs Retail Arbitrage
Why Does Online Arbitrage Work?
If I can find a product with a lower price, why can others not?
It is usually the first question that comes to our mind when we think about online arbitrage. We use Target.com or Walmart.com to find a profitable deal for our business, but it's not always working.
We have to check dozens of online retailers (that most of them are not as famous as Walmart) and use coupons and cashback services to profit.
First of all, most people don't have enough information about online retailers or cannot trust them.
Then they don't have time, or they don't feel like searching a lot. So that's why many people choose Amazon. They can find their favorite products fast, order them and receive them with Amazon customer service. In fact, about 50% of buyers start their search for items on Amazon, not on Google! That's huge. It means they don't even check other websites, they like to buy from Amazon, and they are ready to pay higher to have peace of mind during their purchase.
Is Online Arbitrage Legal?
It is generally legal, but there are some problems that you should stay away from them.
If you are not allowed to sell a product (and you need to be an authorized seller), don't try to bypass it. It might lead to being suspended by Amazon. Also, avoid sourcing any counterfeit. Amazon takes such infringements seriously.
Generally, if you are doing something that you are not sure about it, don't risk it. Search about it and ask from other sellers.
Read More: Latest Updates About Online Arbitrage Legality
How to Do Amazon Online Arbitrage?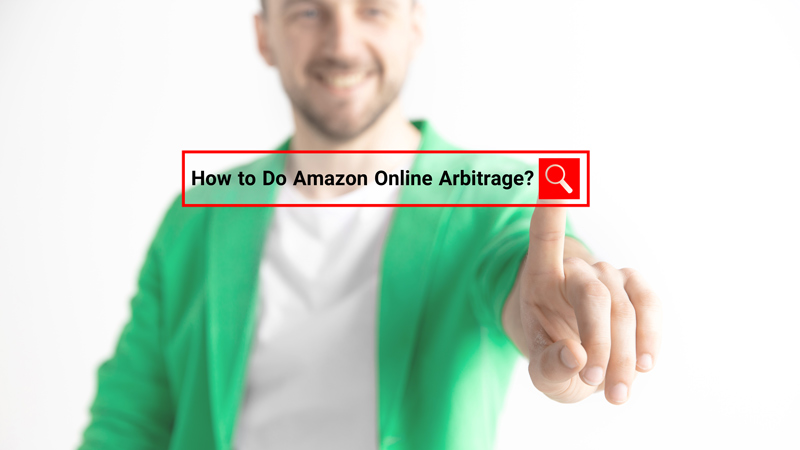 If you are still a little bit confused about how Amazon FBA business works, continue reading. I want to break down the process into a few simple steps:
Before buying, identify the products you want to purchase. You need to analyze the data to find the best ones. You also need to set a criterion for yourself to make your decisions on that basis.
The next step is sourcing your items. You can head to a retailer website like Target or Walmart, buy sourcing lists and even hire a team to do it for you.
Place your order. You can send your items to preparation centers. They can check the items for possible damages and pack them again to ship off to the Amazon warehouse.
List the items on Amazon.
Wait for selling your inventory.
Don't forget to respond to the customers' issues to avoid negative feedback!
Now, after getting familiar with the general process of Amazon's online arbitrage business, it's time to talk about getting started.
How to Get Started Online Arbitrage Amazon FBA?
You need 3 simple items to start your Amazon online arbitrage business:
Computer and internet
Amazon seller account
Little capital to invest
Computer, internet and initial money for starting your business don't need explanation. If you don't have an Amazon seller account, you need to make it. Notice there are two different types of accounts: professional & individual. You need to choose a plan based on your volume of sales and the type of products you are going to sell. A professional plan has advanced features that help the arbitrager to improve his/her business.
Before signing up, prepare these documents because Amazon will ask you several questions:
Business name and address
Telephone number
Credit card and bank information
Tax information
If you already have had Amazon seller account, signing in is enough!
Now we want to talk about sourcing the best items in detail.
Online Arbitrage Sourcing
Sourcing the items is one of the essential parts of the online arbitrage business. Identifying profitable deals is an important step to increase the benefits. Here we want to introduce 4 different methods for sourcing products briefly.
Manual Sourcing With Online Arbitrage Websites
There are hundreds of online retailer websites, from very famous ones like Walmart.com to fewer famous websites. This method fits newbies who don't have high demands. Websites like Rakuten can show you the companies that offer deals and coupons.
Looking for a profitable product manually between millions of products on many different websites doesn't make sense, especially if you consider this business serious because it can not meet your demand. So, it's good to warm up yourself for few days, but if you want to improve your inventory, choose from other methods.
Read More: Four different methods for sourcing products
Using Online Arbitrage Software
Checking websites one by one to find a reasonable deal is time-consuming. You can use scraper software to check the websites and list the items based on your criteria. You can identify the best deals, the actual demand for the product, and product price history.
Still, there are possible errors, and you have to check them and also pay a membership to use the software. If your business is scaling, we suggest you buy sourcing lists instead of making them on your own and focus on your business, not finding the products.
Online Arbitrage Sourcing List Service
If you want to do online arbitrage without software headache and consume time for checking every single website, you can buy a list of products from valid companies. From Mon to Fri, you are given a list of products. These lists include 5-10 items, usually with necessary data like net profit and ROI.
Online Arbitrage Without Software
When you buy sourcing lists, you don't need to struggle with different software, paying for them, and spend time learning how to work with that software. Sometimes, the software you have chosen doesn't have good customer service, and you have to deal with a new hassle too!
Why Use Online Arbitrage Sourcing List?
It is the most headache-free way of sourcing! In any other type – from manual sourcing to hiring an assistant for it – you have to be a part of this procedure. But when you buy sourcing lists, you receive various profitable lists on your email and check the items as you drink your morning coffee.
Also, if you buy the lists from the companies that offer a money-back guarantee, you can assure that the items have satisfying quality.
So, if you don't want to spend your time finding profitable deals, paying for a different software, and struggling with them, buying a high-quality online arbitrage sourcing list is my suggestion.
Online Arbitrage Virtual Assistant
When you scaled your business, maybe buying sourcing lists and using the software doesn't work for you. You need more items every day. Sometimes your brand has grown up very fast, so you even need to hire someone to respond to the customers and follow up on their issues. If you want to do everything in a scaled business on your own, you can't focus on the more important stuff and keep a steady flow of growth of your business.
So, it is time to hire a virtual assistant and teach him/her. If you have a professional team, you can make your sourcing lists based on your criteria and find as many products as you need. By having your team, you have complete control over the items.
Online Arbitrage Apps and Extensions
Tools and apps are used to give you enough data to make the process as profitable as possible.
Some of them are Chrome extensions like Revseller. This type of extension can show you the crucial data you need about an item like net profit, ROI, sale rank, etc. For example, such extensions calculate the buying price, shipping expenses, and many more features to give you the real net profit.
Another group of apps is used for checking if the categories, brands, and products are open or not. They can protect you from costly mistakes and let you know if you are not allowed to sell a product. Also, there are several mobile apps for an online arbitrage business.
Online Arbitrage Tools: Free vs Paid
We discussed the disadvantages of not using tools in online arbitrage. Tools can mine data from hundreds of stores, store and filter it, collect the data about the product price history to estimate its future efficiency, and help us to be realistic and make the right decisions.
These tools are divided into two groups: Free online arbitrage tools & Paid online arbitrage tools. This is important because there are dozens of tools and extensions that you can pay for in the online arbitrage business. If you don't choose them wisely, you may end up spending lots of subscriptions every month.
Free Online Arbitrage Tools
The extensions are beneficial and can put critical info at your fingertips on any web page. Usually, they are free but very useful. There are dozens of such tools, but here we introduce the following extensions:
1- Keepa – Amazon Price & Sales Rank Tracker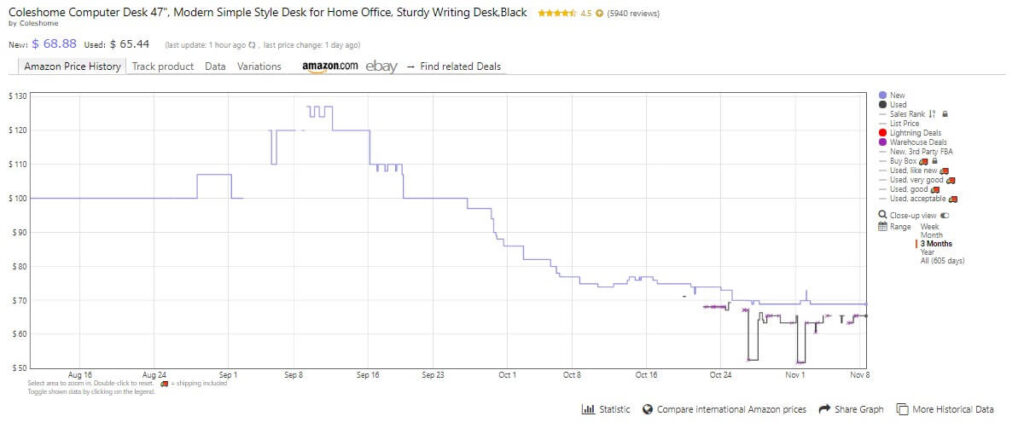 For limited data, it's free, but the premium version is highly recommended if you are a pro. You can see sale rank history, price history, and much more at a glance (the extra futures are open in paid version)
2- Amazon assistant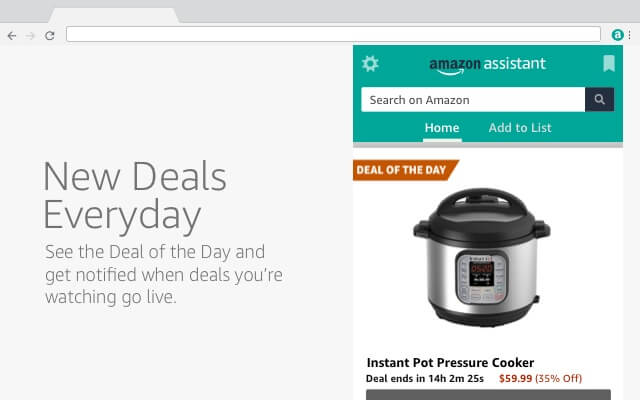 When you check a product on an online retailer (usually Target.com), it brings up the potential matches on Amazon. Notice that the matches aren't always correct!
3- PriceBlink
As you look at a product on a website (no matter it's Amazon or retailer), it tries to find a lower-priced product for you. Remember that check two items carefully to avoid a mismatch deal.
4- Rakuten – Get cashback for shopping
With Rakuten, All you need to do is shop like normal, and it will let you know if you can get cashback on your purchase. Also, it can find the coupons.
Paid Online Arbitrage Tools
If you are serious about this business, don't be afraid of paying for using a premium service. There are many extensions and software that are not free, but they have a free trial. You can pay for them after assuring that they are useful.
RevSeller
You can plug in your buy data to see the estimated profit and ROI.
IP Alert
If you want to protect your business against Amazon IP complaints, this extension is what you must have. It can inform you if you're on an Amazon page for a brand that has been reported to file IP Complaints against third-party sellers.
HowMany
HowMany shows you the number of units your competitors have in stock of an inventory item. So you can decide if you want to compete with them how deep you want to go yourself on an inventory purchase.
How to Be an Online Arbitrage Pro?
If you are not satisfied with a regular seller and you are ambitious in this business, you should scale your business and be an online arbitrage pro. But how can you be a pro?
It is essential to sell what other competitors can't sell. It improves your profit margin. Also, customers can see your brand more, and your brand can be trustworthy for them. But almost all of the low-competition categories are restricted. Amazon restricted categories, brands or products are not open for all the sellers, and you need to go through an approval process to be an authorized seller. If you want to make these restricted categories, brands, and ASINs ungated, you can use Amazon ungating service. In this way, you can scale up your business and sell items that many cannot.
What is Online Arbitrage Q4?
Q4 or the fourth quarter is from October to December. It is the time that every seller is waiting for and is the high selling season. You can earn in these 3 months half of your yearly income. But it is rush time, and if you are not experienced enough, it can be stressful at the same time. Sourcing items are tough because they run out so fast. If you don't plan, you might spend the rest of Q4 with an empty inventory.
We suggest you don't wait for the last 3 months of the year and keep selling now. Stay organized and watch the trends before the busy season so you can identify the possible hot toys in advance, for example.
Read More: How to Prepare for Online Arbitrage Q4 Trading?
Final Thought
In the internet era, many companies tend to be digital, and that's why online arbitrage has been so famous. Amazon as a lead marketplace is one of the biggest platforms that people do online arbitrage on it.
Amazon Online arbitrage seems easy and has some straightforward steps. But if you don't want to fail, you should improve your knowledge about this business.