What is Merch by Amazon?
As we said, Merch by Amazon is an option for design enthusiasts. But how exactly does this work? Merch by Amazon is a "print-on-demand" service by the platform. You can use this service to make branded merchandise and sell it as a seller. For example, if you are a game of thrones fan and have great designs in your head, you can create dragon and winter-themed ones, upload them to Amazon and then have them printed on a product (like Tshirts), fix a price, and start selling. This is a royalty-based system. Meaning with every sale, you earn a specific amount (royalty) paid by Amazon.
How does Merch by Amazon Work?
When you open the Merch by Amazon website, the first thing you see is a paragraph that pretty much sums up what this service is all about:
Share your designs with the world by creating graphic tees, accessories, and more, all printed on demand. We handle your printing and shipping, so you can design while we deliver.
The good thing about Merch by Amazon is that you get to choose the type, color, and size of the product you want to sell. Then you give Amazon your design, and the platform does the rest. Here are the steps you need to take:
Create a design
Upload your design idea to the Amazon Merch website and follow the steps. Pick your desired products (bags, clothes, etc.)
Set a price and click "publish." After doing this, the product goes public
Now Amazon will produce, ship, and handle every one of your sold designs and pays you royalties.
What Can You Sell on Merch by Amazon?
Selling your own designs is exciting. But what can you design exactly? Here is a list of products you can sell on Amazon Merch service:
Standard T-shirts
Long sleeve T-shirts
Pullover hoodies
Zip hoodies
Sweatshirts
Tank tops
V-neck shirts
Raglans
PopSockets
Phone cases
Throw pillows
Tote bags
---
Read More: Best Selling Items & Products on Amazon in 2022!
---
How to Get Started with Merch by Amazon?
To start collaborating with Amazon Merch, you first need to be a seller on the platform, meaning you should have a seller account. So do that first. The process of joining Merch is also not complicated. You first need to have some documents (which we will say further in the article), sign up on the website, and then wait for the approval. There is especially a request invitation form you need to fill out accurately. And then Amazon reviews your application and tells you the result.
---
Know more: How to Start Amazon FBA Business?
---
How Can You Join Merch by Amazon? 
Signing up on Amazon Merch won't take more than 10 minutes of your time. First, ensure you have your business contact information, bank account and routing numbers, social security numbers, or other tax information. Now go to the Amazon Merch website and click the "sign up" button. The site will direct you to a sign-in page. Sign into your Amazon account. After this, the website will prompt you to the Terms and Services Agreement (which you must accept). After accepting, you will need to provide the platform with some info:
Business contact information includes your first and last name if you don't have a business already set up. But if you do own one, you should enter your website and other info.
Bank account information: this is needed for Amazon to pay you. The county of your bank and your account numbers are some of the data you need to have here.
Social Security number or other tax identification numbers: U.S residents should just fill out their tax information. But if you live elsewhere, you must provide your local country's tax identification number.
How to Get Accepted by Merch by Amazon?
After filling in that basic information, you will be directed to the Sign-Up form, where you'll request the invitation. These are tips that can help you get approved:
Read the terms carefully: don't just skip and click the button. We suggest you make time to read it. Make sure you can follow all rules and walk the line while selling merch. You can even refer to some elements of the TOS in your application (so Amazon knows you have read them).
Show your designs: Amazon cares about the quality of the arrangements. So if you plan to join Merch by Amazon, show that you know what you are doing. You can link to an existing storefront or your current website as your resume.
Respect copyrights: it's always a good idea to show the platform you have done your research and ensure your designs won't infringe on any kind of copyright. Include the rights and info in your application.
Tell about your history: if you have already sold print-on-demand products, let the platform know. This shows Amazon you are going to bring value.
How to Create a Product with Amazon Merch?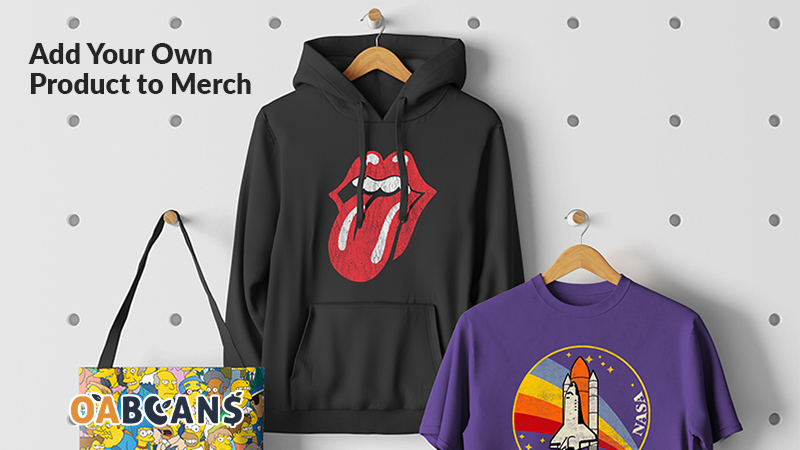 Creating products in Merch by Amazon is all about designing and publishing. Here are the steps you need to follow:
Create a logo: create a custom branded logo (with any design software, even the free ones) and save it according to Amazon Merch requirements.
Upload your designs: once Amazon approves your Merch account, log in, choose the products you want to sell, and apply your design. You will find plenty of color choices and instructions that make this part very easy.
Write your listing: write things product title, description, bullet points, and… this will help Amazon algorithm get your products in the right place in user searches. The more optimized your listing is, the more it will be seen by online shoppers.
Click Publish: now Amazon will approve your design, and you can start selling.
How Much Can You Earn From Merch by Amazon?
The amount of money you make depends on the products you sell and the price you set for them. The royalty fee Amazon pays you is something between 13% to 37%. Most merchants experience that the most profitable items on Amazon Merch are T-shirts and hoodies. Niche sales can go up to 93000$ a year.
How to be Successful at Amazon Merch?
The first thing you need to do is have a good design. So try your best and design creative items that people actually want to buy. A trendy hoody or a fun T-shirt can always be popular among people. Start working with professional software, watch tutorials, and study trends. You should also take some time and understand the platform. Learn to work with Amazon and solve problems via support.
You can also run ads or design marketing campaigns to introduce your products to more audiences. After people get to know you, you can turn them into loyal customers by offering discounts, promotions, or special sales.
How OABeans Helps You to Make Money with Amazon Merch?
OABeans Merch service can help you handle things more accessible as an Amazon seller. Becoming an Amazon Merch seller can be challenging for many people since it takes a lot of time to select products and design and write optimized listings. While becoming an Amazon seller can be a full-time job, many people count on the platform to make easy money. OABeans FBA service can also assist you in making Amazon passive income.
Amazon Merch Limitations & Tiers
Although Merch by Amazon can be easy to enter, new accounts should consider some limitations (at least in the first weeks). Amazon sets these limitations so people won't flood the marketplace with thousands of evil designs. That is why at first, you can only list up to 10 designs. If you can make ten sales, you will move to the next tire and list up to 25 products. After selling these designs, your limit will rise to 100 ones. These are all Merch tiers on Amazon:
Final Thoughts
Merch by Amazon could be an excellent opportunity for creative designers who have always dreamed of having their own shop. This platform provides you with an online, professional store to sell every design you make to tens or even hundreds of customers. But don't forget that although it doesn't seem complicated, it takes to research and time to succeed on the platform.
FAQ