1) Keyword Research is Half of the Way!
Just like Google, Bing, and Yahoo do with web pages, Amazon ranks its products based on the relevance of its customers' searches. To ensure that your ads are seen, you need to make sure that you are promoting them with the keywords that your potential customers will use.
Some useful tools allow you to discover some of the most popular terms used on the website. You can search for keywords based on product names or categories and build a list of keywords to optimize your product title and description with, thereby increasing the chances of your product ranking high on Google and Amazon results, which in turn will help you increase your sales on the platform.
2) Try to Win the Buy Box
If you have already started selling on Amazon or are about to, but you are still not sure what the Buy Box is, and why all the sellers want to get it, you are missing out on a powerful option to increase sales on Amazon considerably. 82% of Amazon sales occur in the Buy Box, mainly when they're done from mobile devices.
The Amazon Buy Box is displayed on individual product pages and is the fastest and easiest way for a user to shop on Amazon. It shows details as important as the product's characteristics, the price, and what interests you the most: who sells it. Of course, it is a space that can only be occupied by one. Thus, when another seller offers the same product as you, you will compete to win the Buy Box, and Amazon will decide who deserves this position through its algorithm.
---
For more info about winning Buy Box, click here!
---
3) More Reviews, More Sales!
Reviews are essential to increase FBA sales because many modern consumers look for positive feedback before making a purchase or trusting a merchant. Be sure to implement automated emails to ask your customers to leave seller feedback as well as product reviews, as both can influence your ranking position.
There are tons of software options you can use to automate sending an email to your buyers asking them to leave a review. Therefore, you can easily ask your customers to leave feedback without manually sending tons of follow-up emails.
4) Optimize Your Listing
Amazon listing optimization is the process of updating product pages to improve your search visibility, click-through rate (CTR), and conversion rate and ultimately generate more sales. This process includes: keyword discovery, optimizing the content of images and text of the listing, increasing the number of reviews from buyers, etc.
This is one of the most important things you need to do as a seller to increase sales on Amazon. Keep these three things in mind to improve your listing on Amazon:
Search terms – keyword research and on-page activities
Content – product information, texts, and images
Reviews and Q&A
5) Use Amazon Seller Tools to Increase Your Sale!
In every job, some tools help us with our tasks or make our work easier and more effective. This is also true about Amazon, as there are many tools to increase FBA sales.
There is an infinity of platforms and tools for beneficial purposes, from the most straightforward tools used to investigate the best products to sell or more advanced ones or those that do A/B testing.
In addition, there are also tools to generate accounting and tax calculations produced by the business relationship with Amazon, such as the Amazon FBA Calculator, to calculate the benefits of your products.
6) Optimize Your Amazon PPC Campaign
Amazon PPC is an advertising platform offered by Amazon for marketplace sellers to promote their products and brands and increase sales on Amazon. This type of advertising implies that advertisers will only pay for their ad when a user clicks on it, which is known as "pay-per-click."
Amazon PPC offers a wide range of services that both new and more experienced sellers can use. However, it is vital for those starting to sell on the platform since it is a way to gain visibility from the beginning. In any case, it is a marketing tool that any Amazon seller should not ignore.
When launching a new product, starting with an automated campaign and a relatively high bid is good. This will depend on the competitiveness of the product niche and your appetite to spend. However, the automated campaign will release invaluable information in the long run, which you must pay attention to; because every click, impression, and purchase made through a computerized campaign is valuable data for a successful Amazon seller.
7) Pay Attention to Your Product Images
The quality of your product photos can make a big difference in your sales, and it can influence whether or not a customer makes a purchase. Unclear or pixelated images can make it difficult for customers to see what they are potentially buying.
Some eCommerce photography tips include:
Placing the camera on a tripod: shaky hands can affect the quality of photos.
Try not to photograph products from only one angle; Take it from multiple viewpoints so you can choose the one that best showcases the product.
It's best to stick with a neutral background – you don't want to distract from what you're trying to sell.
Amazon allows sellers to upload multiple product images, so focus on getting various shots that showcase the product. Of course, each image should be of high quality to boost sales on Amazon, not just the main thumbnail image.
You can add a video of your product if you're feeling adventurous, but this takes extra time.
8) Write Winning Product Descriptions
Once your product title attracts a customer, you need to close the sale with a compelling product description. This text must be clearly written and contain all the details about the features and benefits of the product.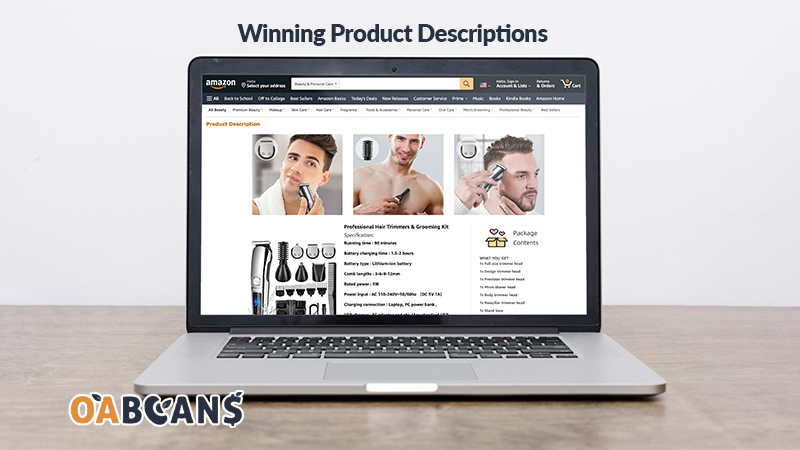 A carefully constructed product listing will help you stand out from a crowded Amazon marketplace and provide customers with a more satisfying shopping experience.
It may take a bit of trial and error to figure out the writing style and format, resulting in optimized sales. However, once you've found a successful structure, it can help increase your click-through rate and likely increase Amazon sales.
9) Try to Use Videos
Video Marketing statistics speak for themselves:
78% of people watch online videos every week, and 55% watch them daily. And this trend continues to grow. Did you know that along with Google, YouTube is the second most trafficked website on the web? What this shows us is that most people watch videos online regularly.
Video content not only gets a lot of traffic but can also play a decisive role in increasing conversions by helping people better understand your product and providing customers with the information they need about the products you offer.
Video content is no longer a "tactic" to show your products online but a complete strategy. It is especially effective for eCommerce.
10) Provide Great Customer Service
Talking to your customers is a form of customer experience management that could boost sales on Amazon. By developing a personal relationship with your customers, they will remember your business – and return to it – because of the positive emotions they felt during the interaction.
In the last decade, there has been a big change to become more personable, informal, and customer friendly. It just makes sense. Imagine a call center in a company with a very impersonal and "corporate" style of talking to its customers. This is not what customers want, but you don't have to talk to your customers the same way you would your best friend either. This is how you connect with your customers:
Pay immediate attention
Connection (find common ground and encourage positive emotions)
Commitment (commit to solving their problem)
11) Keep Your Amazon Account Health Rating Up!
One of the main tips to increase sales on Amazon is to abide by its rules, one of which is to maintain metrics at certain levels. This is also known as account health. Consistently not being able to keep up with these metrics can lead to a warning, account suspension, or – in the worst-case scenario – account removal.
A page dedicated to this is on your Seller Central account called "Account Health." You can find the six most essential metrics on this page and all the information you need to keep up with them.
These metrics include:
Order Defect Rate (ODR) – Your overall ability within the past 60 days to leave customers as happy as possible.
Cancellation Rate (CR) – The percentage of orders canceled by the seller in 7-day timeframes.
Late Dispatch Rate (LDR) – The percentage of orders that had their shipping confirmation posted after the expected ship date.
Valid Tracking Rate (VTR) – The percentage of total orders that were given a valid tracking number over 30 days.
On-Time Delivery Rate (OTDR) – The percentage of packages that made it to their respective doorsteps by the estimated delivery date.
Return Dissatisfaction Rate (RDR) – Measures how satisfied a customer was with the return experience.
---
For more info about Amazon account health click here!
---
12) Optimize Inventory and Profits
Many Amazon Sellers lose countless dollars in profit every year due to poor inventory management. If you want to avoid being one of those sellers and increase FBA sales, you need to optimize inventory and profits by following the tips below:
Keep track of your stock – Running out of stock can be a seller's worst nightmare. Keeping stock is a fine art, especially if you fulfill orders with Amazon FBA. Understanding how much you have in stock, the current demand, and how long the restock lead times are for each product can inform your inventory management decisions to save you time when reordering.
Anticipate product demands – Predicting demand and planning for seasonal inventory trends can be tricky, especially when you have a variety of other tasks demanding your attention. By researching industry trends, looking at past sales data, and staying on top of what's selling on Amazon, you can predict demand before restocking. 
Resolve Stranded Inventory – If you're fulfilling orders through FBA, you'll need to maintain a healthy Inventory Performance Index (IPI) to avoid future storage restrictions. The score is calculated based on excess inventory rate, sell-through rate, stranded inventory rate, and in-stock inventory.
---
Read More: Amazon FBA Inventory Storage Limits in 2022
---
13) Try to Hijack Your Competitors List
One of the ways to increase sales on Amazon is to hijack your competitors' product listings. Amazon listing hijacking means "hijacking" your competitors' product listing by claiming to offer the same product. To do this, you need to add your product (usually a counterfeit version of the competitors' product, at a lower price and quality) to their listing, so buyers can see there are multiple sellers.
Doing this will undercut your competitors' pricing and take away some of their sales. However, it should be noted that this method could have some negative consequences as the seller could report you to Amazon for infringement.
We published an article on a similar topic. If you want to know more about Amazon listing hijacking, click here.
Final Thoughts
Regardless of what Amazon seller tips you put into practice: To drive more traffic and increase sales on Amazon, you need to be able to centralize, optimize, distribute, and analyze scattered product information so you can utilize all of it, keep your offers targeted, and generate the as many sales as possible.