When you start your Amazon FBA business , you usually have limited capital and wish to grow your business. As you grow your business on FBA, rising demand could be amazing. But little by little, there is no more room in the garage/basement/rooftop deck. You and your family will receive your wares, unbox them, inspect for damages, prep, pack, bundle, and ship it all. At some points, you can't meet demands anymore, and you need to trade your money for your time. It's not an easy decision because we were initially selling our time in exchange for money saved.
Sometimes your business has grown enough so you can hire a team for handling packaging.
But most often, hiring a team is not efficient at this point, and you need to contract with prep centers.
Prep centers can help you. They are FBA prep third party and can shoulder this burden for you. For a very small fee – often per item- they do whatever you and your family did for your wares. Using a prep center frees up your time, frees up space in your home, and frees up energy for you to use on profitable tasks in your business.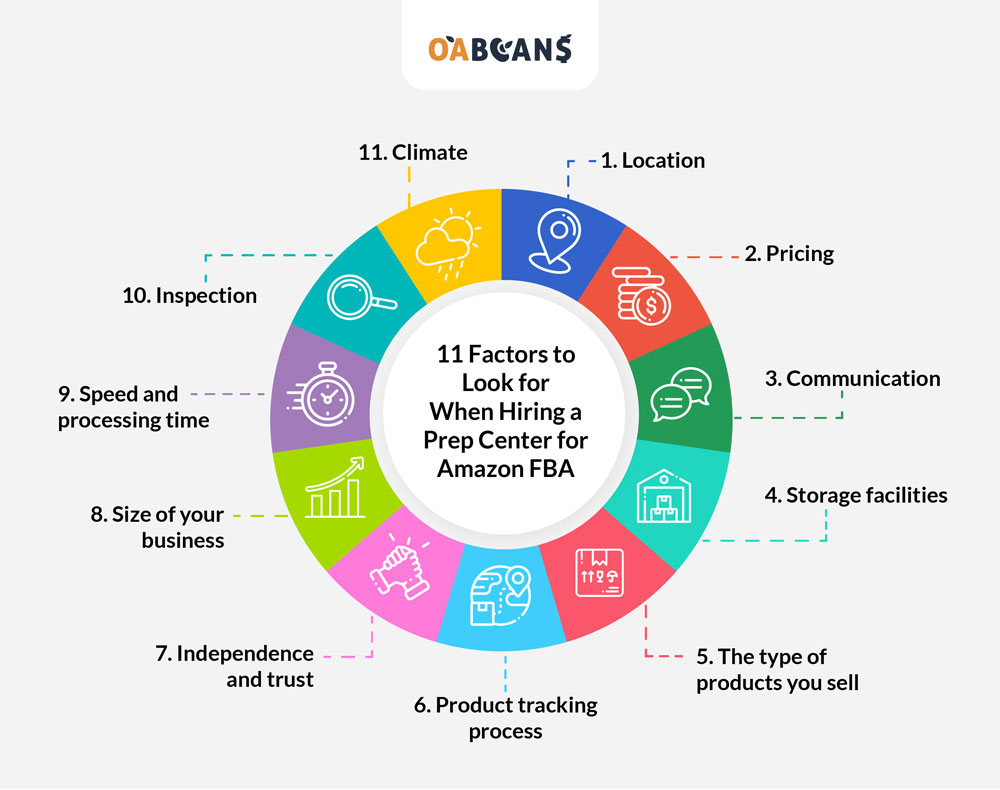 Broken goods, delayed orders, or damaged packaging can quickly result in damage to your reputation because customers leave negative comments. You are offloading the work to someone else. So, your reputation and your business depend on the prep center you will choose.
In this post, I will explain how you go about finding a prep center to help you decide.
1. Location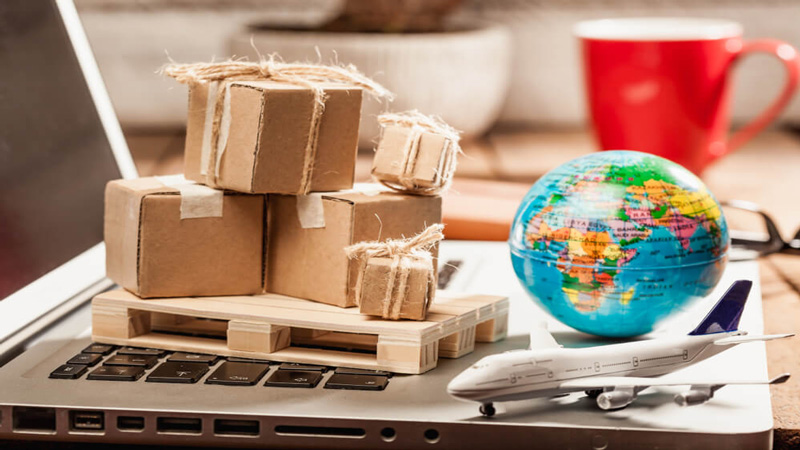 The location is, in many cases, the most critical factor. Because it has a significant impact on how much you can save by using one.
Before choosing a prep center, you should answer a few questions about its location:
Where is the prep center located? West coast? Mid- America? Is it in a sales-tax-free state?
Be careful about choosing a prep center based on closeness to an Amazon Fulfillment Center, though, as the Amazon warehouse, you ship to can be different each time.
When you are working with online arbitrage, you may have to pay sales tax. But if you choose a prep center located in sales tax-free states, you could save money.
There are four states with no sales tax (Montana, Delaware, Oregon, New Hampshire). Remember that sales tax in the US varies from 0 to 7%. So if you choose a prep center in a state with a sales tax that is a few percent lower can make a difference to your costs.
---
Read More: Tips for Getting Started Online Arbitrage
---
2. Pricing
One of the essential concerns for sellers when choosing an FBA prep service is the price. It doesn't mean that the cheapest solution always is the best. If a prep center process a thousand items per week for you and only charges a fraction of the competition is a bad sign.
The first question you need to ask is whether the company will charge monthly or per item and what other charges may be involved.
Center A will charge for the label, polybag, and packing, and if your product needs bubble wrap, they take extra charge. But Center B has a monthly charge regardless of what your items need. A monthly charge seems to suit sellers with large volumes of orders, whereas the per-item charge is better for low volume sellers.
Each prep center has a different price, so it is not included in ROI. If you are using Amazon Online Arbitrage sourcing lists, notice that you should consider your prep center price and set ROI again.
3. Communication
Working with a company that respects you and is available whenever you need them is enjoyable.
Quick response via email or answering your calls is a good sign. If you need information and have requested it and it took several weeks for an initial response, it means you're not important for this prep center. If any problem happens in shipping your items to the Amazon fulfillment center, an unresponsive prep center is the last thing you want to handle!
4. Storage facilities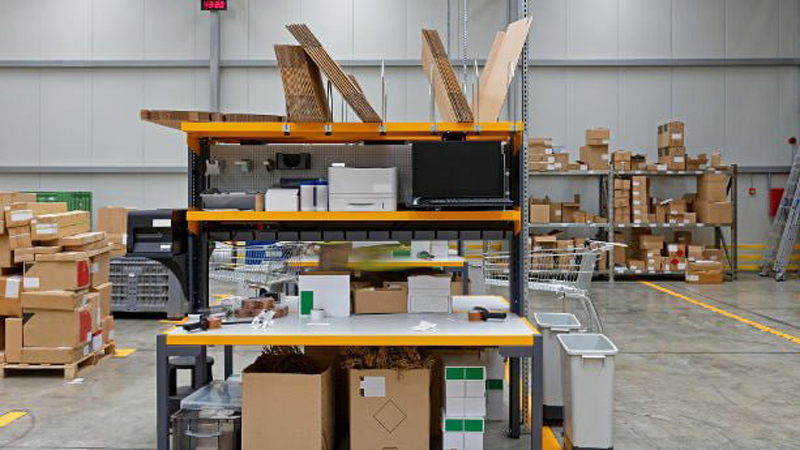 While an FBA prep center's first job is to get your wares ready to be sent into FBA, more and more sellers are using prep centers to store their wares. Some but not all prep centers can store your goods for a while. If you supply your goods for a while, choose the prep centers that offer this ability.
There are two main reasons why sellers want to store their goods in prep centers. First of all, it can be cheaper than storing the goods at a Fulfillment Center. Secondly, if the seller gets suspected by Amazon, the inventory will be stuck in the Fulfillment Center.
If you want to store your goods in a prep center, ask them about the security of their warehousing and their insurance against fire or theft towards your stocks while they are holding them.
5. The type of products you sell
Some prep centers are more equipped for special products. For example, if you sell books on Amazon, you can find the prep centers equipped enough to handle special prep requirements.
6. Product tracking process
Choose a prep center that offers you product tracking software. It helps you to have different levels of communication about your shipped products. You can find out where your goods exactly are; you can see which ones have been shipped out or what has been received or any communication.
So try to choose a prep center that meets your demands about the product tracking process.
---
Read More: Brutal Mistakes of Arbitragers
---
7. Independence and trust
When you work with a prep center, you share your business information with a 3rd party, so it's important to trust your prep center.
Also, your prep center should be independent. Imagine that your prep center also is an online arbitrage seller. They can see what you are sourcing and maybe start sourcing the same items.
Some prep centers are run by current and former Amazon sellers. So, they have a great experience with the process of shipping to FBA, and it values a lot.
Check the reviews about the prep centers and read the customers' different comments to evaluate if you can trust them. The way they answer the customers can help you in making a decision.
8. Size of your business
If you are a new seller, you wouldn't have many goods to ship. Some prep centers have a minimum shipment size that is not good enough for shipping only 10 items.
As a small seller, you need to look for a prep center that doesn't have a cost restrictive minimum.
On the other hand, there is a large seller that ships many items at a time. Also, maybe you are shipping products by truckload. So you need to make sure that your prep center can handle this type of volume. If they are not ready to receive this much of goods, they can damage your business.
There is a wide range of prep centers, and you shouldn't have a problem in finding one that is fit for the size of your business.
---
Know More About Amazon FBA Product Sourcing
---
9. Speed and processing time
A key factor in deciding on an FBA prep service is how long it needs to process your goods. Your customers are expecting delivery of their goods within a certain time-frame. Processing time can vary from 24 hours to one month. Usually, prep centers are upfront with their processing time. Sometimes they offer guaranteed turnaround time.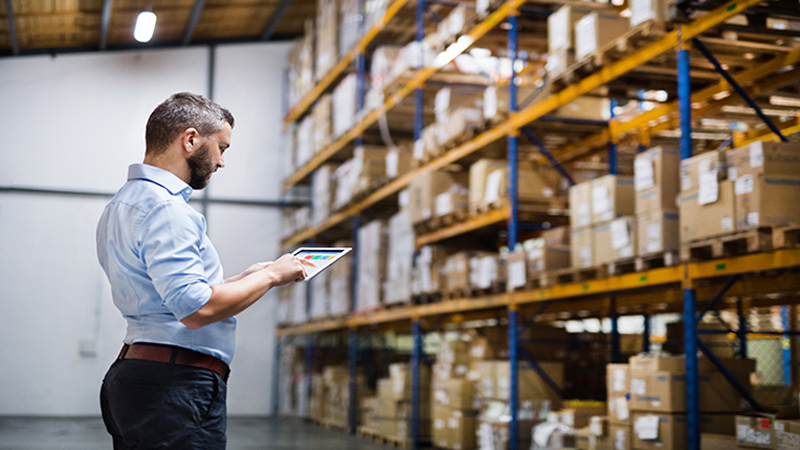 If this information is not available, ask it and make sure you know the consequences if the guarantees are not met.
The normal processing time for medium-sized shipments is about three days. Smaller orders can take less and larger order takes longer. If the prep center needs a significant amount of time regardless of the size, it is a prep center overloaded. It's important to balance between speed and cost.
10. Inspection
For anybody serious about online arbitrage, choosing an inspection company and reliable prep is important to ensure that your customers receive good quality and service. Some prep centers offer an inspection service. It doesn't replace product inspection at the manufacturer's factory, but it can supplement it.
Manufacturers don't check shipments too closely because if the goods are rejected, it costs them more. So your prep center has to pick up the problems that the manufacturers missed.
11. Climate
If you are ordering some kinds of items like foods, you should know about the prep center warehousing climate. Temperature and humidity are crucial factors for some types of items.
If you sell these kinds of products, make sure that your prep center is suitable.
Final Thoughts
After evaluating your needs and deciding about what you want, now you can choose the best prep center.
There are hundreds of these centers, and you only need to type "prep centers for Amazon FBA online arbitrage" on google to find a list of them! You can also join FBA sellers' Facebook groups, like OABeans Facebook group, and ask experienced sellers about their favorite prep centers and get more information.