Amazon FBA
Amazon has different business models but many sellers prefer to choose Amazon FBA. That's why in this article we have focused on the FBA business model.
If you want to sell your inventory through Amazon.com and Amazon handles your t inventory storage in Amazon's warehouses, picking, packing, and shipping the items when an order is placed, then you need to use Fulfillment by Amazon or FBA. Amazon gives you the potential of millions of daily visitors and you don't need to deal with shipping and packing and usually, the items are sent to Amazon's warehouses from your provider.
Read More: How to Start Amazon FBA Business?
Pros & Cons of Amazon FBA
Pros of Amazon FBA:
Here is a shortlist of benefits and disadvantages of FBA:
1. Easy and cheap shipping and storing inventory
Amazon has a complex network of logistics, warehouses, and shipping facilities that make shipping and inventory storage cheaper, more organized, and safer. Keeping large inventories needs large space. In addition, dealing with different post services usually costs more and sometimes it causes many hassles. So Amazon gives this opportunity to the sellers to do their business easier.
2. More potential customers due to high-quality service
Prime customers can benefit from free and quick delivery. . It means that Amazon Prime subscriptions can get their orders within 1-2 days, without any costs. So the Prime sellers (all the Amazon FBA sellers) can attract more customers due to high-quality delivery. Over 110 million Prime customers will be more eager to buy from Amazon Prime Sellers to use Prime benefits.
3. Return, refund, and customer service management
Amazon offers its customer service for FBA sellers. In addition, Amazon sellers who are using Fulfilment by Amazon assign all return and refund processes to Amazon and will be happy with the global high-quality service.
Cons of Amazon FBA:
For making the right decision you need to balance costs and benefits and here are the disadvantages of using Amazon FBA:
1. Losing control on inventory
Storing and shipping your items through Amazon means that you don't have control over them. You cannot enter Amazon's warehouses to check your item and have to trust Amazon.
2. More returns
Because Amazon's return process is really easy, more customers will return the items.
3. Difficult shipping preparation to Amazon
Amazon has a strict organizing system and the inventory stored in the Amazon warehouses should be packed individually with unique labels. If your products don't meet Amazon's standards, Amazon may reject them. You can use prep centers. They know the Amazon policies very well and can meet the requirements in preparing products and send them to the warehouses.
Read More: How to Find Prep Centers for Amazon FBA Online Arbitrage?
4. Risk of account suspension
Amazon has strict regulations and can affect your business unexpectedly. Removing the lists or account suspension are the penalties that Amazon sellers might face and it can hurt their business so much.
Shopify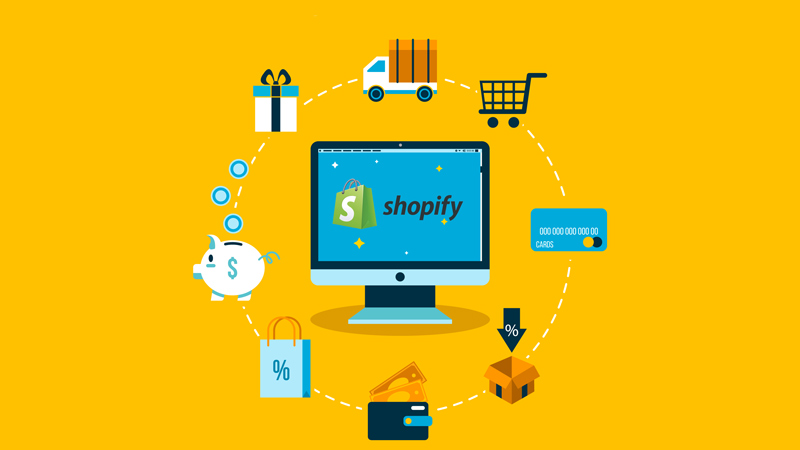 Shopify helps business owners to run their online stores. It gives them different tools like payment gateway or various website themes. It hosts more than 1,700,000 businesses in about 175 countries. 1.58 million Websites run on Shopify as of 2021.
Pros & Cons of Shopify
Shopify isn't a weak competitor and has many powerful features to convince sellers to pick it. Here is a list of the pros and also cons of this platform.
Pros of Shopify
1. Unique individual brand
Using Shopify, you create your website. So if you try hard you can promote your brand and make it strong and famous.
2. Comprehensive admin tools
In the backend of your online store, you will find different features and reports that help you analyze your business and fix the problems. You can see the number of visitors to your website and many more details.
3. Benefit from cloud network
The advantage of Shopify over many other online stores is that your website is hosted on a cloud network, not a server. You don't experience a crash on busy times like Black Friday.
4. Good support
If you have any problem running your website or need training, the experts are ready to answer your questions. Also, their blog has plenty of courses, and the eCommerce experts share their experiences.
5. No limit to sell different products
Restricted products and the Approval process can make the new sellers frustrated. In your Shopify store, you don't have to ask for permission to sell it (unless it has legal problems like counterfeit or copyright).
6. Low cost
Shopify offers many free themes or tools. It doesn't take 15% referral fee like Amazon and have different plans for different budget. But consider that you need to pay more if you want to use more apps and have a more powerful online store and business. Reports are not available with the basic plan.
7. Full control of the business
Shopify has no rules about what you can sell. The way you promote your products is up to you and has no limitation. It can be in different forms like clips or images. Generally, in your Shopify store, you have full control of your business.
Cons of Shopify
1. Website traffic
You are responsible to attract visitors to your website. Your website doesn't have a reputation like Amazon. So a strong marketing strategy seems necessary.
2. Organic sales
You have created your website from scratch so you need to work on SEO to attract organic sales. Many small Shopify stores never find the organic sale.
3. Need more expertise
The Shopify business success depends on the proficiency of the team that is managing it. Different experts are needed to manage the customer service, SEO, campaigns to attract website traffic, and so on. Collecting professionals and managing them make this business more complex.
Read More: How to Online Arbitrage?
What Is the Difference between Amazon and Shopify?
The main difference between Shopify and Amazon seems clear. Amazon is a marketplace that sellers only list their inventory and wait for an order. But Shopify is a platform that helps business owners to create their online store from scratch. Amazon has a great reputation and attracts millions of users every month. But in return, it takes a referral fee of your every sale. On the other hand, you are responsible for the marketing of your Shopify store but you don't pay to Shopify on your sales and what you pay is the subscription fee. In addition, Shopify sellers don't need to follow strict policies like what Amazon sellers need to consider when using Amazon.
Amazon or Shopify? Which One Is Better For You?
The answer to this question depends on your and your business condition. Amazon FBA gives you millions of potential buyers, great shipping service, and quick setting up. But you may face Amazon's tough rules like brand restriction or IP Claims when you want to scale up. In addition, you have many competitors and your business depends on feedback and reviews left by buyers.
Shopify only gives you a website. You need to try hard to attract customers. But the control of your online store, customers, and inventory is in your hand. You can boost your brand and change the design of your website. You need to make this business from scratch and it means you should dedicate lots of time and effort to make it a success.
Read More: How Much Money Can You Make from Online Arbitrage?
Which Is Cheaper, Shopify or Amazon?
Amazon has two plans: Individual plan costs $0.99 per unit sold (that is suggested for the sellers who sell less than 40 items per month). Another plan is the Professional plan that costs $39.99 monthly. In addition, Amazon charges a referral fee for each item sold and it is between 8% – 15%. The FBA sellers should pay more for fulfillment fees like storage fees, long-term storage fees (to store the items for a long time), and so on.
Shopify has three plans. Basic, Shopify, and Advanced Shopify plans.
The basic one costs $29 per month and takes 2% 2% on all sales that don't use Shopify payment. This comes in addition to credit card fees. It gives you various features but reports. Shopify plan costs $79 and takes 1% on all sales that don't use Shopify payment, plus credit card fees. Shopify plan includes all the features of the Basic Plan as well as reports and a few more features. Advanced Shopify costs $299 per month, plus transaction fees of 0.5% on all sales that don't use Shopify payment, plus credit card fees. Here you will access all that previous plans had plus a report builder and third-party calculated shipping rates. Extra apps and different themes can increase your costs.
Final Thought
Amazon and Shopify are the famous giants in the eCommerce world. Both have impressive features that can be convincing for the sellers. Picking each platform is up to your unique condition and your expectation from a platform. So to make the best decision for your business, analyze the benefits and costs of each platform and then pick one. If we want to be honest you can use both too!