What Is Amazon FBA?
Amazon is one of the biggest online shopping platforms that have hundreds of millions. Sellers can list their inventory on Amazon and sell them for a profit.
Amazon FBA business, or Fulfillment by Amazon, is a business model that the seller sends the products to Amazon's warehouse, then lists them and waits for an order. Amazon is responsible for the rest. Once the order is placed, Amazon picks the item and packs it, and ships it to the customer. In addition dealing with the customer, like refund and return, is done by Amazon.
Pros & Cons of FBA
Some basics about FBA are covered off above. The following are some of the Pros and Cons of using Fulfillment by Amazon.
Pros of Amazon FBA
Effortless Logistics and Shipping
Amazon fulfills all steps for you. You just need to track your listing, provide products for your stock, and let Amazon take care from start to finish. Considerable weight is off your shoulders for a small fee.
More potential customers due to Amazon brand image
Amazon has millions of visitors every year. Over 110 million Prime customers will be more eager to buy from Amazon Prime Sellers to use Prime benefits. They can receive their orders with free and quick shipping. Also, Amazon's successful goodwill can make the sellers valid and develop their customer base.
Return and Refund Management
Apart from the sales part, returns and refunds as a part of the fulfillment process are handled by Amazon. Amazon sellers who are using Fulfilment by Amazon assign all return and refund processes to Amazon and will be happy with the high-quality global service.
Multi-channel Fulfillment
When you use the FBA service, you can sell to targeted customers through the Amazon platform. Plus, new multi-channel fulfillment solutions are accessible for you. By choosing Amazon Multi-Channel Fulfillment or MCF service, selling products on different platforms and channels like eBay and BigCommerce would be possible, although Amazon still fulfills the service.
The Amazon Prime badge is automatically implemented to products in FBA, so there are eligible for Prime free delivery service to the customer. The shipping time is one or two days in this service, and its fee is included in the Prime service. So, the buyers don't need to pay extra or charge premium shipping rates to get this service.
Shipping Rate with Discount
Amazon is a global fulfillment giant, so your shipping costs reduce when you work with it through the FBA platform. Although you pay fees to Amazon, it is still lower than making the shipment and managing the fulfillment by yourself. Therefore, you save money.
Customer Service Management
Amazon offers unique customer service to the sellers who use FBA service.
With Amazon services, you don't have to worry about anything. If you want to have your own customer service, you can use the Amazon platform for easy management.
Realistically, it is not easy to store many items without using FBA. You need to rent a warehouse or even have one. But even with preparing storage, managing inventory on a large scale is a little bit complicated. This is where the Fulfillment by Amazon program can help you. As Amazon has warehouses worldwide, it can store a lot of products for a cost.
You are the owner of your inventory. If you choose your listing ingeniously, you can select your profit margin, and it doesn't change so much with fluctuations. In addition, buying the items in bulk helps you offer promotional online arbitrage deals.
Cons of Amazon FBA
There are some considerations that people think Amazon FBA is not suitable for them. Below, some of them are listed.
No control on inventory and customer
You don't have a full record of your clients and can't contact them directly. Also, storing and shipping your items through Amazon means that you don't have control over them. You cannot enter Amazon's warehouses to check your item and have to trust Amazon. Sometimes your inventory is large, and you cannot keep the record. Unsold products can cost you more to store. But you don't have this problem in Amazon FBM. Because in the FBM business model, you store your items and ship them to the customers, you can record all necessary information.
Money is everything for those who have just started their business. FBA costs money, although it is very handy. Maybe, these newbies don't need to spend this money at the beginning. Additionally, because of the way fees are calculated for low-cost items, FBA service is not a good decision for them. So it would be best if you would be selective about the products you offer in the FBA service and estimate if it is profitable or not.
If your products sit longer on inventory, you should pay more to Amazon because it dislikes sitting on inventory. So, it is necessary to factor long-term storage fees into your ongoing budget. Then you can have a good estimation if the FBA service is still financially meaningful for your business. In addition, if your products are not actively for sale, Amazon dislikes them again. So, because of that, you will charge. Plus, your metrics will adjust negatively. However, you can monitor your seller console and ship back these items to your own facility.
---
Ultimate Guide About Amazon Freight Forwarder
---
In general, you can't postpone paying the Amazon FBA fee. It means you can't pay your initial payment with the next sale income. Before making any payment to you, Amazon will deduct all its expenditures. You should provide a credit card to pay the costs if you don't have enough money in your account.
The next disadvantage of Amazon FBA is more customers will return the items because Amazon's return policy is really easy. New Amazon changes make it possible to return back the products directly to your facilities.
Product Prep Requirements
When new products want to enter the Amazon warehouses, there is a list of requirements to be fulfilled through FBA. Before sending your products to Amazon, you should ensure that their preparation complies with these requirements, including proper labeling, well packing, and conforming to the FBA inventory warehousing guidelines for shipment. Also, some products like flammable products never are stored in Amazon warehouses. If your products don't meet Amazon's standards, Amazon may reject them. It is tricky to follow some of the details.
State-level manages the sales tax. When your business is in one state and your warehouses are located in another state, it is hard to determine which tax rate is implemented. You can use specific tools to automate various tax rules and situations. With these tools, you figure out how much you charge, and Amazon will manage it for you.
Amazon changes its policies regularly. Besides, it considers tough penalties if you break the rules. Plus, you are not allowed to sell everything as you start because of gated categories. You also have the risk of account suspension.
What Is Dropshipping?
Dropshipping is a common business model in the online arbitrage world. It means you list the items without holding the physical stock you are selling. When an order is placed from a customer, you order it from a supplier, and the supplier ships it to you or directly to the customer.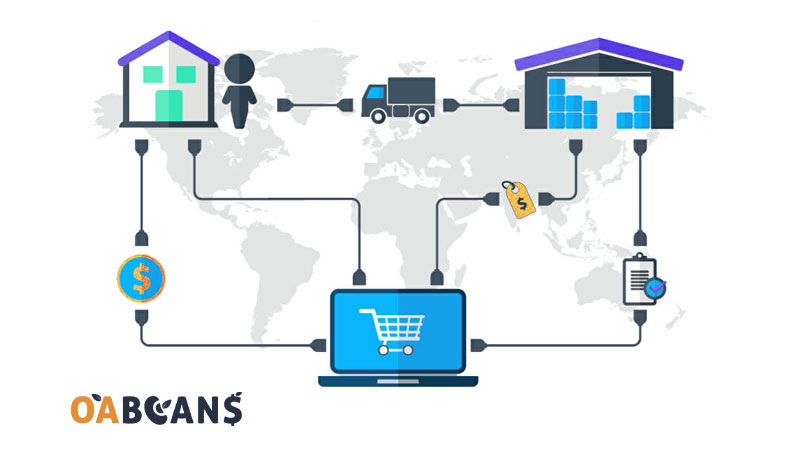 You earn the profit without the risk of inventory, storage, and fulfillment costs. You can advertise your products on different platforms like Shopify, Amazon, or eBay store. It is one of the most trending retail businesses that have low risk and is cos effective.
Pros & Cons of Dropshipping
As dropshipping is very accessible, it is known as a great business model for newbies. Before you start your business, it is essential to be aware of the advantages and disadvantages of this business model.
Pros of Dropshipping
As you don't need to deal with products physically, running your business is much easier. You can launch your business quickly if you take some time to learn the basics. When you work with dropshipping, you don't need to consider the below items:
Tracking inventory for accounting reasons
Paying for a warehouse
Handling returns and refund
Packing and shipping your orders
Continually ordering products and managing stock level
Actually, the best advantage of dropshipping is the possibility to launch your business without having to invest thousands of dollars. Before, traditional retailers must pay huge amounts of capital purchasing inventory. But, in the dropshipping model, you need to sell your product first, and the customer pays you, then you buy the product. So it is possible to start sourcing products for your dropshipping business without requiring significant inventory investment. This benefit reduces your business risk.
With an internet connection, you can run your dropshipping business from anywhere. You don't require an office, as it is possible to work from your laptop and easily communicate with customers and suppliers.
As you run and manage your business with a dropshipping model, you need to put your effort into sales and marketing. Advertising will be the most considerable expense. Compared to traditional business costs, your costs will be reasonably low when your business grows.
The main advantage of dropshipping is that you don't need to rent a warehouse and hire staff. So you can manage your business hassle-free. You can set everything up after finding suppliers. Your responsibility is just organizing your online store for trending products.
To improve your business, you should dedicate time, but your business's executing process is what many sellers don't like. Dropshipping doesn't need managing inventory and, in many cases, doesn't need packing and shipping, and the suppliers are responsible for all. So it is ideal for all the sellers who don't like repetitive executing responsibilities.
You don't need an upfront investment. Unlike wholesalers, you can sell your products to the customers without substantial running costs. In addition, you don't maintain extensive inventories. The risk of loss is very low, and you will become profitable easier and faster than other business models.
Cons of Dropshipping
The most significant disadvantage of dropshipping is the low margin. It doesn't mean that it is not profitable, but be aware that the product margin is small. Because it is easy to start, it is highly competitive as many sellers put their products at rock-bottom prices.
Difficult ordering process
Although dropshipping seems simple, you might encounter some problems with sourcing products from multiple suppliers. The difficulties appear as your suppliers use different shipping solutions. When the customer orders multiple products, the shipping costs could be challenging based on your shipping setup. Besides, each supplier has its own shipping processes and fulfillment structure, which demands tricky management.
In the dropshipping method, you don't have control over the whole process, such as order fulfillment, stocking products, and shipping. Your suppliers provide these services, so you should rely on them.
Challenging customer service
When orders go wrong or suppliers fail, this problem can happen. You are just the business owner, and the suppliers handle the customer service. But if they don't do the service perfectly, you will receive complaints. Taking responsibility for the suppliers' mistakes is the difficult part of dropshipping. In addition, the quality of customer service can affect customer retention.
There is the possibility of scant or insufficient information from your supplier. So you may not be able to answer the customers'' queries or the customer receive an item that is different from what she/he has ordered.
What Is the Difference Between Amazon FBA & Dropshipping?
Amazon FBA and Dropshipping are similar business models that are different in few things. Both offer a time and location independent job based on online platforms.
In Dropshipping you are not worried about unsold products because you don't store the inventory. Shipping, refund, and return are not your responsibilities. But low and varying profit margins can be not satisfying. In addition, broken or mismatched items are possible because you don't have control over the shipped item. It can make your customer angry and gives you negative feedback.
Amazon FBA handles the customers' issues, but first, you need to send your inventory to Amazon warehouses. So you should buy the items and it needs analyzing and knowledge. Because wrong decisions can cost you much.
---
Know More: Amazon FBA vs FBM
---
Amazon FBA or Dropshipping; Which One Is Better Choice For Your Business?
Both methods have pros and cons and they are similar in many options. But choosing one of them depends on your situation and your business.
If you are a beginner seller and don't have capital and looking for a low-risk job, Dropshipping can be attractive. There are different platforms like Shopify or eBay that you can advertise your product and start your Dropshipping business.
If you want to dedicate more time and money and earn more profit, Amazon FBA can give you proper tools and a massive audience. Amazon FBA requires a fair amount of capital and you can scale your business up.
Final Thought
Choosing between Amazon FBA and Dropshipping can be tricky for beginner sellers. Both have advantages and disadvantages that you need to consider while you want to choose your business. Many sellers use several business models but we suggest if you are not a professional don't work on several businesses and postpone it to when you are skilled enough.