What is an Amazon Storefront?
Launched back in 2018, Amazon storefront is a separate section for each business on the platform to help them sell their products directly to buyers. This front store highlights featured manufactured or curated products and create a cozy atmosphere where the details are shown, products are introduced, and the whole spirit of the business is there for the customers to see.
This option is available to brand-registered sellers and allows them to showcase their products in a single location using top content, photography, and graphics. The good thing is each seller can personalize their storefront based on their unique connection with the customers. Amazon Storefront can also be used as a landing page for advertisements. In essence, the storefront of Amazon is a mini-eCommerce site that can make every shop on the platform a unique user experience.
Pros & Cons of Having Amazon Storefront
Although Amazon Storefront is exciting and can make each shop unique, there are some challenges. Let's look at some pros and cons.
Pros:
Helps you become a personality: Storefront of Amazon allows you to build a story for your brand and market it to audiences. This way, they will remember and revisit you for that one-of-a-kind shopping experience.
Gives you access to analytics: Storefronts provide more comprehensive analytics than you wouldn't otherwise have access to. These insights help you market and sell more accurately, and you can also use them to better design.
Gives you a big shelf: Creating a Storefront allows you to showcase every product and brand in your store in one creative space. Customers don't need to navigate through pages to find what they need.
Cons:
It's not available for newcomers: Amazon Storefront is available for sellers who complete their brand registry (which requires a registered trademark).
It's extra work: if you haven't gotten the handle on things yet, you might want to postpone getting a storefront. Maintaining the design and keeping it going takes time and energy.
Who Can Open an Amazon Storefront?
Simply put, any seller on Amazon can build a storefront, but they should complete their brand registry and have a registered trademark. Registry appeals will be reviewed and approved by Amazon in a few days. Also, Enrolling in the Amazon Storefront program is entirely free; as long as you are registered as a seller on Amazon, you can make a storefront for your business.
---
Know More: What is Amazon Seller Fulfilled Prime?
---
How to Start Building Your Amazon Storefront? 
After becoming an Amazon-registered brand, making the storefront can be done in only a few steps:
1. First, log into your Amazon Seller Central account, scroll to the main navigation bar at the top of the homepage, and now open the "stores" tab.
2. Under this tab, click "manage stores".
3. Now, the platform asks you to give some information. Brand display name (which will appear on your storefront), brand logo, and product grid style.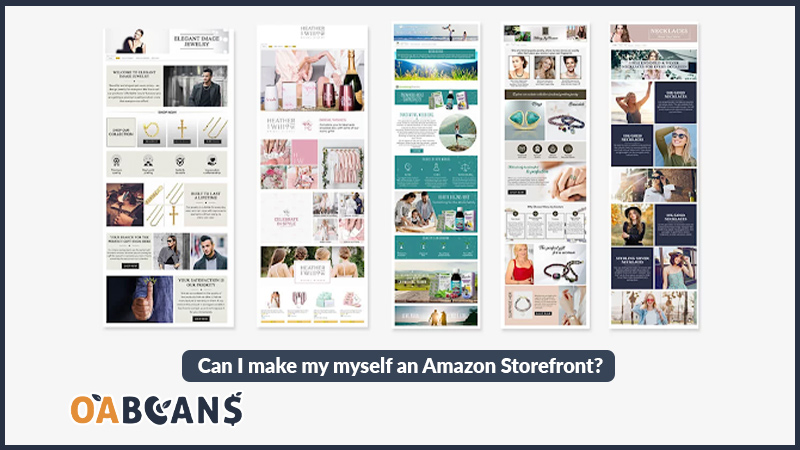 4. You should include a meta description for your store (display). There are also some premade templates Amazon has set up to help sellers.
5. You can also create multiple pages within the store to activate a navigation feature. Shoppers can easily browse through your catalog with this feature. You can customize where you put your titles, photos, and videos.
6. The next step is adding your listings. Click on each tile and select "product". Now you can search for the item by keyword or ASIN and add it to your storefront.
7. After finishing creating your Amazon Storefront, it's time to publish it. Go to the navigation bar and click "Submit for publishing."
How Long Does it Take to Get Amazon Storefront Approved?
After publishing your Amazon Storefront, your request will go through a manual approval process before being published. This usually takes around 72 hours, and if your registration is complete and all the data is entered, it will be ready to use after that time.
Examples of Amazon Storefront for Inspiration
Here are some inspiring and creative samples of the Storefront of Amazon for you:
Hope and Henry: look at the size of the products that are completely in rhythm with the screen size and also the prices available.
Petcube: everything you need to know about the products is in the storefront. Detailed pictures, enough descriptions, and fun design for pet owners.
Kate Spade: the use of pink sets this Amazon Storefront apart from others on the platform. This home goods store catches the eye and brings in customers.
How to Get Traffic for Your Amazon Storefront?
Here are some ways:
Be active on social media: If your brand is active on social media, it's always a good idea to give your audiences Amazon links (like in Instagram stories or tweets). This way, each curious customer will come to your Amazon store to get more information and start their purchase.
Pay for ads: do not miss platforms like Facebook. You can advertise your products on Facebook and link to Amazon. The results might surprise you.
Make great videos: when your product video is made accurately and creatively, people will probably share it with each other. More views for your product video means more viewers on your product page.
Promote your products on deal websites: websites and communities offer deals in return for each sale. These websites give their users coupons and discounts, which might be a good idea, especially if you have a relatively expensive product.
Measuring the Performance of Your Amazon Storefront
As we said before, storefronts' benefits are their detailed analytics and performance review. You can access these by going to Seller Central, then selecting Reports, and clicking on Brand Analytics. Brand Analytics gives you access to different kinds of reports that you can use for measuring the performance of your Storefront.
Amazon Search Terms: gives you the overall rank of keywords in terms of volume and the percentage of sales and clicks; the top three search terms for any keyword
Market Basket Analysis gives you a report of what other items are being purchased along with your products.
Item Comparison and Alternate Purchase Behavior: presents the five other items that buyers viewed with yours
Demographics: Gives an overview of the certain key demographics of your audience
Final Thoughts
Many people are thinking about starting their own businesses and selling things. Amazon seems like a good platform, but some sellers worry about the lack of personalization on Amazon pages. Storefronts solve this issue by giving you a unique, customized platform that resembles a website. When a customer sees your one-of-a-kind storefront, they get to see your products in a new light, and your sales rates will increase. At OABeans, we are ready to help you set up your Amazon Store right now.