Amazon Seller Account Suspension
Before we talk about Amazon Account Deactivated vs Suspended, we should first know what exactly suspension is. When you sell something on Amazon, your account could get suspended for a number of reasons, many of which aren't that scary. Usually, accounts won't get suspended with a minor first offense (so you must read all terms of use).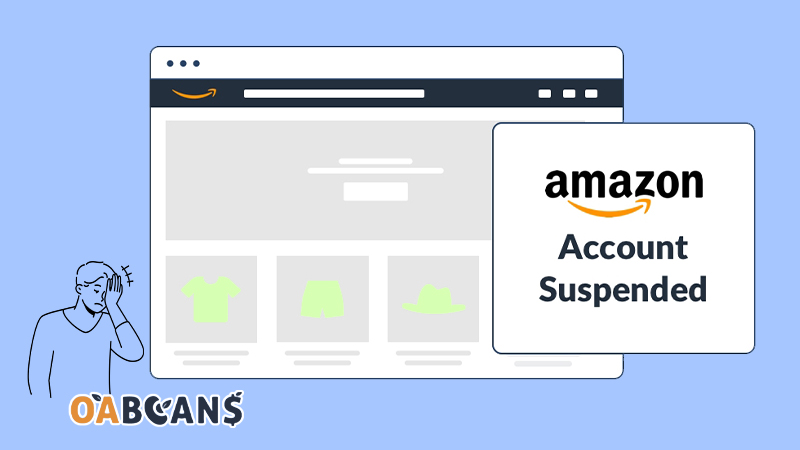 To keep customers as happy as possible, Amazon can be pretty strict when it comes to account and sales standards. So, when one of your products is suspicious or causes health problems, bad feedbacks start piling up, your order rate falls dramatically, or you somehow don't live up to Amazon's standards, you might get suspended and suddenly can't sell anymore. The good news is you CAN appeal to Amazon and get your account back. So, if you got the infamous " Amazon Account Suspended" email, don't panic just yet. There are ways to solve this problem.
Why Seller Accounts get Suspended?
As we said before, there are several reasons your seller account can get suspended. Here are some main reasons for this issue:
Your account has the same name as other business accounts
Your products don't follow the terms you agreed to
One of your products was reported as inauthentic
You're getting negative performance reviews
You have posted restricted content or images on your page
You sold a used product as new
Your products were expired
Your products were restricted
You had a low order rate
Your shipment was late or troublesome
You don't respond to buyers or respond late
You are operating multiple accounts
How to Avoid Getting Your Seller Account Suspended?
First, you should pay close attention to what you read in terms of use. Most of the time, we read and accept these without knowing what we agree to. Each region might have different rules and terms. If you break any of these rules, suspension awaits you. Here are some suggestions for you to avoid getting suspended:
Know what you are doing: Knowing Amazon rules and policies are excellent, but not enough. Amazon constantly updates its guidelines and informs you by email. So, paying attention to any email the platform sends you is essential.
Talk to professionals: As a new seller on Amazon, seeking advice from experienced users helps you a lot. Many account suspensions on Amazon happen due to users' ignorance. People who have sold before know what you should and shouldn't do.
Watch for warnings: When something happens and Amazon suspends your account, you usually get warnings beforehand. So keep an eye on your email and communicate with the emails. Keep the conversation respectful and professional.
Manage your products: Many account suspensions happen due to low-quality sales. So, you probably won't get suspended if you sell better products and get better reviews.
How to reinstate a suspended seller account?
A suspended account, by itself, could be very stressful, but reading about the problem and making a solid plan, helps you a lot. If you have received the dreadful suspension account, follow these steps:
Get familiar with the situation: your first step should be to understand why this happened. This is also very important because it determines your next steps. The reason for suspension should be in the email, but if you can't find it, you can contact support or get the help of a professional.
Check your product information: After reading the notice from Amazon, you have to know what was wrong with your seller account. Thoroughly review your listings, products, and customer reviews. Find these in the "Customer metrics" section.
Create a solid plan: After reviewing everything, it's time to send Amazon a suspension appeal letter. It's a good idea to write your plan step by step. Gather the data you need to convince amazon and explain how you will fix the issue. This letter needs a respectful but firm introduction, a brief list of reasons your account was suspended (So Amazon gets that you know the situation), a description of actions you have done since being suspended, and the ones you plan to do in the future, and a pleasant and friendly ending. In this step, you might need the help of a professional team to guide you.
Send your POA: Once you have formulated your POA (Plan Of Action), you should submit it. Go to seller central and click "Performance notifications" from the "Performance" dropdown menu.
Now open the email Amazon sent you and click on appeal. You will be presented with multiple options for appeal decisions. Pick what you think is best.
Type in the POA and provide contact information. Amazon and the authorities will contact you for further details.
Submit your appeal. It will be reviewed by Amazon seller performance.
Wait patiently. This can take a while (sometimes even weeks). Amazon WILL hear out your request and help you get back into sales.
Amazon Seller Account Deactivation
Another issue that some Amazon sellers face is deactivation. In deactivation, your account is revoked from you, and you will lose all your seller privileges. The good news is there are ways you can appeal to Amazon and get back into the account.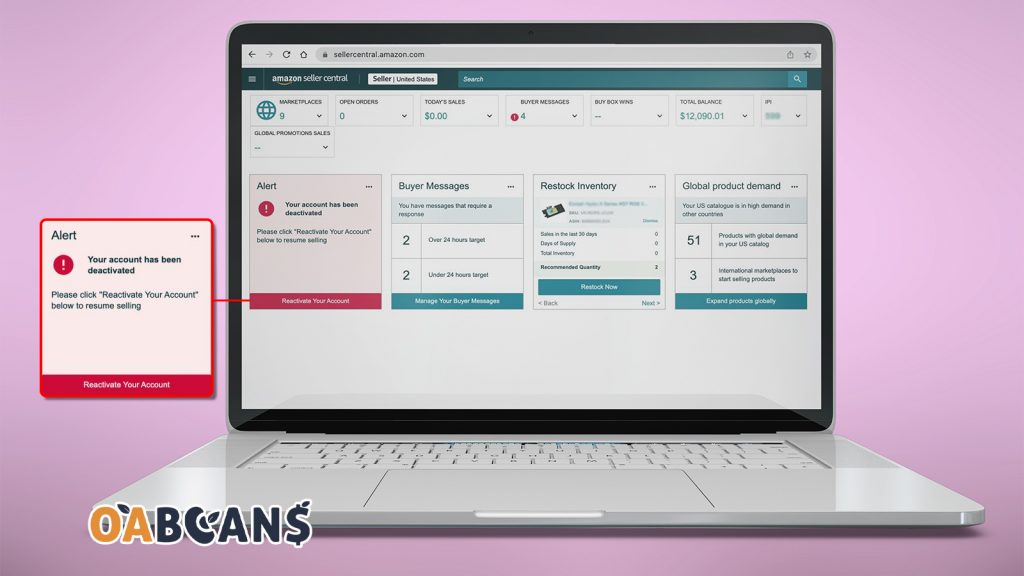 Why Amazon Seller Accounts get Deactivated?
When discussing an Amazon Account Deactivated vs Suspended, one should know when the account gets deactivated. Amazon keeps its community very safe and has zero tolerance for violations. Account deactivation may happen for these reasons:
Selling prohibited items: many products are not permitted on Amazon. Things like drugs, alcohol, surveillance equipment, animals, and…
Having multiple accounts: as a person, you can only have one seller account on Amazon.
Selling counterfeit items: Amazon requires all products to be authentic. If you're selling unauthentic ones, you will probably get deactivated.
---
Read More: 7 Brutal Mistakes That Arbitragers Need to Avoid
---
How to Resolve the Deactivation of Amazon Seller Account?
First of all, don't rush into writing an appeal letter. Just like in the case of suspension, you need to gather information and know exactly why this has happened. After you collect the required information, follow these steps:
Go to Amazon Seller Central, and then Performance. Now click Account Health.
Now click Reactivate your account.
Follow the instructions on the page. You should also include your documents and action plan for solving the issues.
Click Submit to send your completed appeal to Amazon.
Now wait for Amazon's response.
What is the Difference Between Suspended & Deactivated Accounts?
Amazon Account Deactivated vs Suspended: So, what's the difference between these two situations? In deactivation, Amazon removes your listings and also revokes your right to transfer funds, holding them until you fix the issue. Also, you can't sell anything anymore. Suspension can be a limited "deactivation" until the problem is solved, but deactivation means you can't access the account and products. Suspended accounts are still billed. They have similar actions, and although it may be difficult, you can also get back the deactivated account.
Final Thoughts
The modern market belongs to creative sellers, but this doesn't mean you should ignore the rules. A professional seller on Amazon is a seller who knows precisely what to do and what NOT to do. So, to avoid suspension or deactivation, your primary action should be reading and following the terms of use. Walking a mile in your customer's shoes is essential before underestimating their reviews. Try to understand their needs and help them have a pleasant shopping experience. Not only does this cause them to come back to you for more, but it will decrease the rate of negative reviews. We Hope this article came in handy. Thanks for reading.
FAQs