What is Amazon Inventory Storage Limit?
Amazon storage limits are based on volume and measured in cubic feet and represent the total amount of inventory you can store in Amazon fulfillment centers. These inventory storage limits are applied to manage fulfillment center storage space better.
In this way, the shipment of the products will be faster, and buyers will receive them quickly. When you expand Storage Volume, your current and potential storage limits and usage are shown. The information is available in your Inventory Performance Dashboard and Shipping Queue.
However, storage limits criteria are: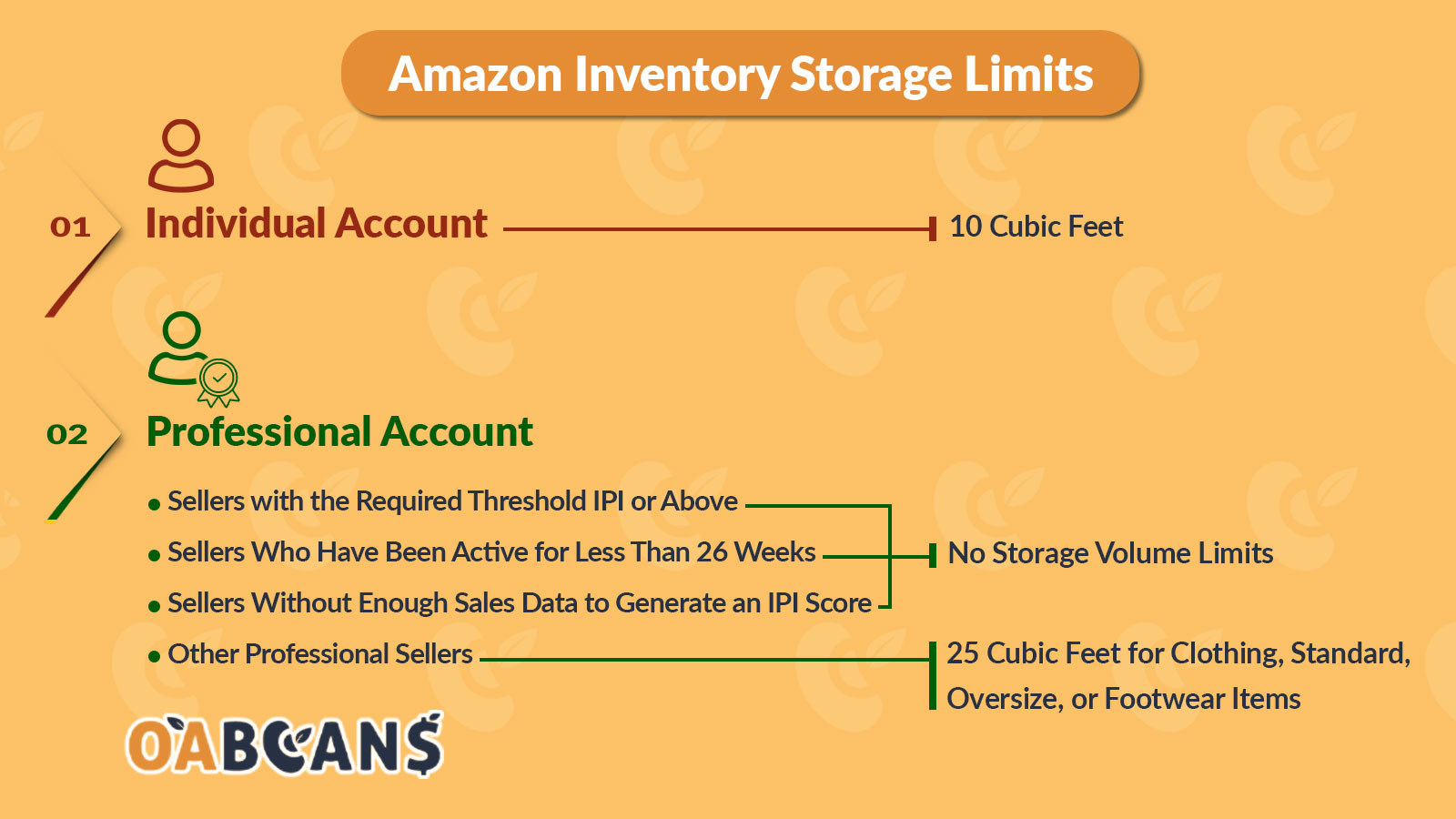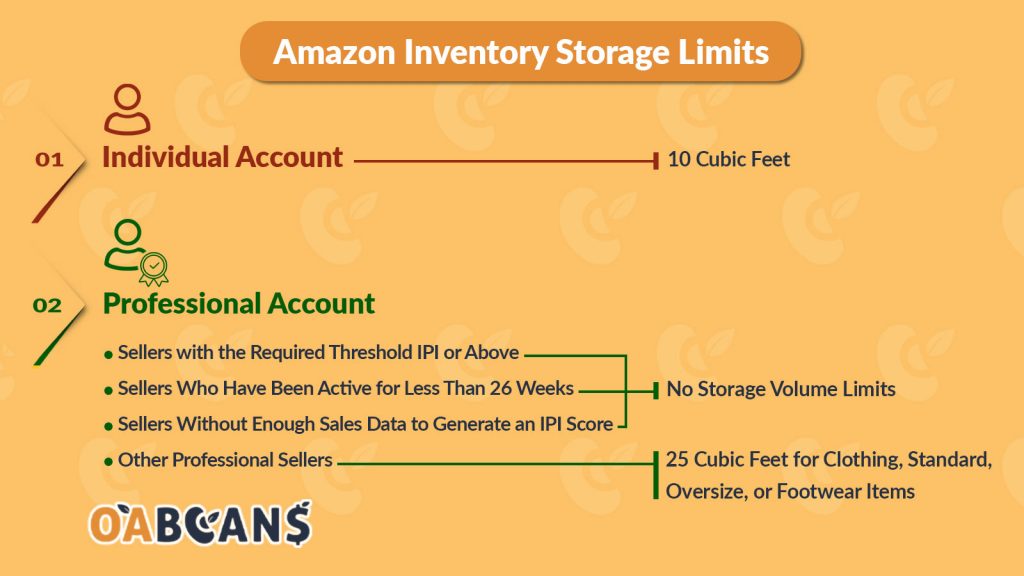 Individual selling accounts:
They have a set storage limit of 10 cubic feet, and this value does not change. Individual selling accounts are not subject to storage limit increases.
Professional selling accounts:
Depending on the following criteria, they may or may not have below storage limits:
Sellers will not be subject to storage volume limits for standard-size, clothing, oversize, and footwear items if they maintain an Inventory Performance Index (IPI) of the required threshold or above on either of two score checkpoints.
Sellers will not receive storage limits if they are new sellers who have been active for less than 26 weeks or sellers without enough sales data to generate an IPI score during both of the two score check weeks.
The Professional accounts that do have storage limits will still have a minimum of 25 cubic feet for clothing, oversize, standard, or footwear inventory.
---
Read More: How to Start an Amazon FBA Business?
---
How Many Units Can I Send to Amazon FBA 2023?
Actually, Restock Limits decide how many units of your Amazon FBA inventory you are allowed to send to fulfillment centers. They are set up per storage type.
Restock limits are apart from your Inventory Performance Index (IPI) and are applied independently. They're determined based on your past and forecasted sales. If your IPI score is above 500, you will not have an additional storage limit on top of the restock limit.
What Is Amazon's Oversize Storage?
The type of storage for which the usage exceeded the limit and an estimated fee applies is known as the storage type. So, it has two categories: Standard size and Oversize. Sortable is the same as Standard-size; non-sortable is the same as Oversize.
Here is a table to determine the product size tier:
| | | | | | |
| --- | --- | --- | --- | --- | --- |
| Product size tier | Unit weight* | Longest side | Median side | Shortest side | Length + girth |
| Small standard-size | 16 oz | 15 inches | 12 inches | 0.75 inch | n/a |
| Large standard-size | 20 lb | 18 inches | 14 inches | 8 inches | n/a |
| Small oversize | 70 lb | 60 inches | 30 inches | n/a | 130 inches |
| Medium oversize | 150 lb | 108 inches | n/a | n/a | 130 inches |
| Large oversize | 150 lb | 108 inches | n/a | n/a | 165 inches |
| Special oversize | Over 150 lb | Over 108 inches | n/a | n/a | Over 165 inches |
*Important:
Apparel: For all small standard-size and large standard-size units weighing more than 0.75 lb and all small oversize, medium oversize, and large oversize units, Amazon uses dimensional weight when it is greater than the unit weight.
Non-apparel: Amazon will use dimensional weight when it is greater than the unit weight for all large standard, small oversize, medium oversize, and large oversize units.
---
Recognize the Best Amazon Repricer Tools in 2023!
---
How To Find The Max Inventory Level on Amazon?
You have to follow the following steps to find these numbers:
Firstly, go to "Inventory Dashboard" Amazon Seller Central (http://sellercentral.amazon.com/inventory-performance/dashboard/ Login required).
Secondly, go through "Inventory Performance." After that tab and scroll down to click on your "Restock Limit" and find your "Utilization Quantity" and "Restock Limit," which is known as "Maximum Inventory Level".
How Can I Increase My Amazon Storage?
At the moment, and because of the FBA Inventory Storage policy, you are not allowed to create a new shipment to Amazon for a storage type until your inventory level drops below your limit for that storage type.
Here we mention an example. When your current limit for standard-size inventory is 25 cubic feet, and you have 26 cubic feet of standard-size inventory at an Amazon fulfillment center, you cannot create a new standard-size inventory shipment.
Additionally, if your oversize inventory is below your storage limit, you can create shipments of oversize inventory. Your extra inventory may be refused at the Amazon fulfillment center if you send more inventory than what the storage limit allows you.
---
Download Amazon Profit Calculator Sheet for Free Now!
---
What Is A Good IPI Score on Amazon?
All Sellers must meet the threshold score that Amazon sets. In case of falling below that threshold, Amazon will set storage limits on your account. This limitation is until you can improve your inventory health. At the time of writing, the average Amazon IPI ranges from 400 to 800.
Ideally, you should have at least a 550 score. Although a 400 to 549 score is still reasonable, it requires attention not to fall below the threshold. Your IPI storage will generally limit if your score incurs below 350. Besides, you have to pay overage fees.
Don't forget to keep an eye on the IPI threshold on the Amazon website because of often changes.
Every three months, Amazon calculates your IPI:
6 weeks before the quarter ends
At the end of each quarter
Therefore, before imposing inventory limits, Amazon notifies you and gives you enough time to improve your score.
You will qualify for unlimited storage space for each of six storage types if you score above the threshold during these two score check weeks.
Final Thoughts
Due to Coronavirus Pandemic, Amazon has faced operational issues. So, it made new updates to recover from them.
These updates helped retailers plan their inventory ahead of the holiday. The updates, including the Inventory Storage limit and the Restock limit, are beneficial. You will qualify for unlimited storage space for each storage type and take necessary actions to boost your business.
Don't forget that using an Online Arbitrage sourcing list is also efficient for succeeding in your FBA business and preventing non-successful inventory.