What is Amazon Account Health?
Having a great shopping experience for customers is critical for Amazon, so it uses some metrics to ensure that seller accounts adhere to this mission.
As a result, all Amazon FBA business sellers need to follow certain guidelines and policies.
Amazon has allocated a page in your Seller Central account called "Account Health." The Account Health page monitors if your seller account complies with the Amazon policies and performance targets.
For professional sellers, an Account Health Rating (AHR) is displayed on this page. This new feature evaluates your Account Health based on the policies of Amazon selling.
AHR considers different factors, such as the number of unresolved policy violations on your account at any given time. We will talk about these metrics later.
Whenever a seller is off-target, Amazon will send him a notification. These regular reviews help sellers improve their account performance and avoid account suspension.
Different Status of Amazon Seller Account
Amazon has three different statuses as checking the seller accounts metrics:
Active: You have the permission to sell on Amazon, and per the regular schedule, you will get payments (funds).
Under Review: You can sell on Amazon. But, until Amazon reviews your account, funds will be temporarily withheld.
Suspended: You are not allowed to sell on Amazo anymore. Additionally, funds are temporarily withheld.
How to Check Account Health in Amazon?
You can check your account health from this path:
Seller Central > Performance Menu > Account Health
On the Account Health page, you can access an overview of how well you're doing complying with Amazon's performance targets and policies. The account health page is composed of three columns:
Customer Service Performance: The customer service performance column is measured based on the Order Defect Rate or ODR. We'll explain more details, below.
Product Policy Compliance: This section has a long list of policies, as you see in the picture. Besides, you can see the AHR in this column if you have a professional account. It could have three statues: Good, Critical, or At-Risk. If your AHR is "Critical" or "At-Risk," it shows your account does not comply with Amazon selling policies and targets, and it may be at risk of deactivation.
Shipping Performance: This column shows the late shipment rate, pre-fulfillment cancel rate, and valid tracking rate. You are only responsible for the orders you fulfill.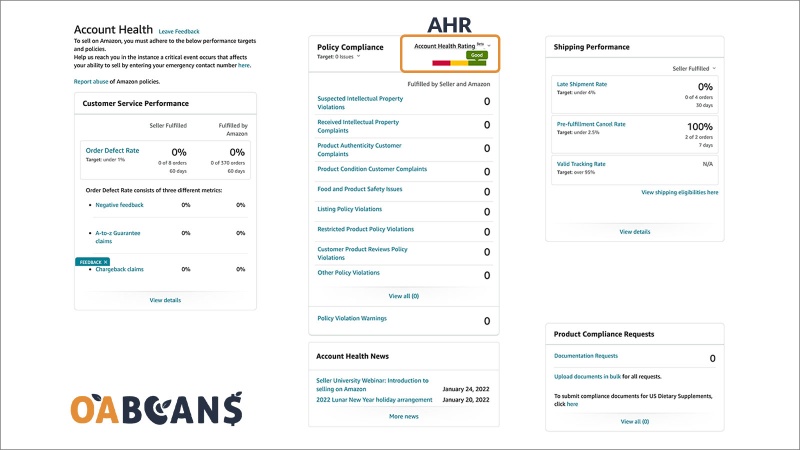 You should respond quickly to Amazon's performance notifications, especially when you're using online arbitrage leads, as a rule of thumb.
Generally, on your account health page, you should pay attention to these metrics:
1) Order Defect Rate
This metric evaluates your ability within the past 60 days. There are factors that ODR covers them, such as successful A-to-Z claims, negative feedbacks, and credit card chargeback. To achieve a satisfactory ODR, sellers must have all of these under 1%.
2) Return Dissatisfaction Rate
Getting negative feedback (Negative Return Feedback Rate) can affect this metric. If you don't answer the return request within 48 hours (Late Response Rate) or deny the return request (Invalid Rejection Rate), your RDR can increase. This metric has to be under 10%.
3) Late Dispatch Rate
To avoid getting a warning or facing suspension, the sellers should keep the Late Dispatch Rate (LDR) under 4%. This metric refers to the percentage of orders that had their shipping confirmation posted after the expected ship date. The timeframe is defined as 10-days or 30-days.
4) Invoice Defect Rate
This metric is the Amazon Business invoicing policy that within one business day after shipping confirmation, sellers should provide a downloadable VAT invoice (or a receipt). Amazon defines that Invoice Defect Rate must be less than 5%.
---
Read More: Ultimate Guide About Amazon FBA Product Sourcing
---
There are three other factors that are only applied to FBM or seller-fulfilled orders:
1) Cancellation Rate
The number of cancelations during the past seven days' timeframes is measured. If the seller initiates the cancelation, it will be counted. In case of customer cancelation, it will not include. Amazon expects that sellers maintain CR under 2.5%.
2) On-Time Delivery Rate
Amazon advises keeping this metric above 97%. Basically, the OTDR is summing up a percentage of customers' total orders at the estimated delivery date.
3) Valid Tracking Rate
The percentage of total orders which have a valid tracking number is measured by the Valid Tracking Rate (VTR). You should keep this metric above 95% to be good to go.
How to Improve Amazon Account Health?
You should not violate any of Amazon's rules while sourcing for your inventory list. Your violations are listed on your Account Health page. In a timely manner, you need to address them. You need regularly do a complete Health check-up for your Amazon account.
If your account is "At-Risk" or "Critical," you can either successfully appeal to them or edit your listings to improve your rating.
If you delete or close a listing from your inventory, the listing violations will not remove from your Account Health page. You have to resolve each violation itself successfully. The reason behind the suspension of your Amazon account could be:
Having Multiple Seller Accounts to Sell Similar Products
Selling Restricted Products
Creating New Account After Suspension of Old Account
Not Meeting Performance Metrics
As you address these violations, your AHR will update within 24-48 hours.
One of the hassle-free methods to source products for your Amazon FBA is buying an Online Arbitrage Sourcing List because usually they're checked for any complaints.
---
Know More: How to Get Ungated on Amazon?
---
What Happens if You Fail Account Health Metrics?
You have to meet the target metrics of Amazon Account Health. Amazon will request a Plan of Action (POA) from you to improve the target metrics within 48 hours if you fail.
POA is very critical, and your business depends on it. Amazon will not suspend your account if you provide an acceptable POA. It means Amazon admits that the problem is clear for you, and you want to rectify it.
If you fail at account health metrics, a rep will call you to go over the details, and you can get an idea of how to formulate your action plan, but don't rely just on the rep's opinion. Take your time and research what you need to put into your POA.
In the pre-suspension stage, asking Amazon reps to request from other teams for answers and help is useless; they will not do that. If your appeal was denied, they can't explain precisely why. Their sole responsibility is to help you in the early stage.
So, before starting an appeal to avoid wasting your time, see through your POA.
---
Know More: How Much is Amazon FBA Income?
---
What is account health support?
Actually, the primary interface between our business partners and Amazon is the Account Health Support specialist. The responsibility of an Account Health Support Specialist are:
Address chronic system issues
Contribute to a team environment
Provide process improvements
Develop internal documentation
Important Tips About Amazon Account Health
The below tips can help you avoid your account suspension and successfully maintain your Amazon Account Health:
This section is designed to bring seller awareness to intellectual property issues, authenticity concerns, product conditions, and other policy violations. Sellers are responsible for knowing and understanding the Intellectual Property laws governing the products they intend to sell. Product-related complaints are situations where customers have concerns about their received orders. It is important to follow the appeals process if items are removed from the sales catalog. Maintain invoices from a valid supply source and all applicable safety compliance documents to increase the likelihood of reinstatement. Our advice to sellers is to monitor the policy compliance section to address any specific compliance area of the Account Health dashboard. Not addressing these issues can lead to warning or removal of selling privileges from Amazon.
Look Into Customer Service
As we mentioned before, the performance of this section is based on the Order Defect Rate, which determines by three main factors: Negative Feedback, A-to-Z Guarantee claims, Chargeback Claims. In Negative Feedback, a seller leaves you a review of 2 or fewer stars about your product. An "A-to-Z Guarantee claims" means a dispute between a buyer and seller is unresolved, and the buyer reaches out to Amazon for resolution. By focusing on the most common reasons customers react negatively, you can avoid these issues. The reasons could be:
1) Not responding to messages within 24 Hours
It would be best to use the "Buyer-Seller Messaging" tool such as the "Amazon Seller app" to answer customers quickly while you are away from your primary workstation.
2) Handling Returns
The way you handle a return can make all the difference in the type of reviews buyers post or whether a buyer feels the need to escalate a dispute to an A-to-Z Claim. We give you this tip: always put yourself in your customer's shoes and treat them just like you want to be treated.
3) Handling Chargebacks
Another way Amazon supports sellers is by handling chargebacks. Amazon is responsible for merchant transactions. To avoid chargebacks, always ship products to the verified address on the order. Using a shipping carrier that provides integrated tracking with Amazon is also helpful.
Shipping performance is vital for account health. Take a look to keep the mentioned metrics for shipping. However, if you decide to use 100% FBA service, these metrics will not impact your account.
Verify Your Listing Information
Continuously monitoring and updating your available inventory and ensuring the correct selling price has been updated is a key to a low cancellation rate.
Final Thought
It is crucial to check up on your Amazon Account Health regularly. An overview of the overall performance of any account is provided on the Amazon Account Health page.
You can evaluate the critical metrics by doing a comprehensive health check-up to ensure Amazon's policies fulfillment. So, if your listing has an issue, you will be informed, which prevents your account from suspension.
To prevent account suspension, you can source products using hassle-free Online Arbitrage deals from companies such as OABeans.